Bokelly; A Florist's Cornish Paradise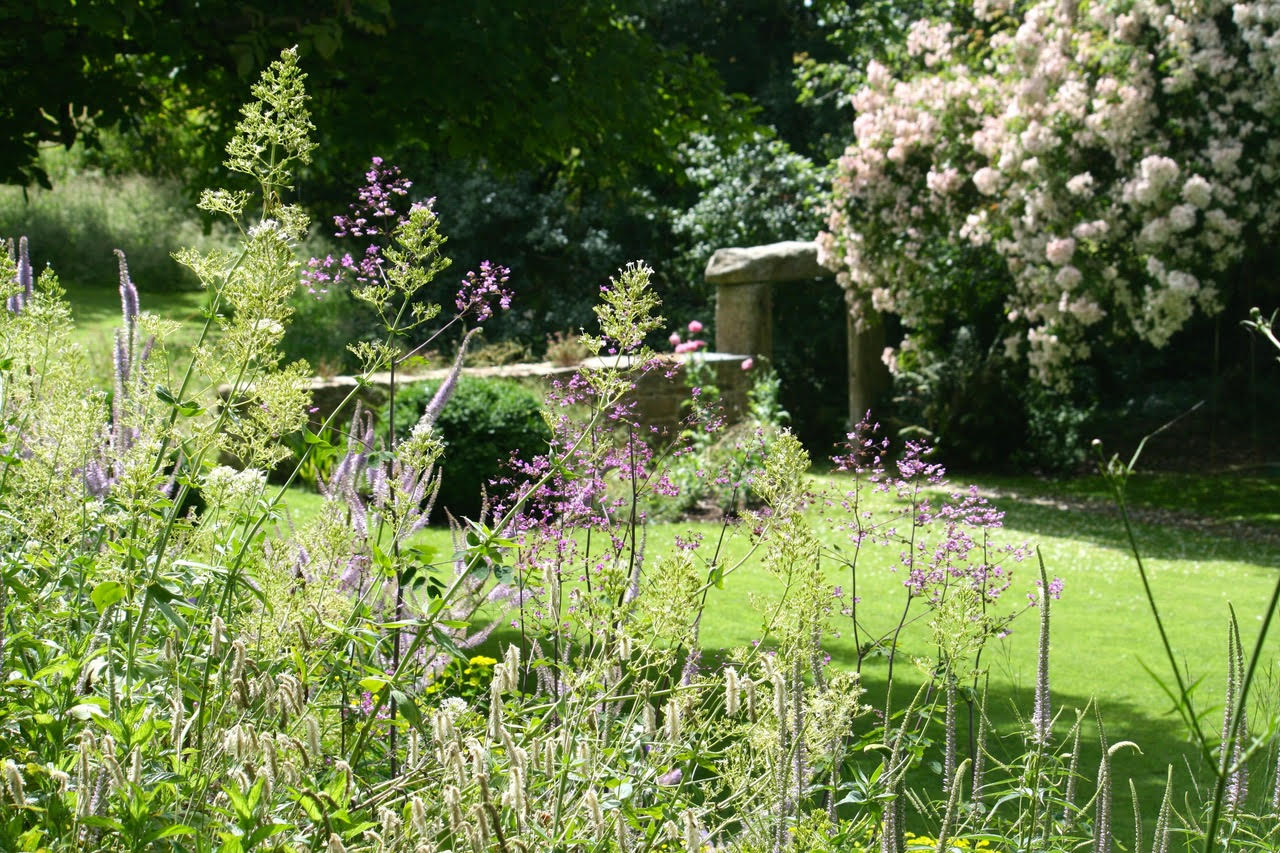 There are few pleasures that match that of walking into a room bedecked with a vase of flowers freshly cut from your own garden; ones that you have sown and nurtured and arranged with a generosity that shop-bought flowers seldom allow.  
A cutting garden is the dream of everyone who loves flowers and wants to fill their home with their colour and scent. Setting aside an area dedicated to growing cut flowers allows you to see the flowers as a 'crop' and removes any reluctance to pick them for the house.  
The seven-acre garden surrounding Bokelly, a beautiful 15th Century barn with lichened stone outbuildings includes cut flower beds, a particular passion of owner Henrietta Courtauld.  Alongside Bridget Elsworthy, Henrietta runs the cut flower and floristry business 'The Land Gardeners'. Sitting in a café, scribbling their ideas on the tablecloth, 'The Land Gardeners' was born from their shared love of plants grown in healthy gardens and the need to care for the soil. They had both studied horticulture and worked in gardens handling and getting to know plants. Henrietta had also worked with Tom Stuart Smith for many years on planting and design.  
"For any beginner, or someone with the tiniest plot, there is nothing easier than planting tulips in November to be rewarded with wonderful cut flowers in spring," says Henriettea. "Also, planting up an orchard area with bulbs is an easy way to have cut flowers throughout the year – we gather snowdrops (Galanthus), crocus, narcissi (e.g. Narcissus 'Actaea' and N. poeticus var. recurvus or 'Old Pheasants Eye') and snake's head fritillaries (Fritillaria meleagris) in spring, followed by camassia (Camassia leichtlinii )and cow parsley (Anthriscus sylvestris) in early summer when we cut armfuls of apple blossom. And then as summer moves on we cut rambling roses which have been allowed to grow up through the trees and then hips from species roses in autumn, along with branches of tiny apples for large arrangements – and autumn crocuses (Colchicum).  All these are easy to grow and maintain - providing you with wonderful cut flowers throughout the year."  
Henrietta's best 'cut and come again' reliable perennials include Nepeta 'Six Hills Giant' (catmint), Alchemilla mollis (Lady's Mantle), Centranthus ruber 'Albus' (valerian) and Foeniculum vulgare (Fennel). But for sheer glamour nothing beats peonies.   
"By growing early, mid and late peonies we can pick these for over six weeks. We also love the beautiful colours and velvet petals of the English shrub roses, the character of the old fashioned once flowering roses and the fabulous colours of the hybrid teas – which we grow in Cornwall – as well as Lilium regale in pots and Lilium martagon in shady woodland." 
Arrange these beautiful flowers as Henrietta does filling old tureens with old fashioned English shrub roses, peonies and Iceland poppies e.g. Papaver nudicaule 'Champagne Bubbles' – which float above the roses. 
"Don't forget to grow the shrubby material essential to fill larger arrangements and which can add sophistication when shown as a single species in a tall vase," adds Henrietta. "Camellias and hydrangeas – perfect for Cornwall!  Philadelphus and Syringa are worthwhile additions (though these can sometimes not last long in the vase so always remove lower greenery and cut the end of the stems). Kolkwitzia amabilis for their heavily laden blossoms and Magnolias of all varieties where the branches with the soft velvet buds can be used in winter, then armfuls of blossoms later in the year.  We also use the glorious foliage of Magnolia grandiflora throughout the year." 
Bokelly is a jewel in the National Garden Scheme's Cornish crown. Henrietta says "The National Garden Scheme is the most brilliant charity because it helps so many good causes whilst also giving people the chance to learn and be inspired by people's gardens!"  
On the afternoon of  Monday 31st May Henrietta plans to open Bokelly at St Kew for the National Garden Scheme between 1:30pm and 5:30pm.  
Come along and see some of the green manures which will be up and off, the pale lavenders of the Phacelia meadow, the wonderful crimson red clover bed and early rows of mauve and white Hesperis and yellow Woad in the cutting beds. The first of the roses may even be starting the bloom. 
While you're there take the unique opportunity to look at Henrietta's 'Compost Cakes' illustrating how a fabulous compost can be made to feed your garden. You can also feed yourself enjoying the delicious Victoria sponges and brownies served in the 15th Century barn!  
BOKELLY – Monday 31st May Between 1:30pm and 5:30pm. Discover more here
Original copy written by
Dr Sara Gadd & Christianne Lim