Family-friendly top picks
With over 100 amazing family-friendly gardens to choose from, it might be hard to decide where to spend the afternoon with your children or grandchildren. We've selected some of our favourites to help get you started.
Fabulous trails
Berridale in Cumbria (open day 12th August and by arrangement July – December), is a surprisingly large suburban garden with an impressive vegetable plot, a fairy dell and mini trail that children love, whilst Renishaw Hall & Gardens in Derbyshire (open day 4th September), is a 7 acre garden created in 1885 with woodland walks and lakes, a character trail and a children's maze.
Kia-Ora Farm and Gardens in Devon (open days in July, August and September and by arrangement July – September), is a charming 10 acre garden which boasts novelty crazy golf and the fascinating Nursery Avenue, which promises to take you back in time to your childhood with works of art including Humpty Dumpty and Little Miss Muffet!
If your family are book lovers you will enjoy Ralph Court Gardens in Herefordshire (open days 13th and 14th October). The 12 gardens set in the grounds of a Gothic rectory are themed around children's books (Alice in Wonderland, Wind in the Willows, Pirates), as well as Greek mythology (Medusa, Triton), British Mythology (Green Man and Jack in the green) and areas of the world (Japan, Africa, Italy).
Eureka in Kent (open days 21st and 22nd July, 4th and 5th August and by arrangement July – August), have developed the "Eureka Challenge" for children, which is a beautiful hand-drawn activity sheet encouraging visitors to spot highlights in the garden. Each child gets an ice lolly for completing the challenge. They also have free bubbles with wands and small watering cans for the little ones to use in the garden, plus colouring pencils, crayons and felt pens on the tables by the tea tent.
And finally Birch Tree Well, Gwent (open day 22nd July and by arrangement July – August), is situated in the heart of the Lower Wye Valley amongst the ancient habitat of woodland, rocks and streams, and offers treasure hunts for children and live music. The three acre garden is shared with deer, badgers and foxes and the butterfly garden has been planted with specialist hydrangeas to attract bees and insects.
Discover a legend!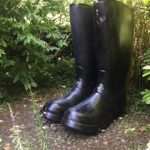 Go in search of the Wrekin giant's boots at Windy Ridge in Shropshire (open days 12th August and 2nd September and open by arrangement July – September). Legend has it that the giant was Welsh and had a grudge against the people of Shrewsbury. Unfortunately for the giant, his sense of direction wasn't very good, and by the time he reached Wellington he wasn't just lost – he was tired, too. What most people don't know is that he had a rest, took off his boots, and left them in the garden!
All aboard
If you have train-mad toddlers then Barnards Farm, Essex (multiple open days throughout July, August and September) and Pilmoor Cottages, North Yorkshire (open day 26th August and by arrangement July – August), could be a perfect outing, as they both have miniature railways.
Inclusive gardens
The Courtyard in Kent (multiple open days throughout July, August and September), is fully wheelchair accessible and welcomes all families, especially children with disabilities. The garden is part of a family home on a smallholding with hens, ducks, pony, pigs, lambs and sheep, and there's plenty of room for kids to let off some steam while the grown ups sit and eat a delicious homemade cream tea.
Ty Glyn Walled Garden in Ceredigion (open day 12th August), is a secluded walled garden in a beautiful woodland setting alongside River Aeron, developed specifically for children with disabilities. The lower level is wheelchair accessible and contains vegetable gardens, water features, an adventure playground, unobtrusively placed musical instruments and mixed borders planted with calming colour schemes. The woodland and riverside walk is also wheelchair accessible.
Animals and vegetables
Riverford Field Kitchen Garden in Devon (open day 2nd September), is a four year old organic kitchen garden, with a huge polytunnel. Visitors can enjoy mini tutorials and demonstrations, a guided tour of the polytunnels in the garden's Land Rover (over 3's only), and arts and crafts.
See fairies in the secret garden at 21 Chestnut Road in Hampshire (open days 21st and 22nd July and 19th August and open by arrangement July – September). Feed fish in their pond and spot ponies and donkeys roaming free in the village where the house is located.
Learn all about sustainability at several allotment sites and horticultural social enterprises which open for the National Garden Scheme – including Gordon Road Allotments in London (open day 27th August), and Rhubarb Farm in Nottinghamshire (open by arrangement July – November).
See all our family friendly gardens