Introducing an exciting new partnership at a WWT Wetland Site near you this summer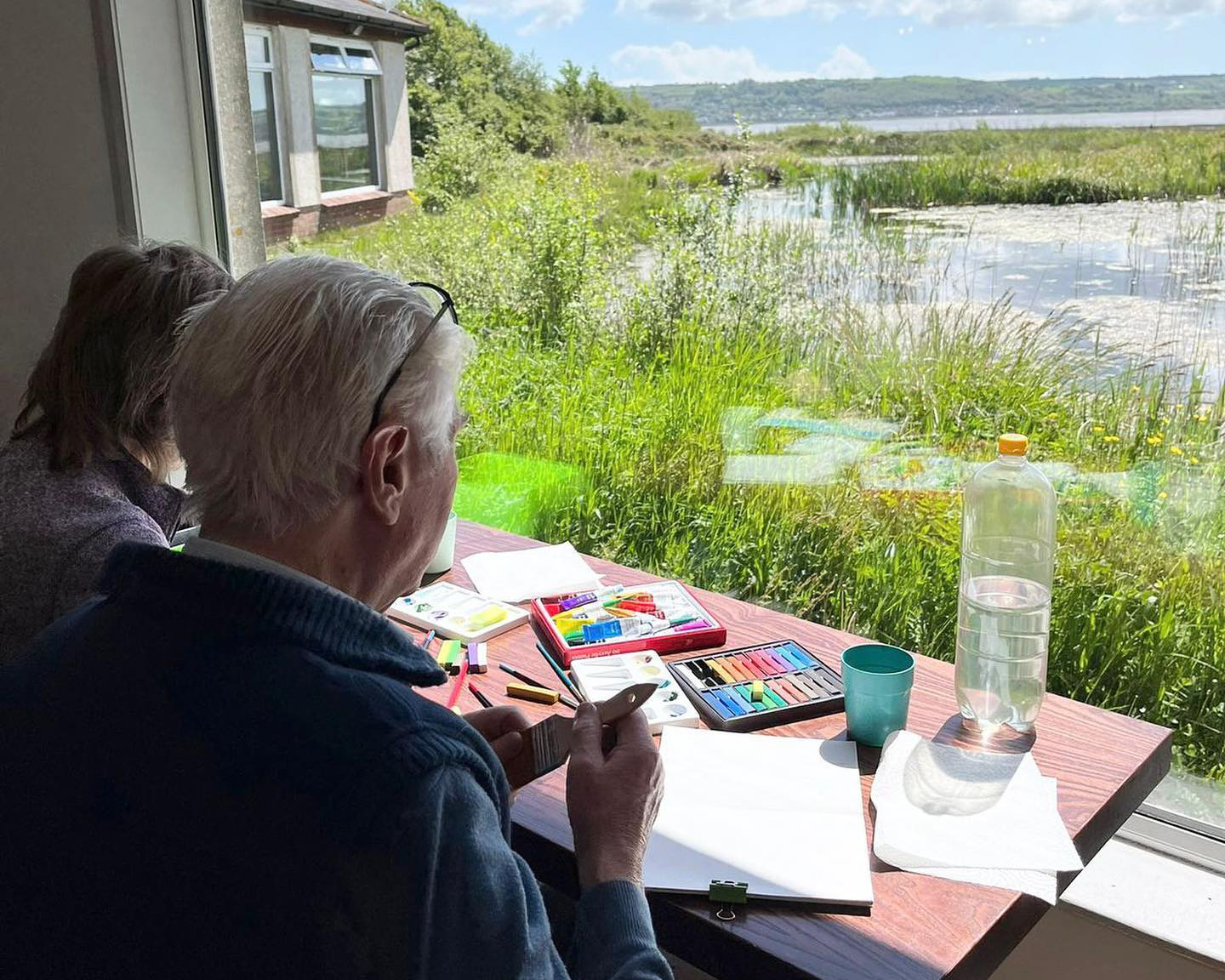 Artists have always been inspired by nature. The sights and sounds of our wetlands – our estuaries, rivers, lakes and ponds – have provided much of this inspiration. This year, WWT are reimagining the wetland and art connection with a special partnership with one of the UK's best loved illustrators, Quentin Blake, who himself declares a life-long love of drawing birds.
'Drawn to Water: Quentin Blake at WWT' will give visitors to WWT's 10 UK-wide Wetland Sites, the chance to slow down, take in the beauty of the surroundings and discover a connection with nature through art throughout the summer, autumn and winter season.
Wetland explorations with an artist's eye 
 A specially illustrated guide, complete with some of Quentin Blake's drawings will be available to help visitors journey around the wonderful wetland world. With his inspiring work giving a different perspective of the landscape.
A handy-map inside will guide visitors to special places and points of interest at the site so the very best summer highlights can be experienced.
Some of these seasonal highlights include; nesting kingfishers at Arundel Wetland Centre, wetland wildflowers like flag irises at Slimbridge, nesting swallows and dragonfly hotspots at Welney and broods of shelduck chicks at Martin Mere. Plus, don't miss the cascade of 'rain gardens' at London Wetland Centre with bright and blooming wildflower meadow, green roof planting and bold, lush vegetation along the stream's edge.
"Through 'Drawn to Water' I hope that seeing my artwork in places where these creatures
are thriving will allow new audiences to enjoy wetland wildlife as much as I do, perhaps
prompting a few people to pick up a pen, pencil or even a quill and do their own drawing." – Quentin Blake
Wetlands that inspire
With some WWT centres offering a range of art and illustration activities and workshops, visitors can have a go at something new or get top tips on how to improve their work. Many of these workshops are led by local artists, who know and understand the landscape, like professional wildlife artist Kerry Newell. Kerry will provide pastel and watercolour workshops throughout the summer (and the rest of the year) to cater to all abilities at Martin Mere Wetland Centre.
Wetlands illustrated
An exhibition of some lesser-known works from Quentin Blake's personal archive is also available to those visiting London Wetland Centre and Slimbridge Wetland Centre this summer. London is hosting the 'touring exhibition' until 14 July before it moves on to Slimbridge from 21 July – 16 September.
Visitors can enjoy this unique opportunity to enjoy 54 of Quentin's wetland-themed prints, providing a unique glimpse into his passion for wetlands and wildlife. The beautiful illustrations on display use everything from pens, inks and washes to quills from the birds he has illustrated to help bring their subjects to life, all rendered in Quentin's iconic style.
''The drawings you will see are from my own personal archive,
and many have rarely been seen in public before'' – Quentin Blake
The touring exhibition will continue its journey to Castle Espie Wetland Centre and Martin Mere in the autumn/winter.
The 'Drawn to Water: Quentin Blake at WWT' partnership continues into autumn/winter with two more guides available to make the most of the autumn and winter season at WWT Wetland Sites. New art-based workshops are being added to the programme of activities at centres throughout the year.
Discover more about WWT's partnership with Quentin Blake by visiting the WWT website here and discover more about our partnership with WWT on our partnership hub page here.
© Quentin Blake 2023. All rights reserved.