Two Cardiff gardens bloom in the midst of the health crisis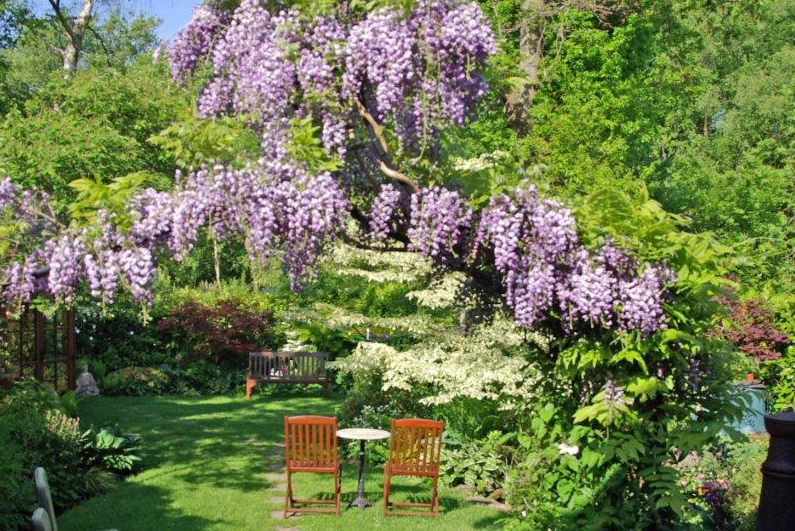 "This short film represents a different take on the Virtual Garden Visit experience," explains garden owner Miranda Parsons. "It was filmed by Adam Gambles, garden owner Bev and Andy's son who is a graphic designer and film maker and currently on furlough."
This is very much a lockdown story as Bev is a nurse involved in Covid-19 research, Andy is a Paramedic, Alan is a GP, and Miranda a homeopath seeing patients by video call. With other medics amongst their families and friends, they are in the thick of this health crisis. Miranda also works on the National Garden Scheme Glamorgan County Team and has a particular interest in the Gardens and Health project. This has been an unprecedented time, so many have suffered in different ways and this is largely why these gardeners want to share for the future of our health and wellbeing, the benefits of active gardening and the health-giving property of visiting a garden particularly for city dwellers.
A closer look
Gardeners Miranda Parsons and Alan Workman at 22 Dan Y Coed Road, Cardiff and Bev and Andy Gambles at 105 Heath Park Avenue, met at the National Garden Scheme stand in Bute Park at the Cardiff RHS show. Miranda and Alan, both keen gardeners would be opening for their tenth year in 2020 and this would be year two for Bev and Andy. Miranda talked Bev into opening and the following year she took the plunge with the assistance of her husband.
This is a pair of suburban gardens in North Cardiff, both South facing, both with decreasing lawns as ambitions for beds, plants and fruit and vegetables grow ever more insistent. Next year, having become friends through sharing the joy of gardening, they will open their gardens together and look forward to welcoming people again.
"A green backdrop is provided to both by nearby trees and in Dan Y Coed Road's case the neighbouring Nant Fawr wood. We are gardeners keen to give encouragement to other owners of modest sized urban and suburban gardens," adds Miranda.
Wildlife is actively welcomed in, frogs, newts, toads, invertebrates, birds and even field mice and the birdsong over the film was captured by Adam in Bev's garden in the quietness of lockdown.
For more on 22 Dan Y Coed Road click here
If you enjoyed this content please consider making a donation to help us continue to support our nursing and health beneficiaries.
MAKE A DONATION TO SUPPORT OUR NURSES