Enjoy an exclusive garden visit with our wonderful By Arrangement option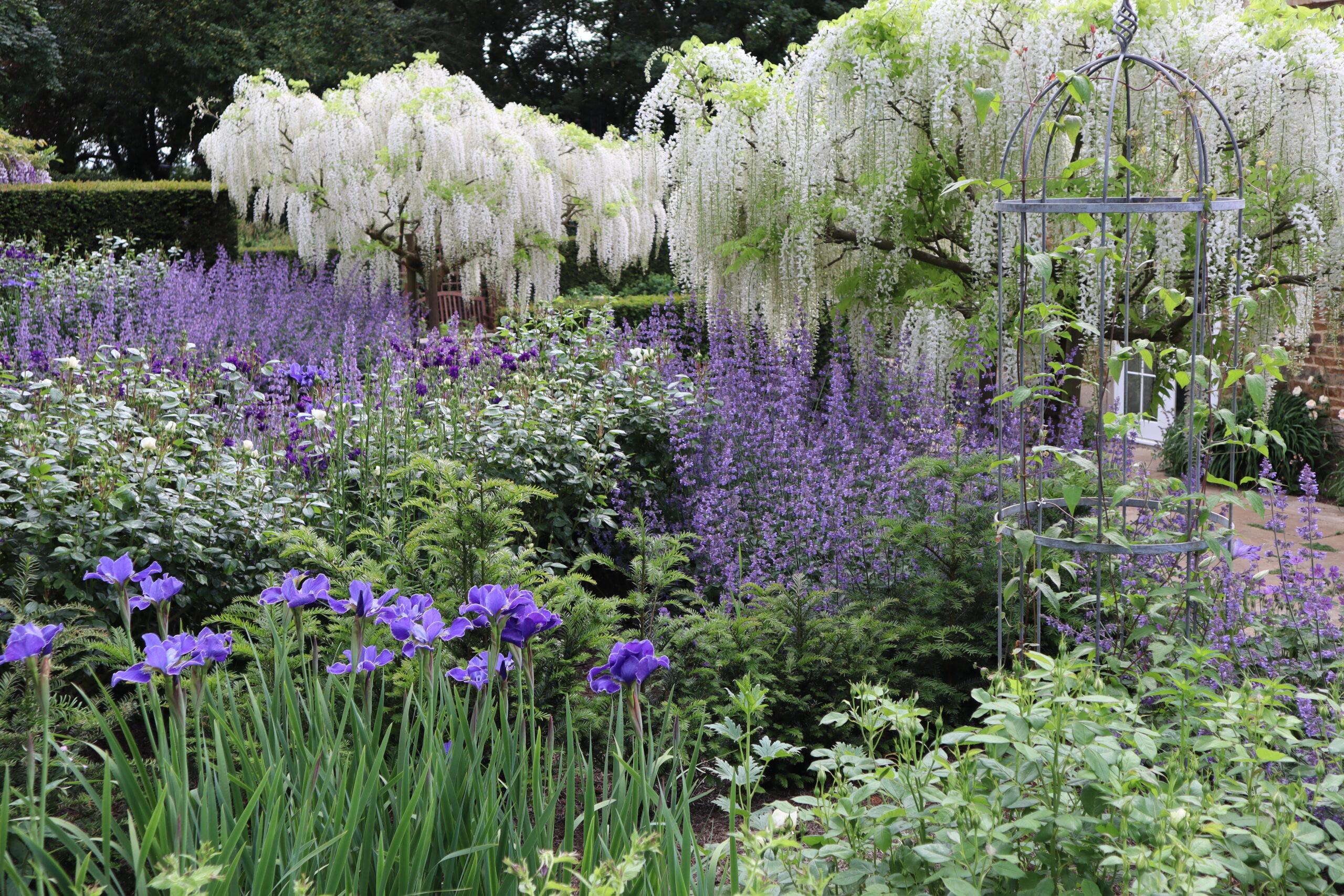 The National Garden Scheme opens over 3,500 private gardens to the public each year. Most visitors are familiar with the gardens that open their gates to everyone on set days, but in 2023, 1,011 of them also open By Arrangement. The gorgeous Old Vicarage in Burley, Rutland (pictured above and below) opens By Arrangement from May 2023 to Jun 2023 for groups of between 20 and 99 as well as its planned open days in May and June. A further 293 open only By Arrangement across the country.
These wonderful, often hidden gems are really worth exploring especially if you are keen to return to a garden you love, perhaps missed a public open day or simply want to explore somewhere completely unchartered. By Arrangement gardens cater for different group sizes from as few as one to 20+, it all depends on the size and accessibility of the garden, some have fixed prices for entry others are agreed in discussion with the garden owner.
"Booking a By Arrangement garden visit with the National Garden Scheme was a joy. I spoke directly with the garden owner to arrange a time that suited us both and was able to treat mum, family and friends to a really special day out in a garden open just for us!" Garden visitor.
A few questions answered about By Arrangement gardens

What is a By Arrangement garden?
A garden open By Arrangement accepts visitors to their garden for a more personalised visit, on a pre-agreed date. Usually, the garden will advertise a range of dates available that they are willing to open so that visitors can decide on the most suitable option for them. This can often be a wide date range, for example March-October, so there are plenty of opportunities to find a date to suit you and your group or family and friends.
What are the benefits of booking a visit in advance?
Booking a By Arrangement garden gives you direct contact with the garden owner, allowing you to liaise on everything from convenient times and dates, to what you'll see and do once you're there.
Why choose By Arrangement?
Did you miss an open day or perhaps you would like to bring your family back for a special occasion?  Contact any garden offering By Arrangement visits to discuss options.
Booking your By Arrangement visit
Our gardens opening in 2023 are available to view by clicking here. From the garden information page you will find the garden owner's contact details. They are waiting to hear from you and will be delighted to help you create the perfect visit.
The garden owner will confirm all the details and whether they require a deposit/full payment ahead of the visit.
As with all garden visits organised through the National Garden Scheme, By Arrangement visits support our nursing and health beneficiaries.
Enjoy your garden visit!
FIND A BY ARRANGEMENT GARDEN IN YOUR AREA
Westwind, Wiltshire (pictured above) is an informal country garden set in 4 acres including a 2½ acre meadow, home to a rich assortment of wildlife. Westwind has an abundance of mature trees, a cottage garden and beds full of herbaceous plants. 2022 welcomed the newly designed Armillary Garden which is home to 10 raised beds stuffed with colour from April to October. Opens By Arrangement for 1-15 people April to October. For details click here.
As well as three planned open days in April, June and July the fabulous 5 St Regis Close garden in London opens By Arrangement from April 2023 to October 2023 for groups of between 10 and 99. 
Lower Bowden Manor, Berkshire is a five acre designer's garden with stunning views where structure predominates. It opens only By Arrangement from January 2023 to December 2023 for groups of between 1 and 50. For more information click here –   Images: copyright Clive Nichols
Open By Arrangement from January 2023 to December 2023 for groups of between 1 and 12,
two views of Dip-on-the-Hill Suffolk copyright Carole Drake.
Read more about this extraordinary garden here
The Barn, Ilminster, Somerset opens By Arrangement from May 2023 to June 2023 for groups of between 1 and 20.
For more details click here
Shepherds Cottage, Chichester, Sussex opens By Arrangement from April 2023 to August 2023 for groups of between 10 and 35.
For more details click here
Brockworth Court, Gloucestershire opens in April and September and by arrangement from April to October for groups of between 5 and 30.
For more details click here