Looking for gardens on the go?
We've got the perfect solution – our mobile phone app is available for both Apple and Android phones, and makes garden visiting even easier than before!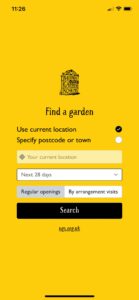 Our 'Find a Garden' app will help you find gardens to visit from the more than 3600 in England and Wales that open each year to help raise money for caring and nursing charities.
To help you plan your visits, the National Garden Scheme app lets you search for gardens using your current location or by entering a postcode or town. Opening dates, times, prices, a description and photograph of each garden along with information about how to get there are provided.
Download the app for Apple device
Download the app for Android device
You can also find our gardens on the Iris app, as part of our partnership with Crocus. The new partnership, between Crocus and the National Garden Scheme, aims to cross-pollinate interest in Crocus and its free gardening app – Iris – where you can get gardening tips, nurture your knowledge, shop and find National Garden Scheme gardens to visit.
Download the Iris app for Apple device
Download the Iris app for Android device