Susie Watson: a designers garden in tune with nature opens in 2023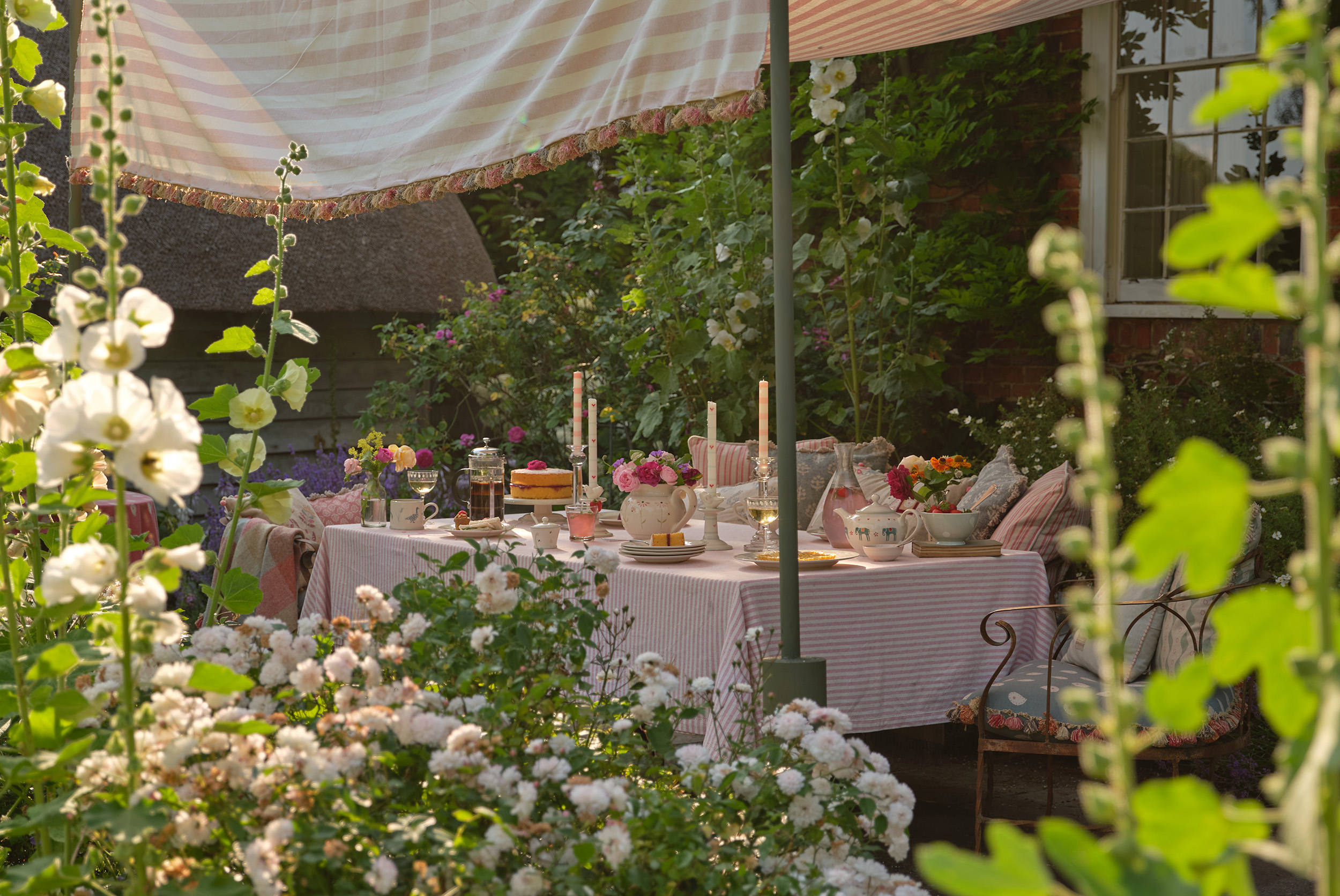 Susie Watson, Designer and Founder of Susie Watson Designs is opening her garden in Wiltshire for the National Garden Scheme for the first time in June 2023. Wrapped around a beautiful, wisteria-clad former farmhouse dating back to the 16th Century, Susie and her husband Hamish have created an idyllic home, garden and workspace in the village of Axford.
"In 2002, we moved from London to Wiltshire," says Susie. "We were looking for a property with charm and Riverside House certainly ticked all the boxes. Although the house was in need of a complete and sympathetic restoration and the garden had seen better days.
"You could tell that the garden had once been amazing and there were some stunning specimen trees and old flower beds, but it had all rather encroached on the house," explains Susie. "But the setting was so peaceful and so charming with lawns sweeping down to a stream and views to the south over water-meadows, that we knew there was lots of potential to unlock.
"I wouldn't call myself a gardener but I love flowers and I was keen to get to work. We dug out an area for the conservatory, rebuilt old walls and flower beds, and added a rose garden and hedges."
Susie soon relaxed into accepting that there were a few plants that simply didn't like being in the garden and now nurtures those that do. With a love of cottage-style planting, foxgloves, hollyhocks and roses create a soft, mixed palette of colour, and hydrangeas provide colour well into the winter months.
"It's not a formal garden and many of the plants are self-seeded," she says. "And while I sometimes feel grumpy that things aren't quite how I want them to be, the garden is very different to doing up a house; in the garden, working with nature, you can't go too far wrong."
Visitors will arrive in the garden through a wildflower meadow and there are wild patches where the grass is allowed to grow tall under the trees that are often full of birdsong. The overall effect is a relaxed garden with an atmosphere of cottage charm that Susie describes as 'by no means finished'.
Inspired by friends who open their garden for the National Garden Scheme, and all the hard work of their gardener Ollie, Susie and Hamish will open on 21 June.
"Opening for the National Garden Scheme seems to give a lot of pleasure to people and raises money for good causes. So, it's nice to have a chance to share our lovely garden."
Riverside House, Axford, Wiltshire open on Wednesday 21 June, 11am – 5pm.
Tickets can be bought in advance at: https://findagarden.ngs.org.uk/garden/45006/riverside-house
More about Susie Watson
Known for her beautiful hand printed fabrics and charming ceramics so often inspired by nature, we asked Susie how she would set the scene for a party in the garden. "Lots of colourful and comfortable looking cushions and a lovely tablecloth are the most important. Adding pretty ceramics, glass and lots of flowers creates a lovely setting that adds to the magic of eating outside."
SUSIE'S TOP TIPS FOR AL FRESCO DINING
Whether it's afternoon tea, a family lunch or a lovely supper, using a colour palette that blends well with  the garden surroundings works best. I tend to use lots of greens, pinks and reds in the garden with touches of saffron – I'd rarely choose blue.
Setting the scene:
Use lots of cushions in the suggested colour palette.
A tablecloth is a must.
It doesn't matter if the crockery and glasses match – a mixture can add to the charm.
Rugs are colourful and cosy and perfect for when the evening chill sets in.
Hurricane vases for candles and tealights that are protected from the wind work really well and look lovely twinkling at dusk.
Lots of Flower bottles dotted around the table with a few stems mean you can use less flowers and spread the floral impact but I usually have a big jug of flowers in the centre as well.
What to serve: 
For outdoor summer eating I always choose cold food – it can be prepared in advance and means the hosts can relax. Coronation chicken, cold roast beef and gooseberry fool are some of my favourites.