Winter gems; a history of snowdrops and how to grow them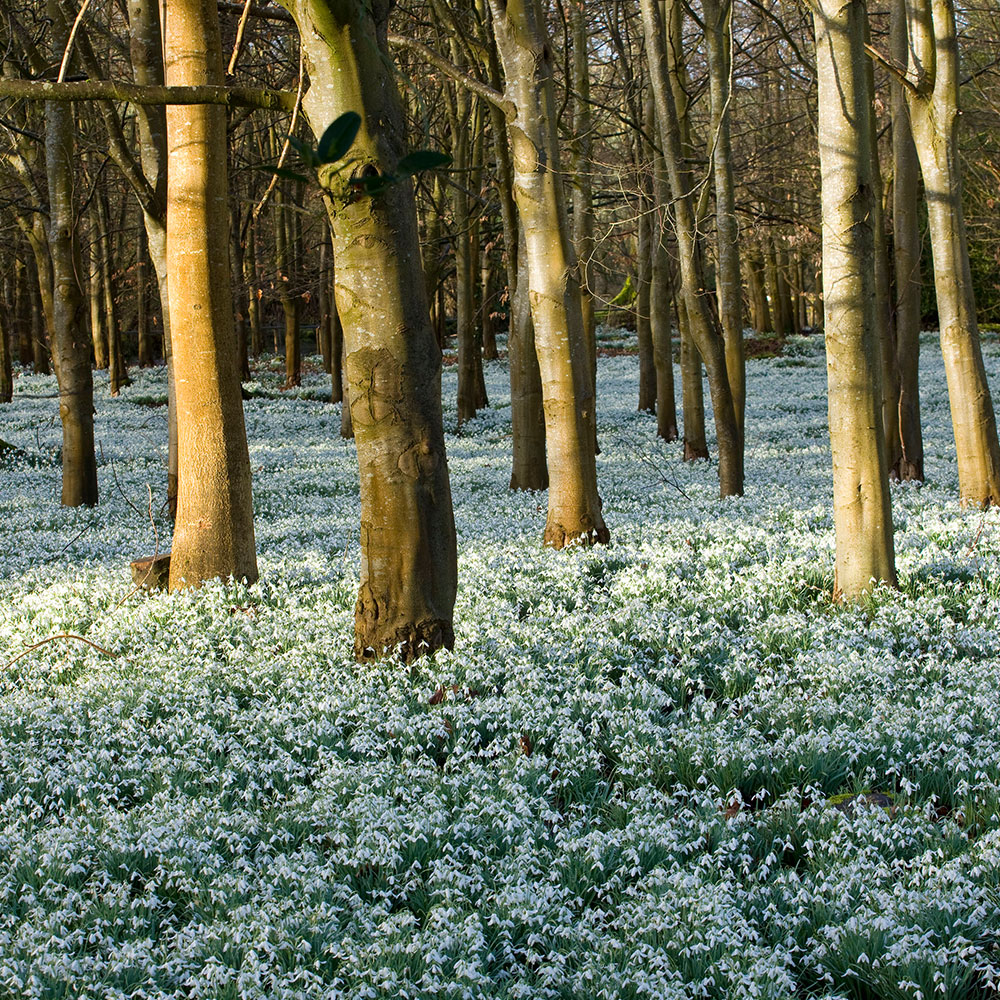 Assistant County Organiser for Berkshire, Graham O'Connell looks at the history of snowdrops, how to grow them and, most importantly, where to see them this season
Nature provides every season with a beauty of its own and out of the bleakness of winter shines one little gem in particular: the snowdrop.
Originating in Europe, the first recorded cultivation of snowdrops in England is in the 16th century, though many believe they were first brought over much earlier by Norman monks. They were grown in churchyards for Candlemas Day (2nd February) and in Abbeys as a medical plant for the treatment of 'Mal au Tete', problems of the head. Interestingly a chemical found in snowdrops, Galanthamine, is now used to treat Alzheimers.
Some of those early planted snowdrops have now spread over the years to provide glorious carpets of white from late January into March. We are lucky in this area to have one of the finest snowdrop gardens anywhere – Welford Park (pictured above courtesy of Clive Nicholls). Open under the National Garden Scheme in 2023 on Wednesday 8th February from 11am to 4pm, you can visit Welford, which is just northwest of Newbury, and experience their four acres of jewelled woodland. Incidentally, as the former home of the Great British Bake Off, you won't be surprised that they do some pretty fine teas too!
You will no doubt come back inspired to grow some snowdrops of your own so you will be pleased to hear that for the most part they are pretty easy little plants. You will need a shady, moist spot though they will tolerate some dryness in the summer which is their dormant period. A small area will do as long as you have a good handful of bulbs.
With over 1,000 varieties to choose from it helps to narrow that choice down. For starting out I'd recommend Galanthus Nivalis, the common snowdrop, or Galanthus Plicatus which is also very easy to grow and free-flowering. For real impact choose Galanthus Elwesii with its larger flower and honey-scented blooms. Be warned though, if you get hooked and become a galanthophile then it could prove to become an expensive hobby as some rarer varieties can go for over £1,000 a bulb!
The most common way to buy snowdrops is 'in the green'. This means they have finished flowering but still have their green leaves. They need to be planted straight away before the bulb starts to dry out. Plant them about 3" deep and 1" to 2" apart. Make sure the soil is loose rather than compacted and ideally add some organic matter such as leaf mould.
In woodland you can leave them alone to spread naturally over time. In the garden you can aid this process by dividing them after flowering, usually in late March. Simply lift any large or congested clumps with a fork and gently separate the bulbs and their bulblets into smaller clusters and replant a few inches apart.
Good partner plants in a wood are yellow winter Aconites (you will see plenty of these too at Welford Park). In garden borders I love the contrasting rich tones of Hellebores, especially Helleborus Harvington Red. They also help you remember where your snowdrops have been planted so you don't accidentally dig them up in the summer when they are out of sight.
So, no excuses, this is the time to get out, get inspired and enjoy this little gift of winter.
You can find all the snowdrop gardens opening for the National Garden Scheme this season by clicking here