A trot around Ivy House Garden with Alfie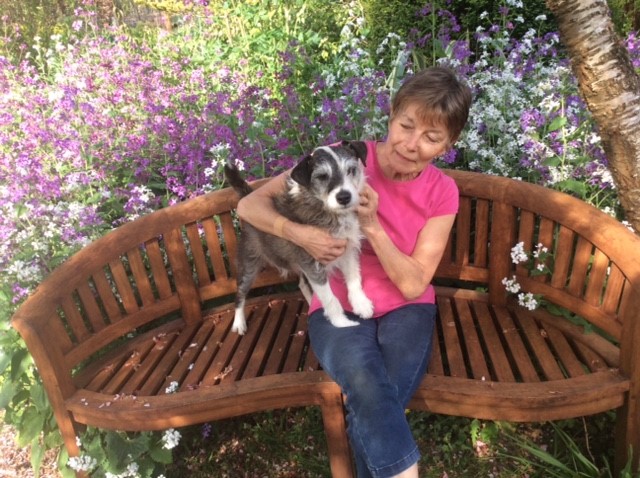 Enjoy a quick trot through the garden at Ivy House in Dorset with rescued resident Alfie Bowen. Alfie is a Parson's Jack Russell (long legged type) and has lived with owner Bridget and her husband for seven years. He's not had the easiest of starts with four rescue homes before finding sanctuary with Bridget but now he is really enjoying life in the garden.
"He loves the garden and his favourite place is the compost heaps where he looks for rats," says Bridget. "He digs so fast and so deep that within minutes all that can be seen is the white tip of his tail. He sends out enthusiastic barks when he catches his prey. So he's a very useful garden companion, both at dealing with vermin and at saving me the back-breaking task of turning the compost heaps!"
More about Ivy House
Ivy House Garden was first mentioned in William Robinson's Cottage Gardening magazine, in the late 1890's, when C.W.Groves nursery, now relocated to West Bay, Bridport, was situated in Piddletrenthide. The garden as it is today was laid out in 1986 by the current owners. The steep, chalky hillside presents quite a challenge both to the gardener and the visitor. Within the half-acre plot are different areas of interest, including two ponds, an organic potager with flowers for cutting, vegetables, a fruit garden and herbaceous borders. There are also two greenhouses and a poly-tunnel, the latter used for over-wintering perennials, growing early salad crops and in the summer months for tomatoes, squashes and cucumbers.
A spring woodland garden above the summerhouse is planted with a dolly-mixture of tulips and a collection of hellebores and early flowering shrubs. In summer swags of rambler roses bloom in front of the summerhouse. A 'Nectar Bar' has been developed alongside the vegetable and fruit garden to attract early and late season pollinators, which helps to produce good crops.
Plan your visit to this delightful garden when it next opens. Click here for more information.
More canine companions
There are many Garden Owners who garden with their loyal companions at their side – some are useful others simply watch, or steal the blackberries from the bush. You can meet a wonderful selection of canine companions, the Best in Show, starring in virtual garden visits here
If you enjoyed this content please consider making a donation to help us continue to support our nursing and health beneficiaries.
make a donation to support our nurses