Blue Prescribing: The magic of wetlands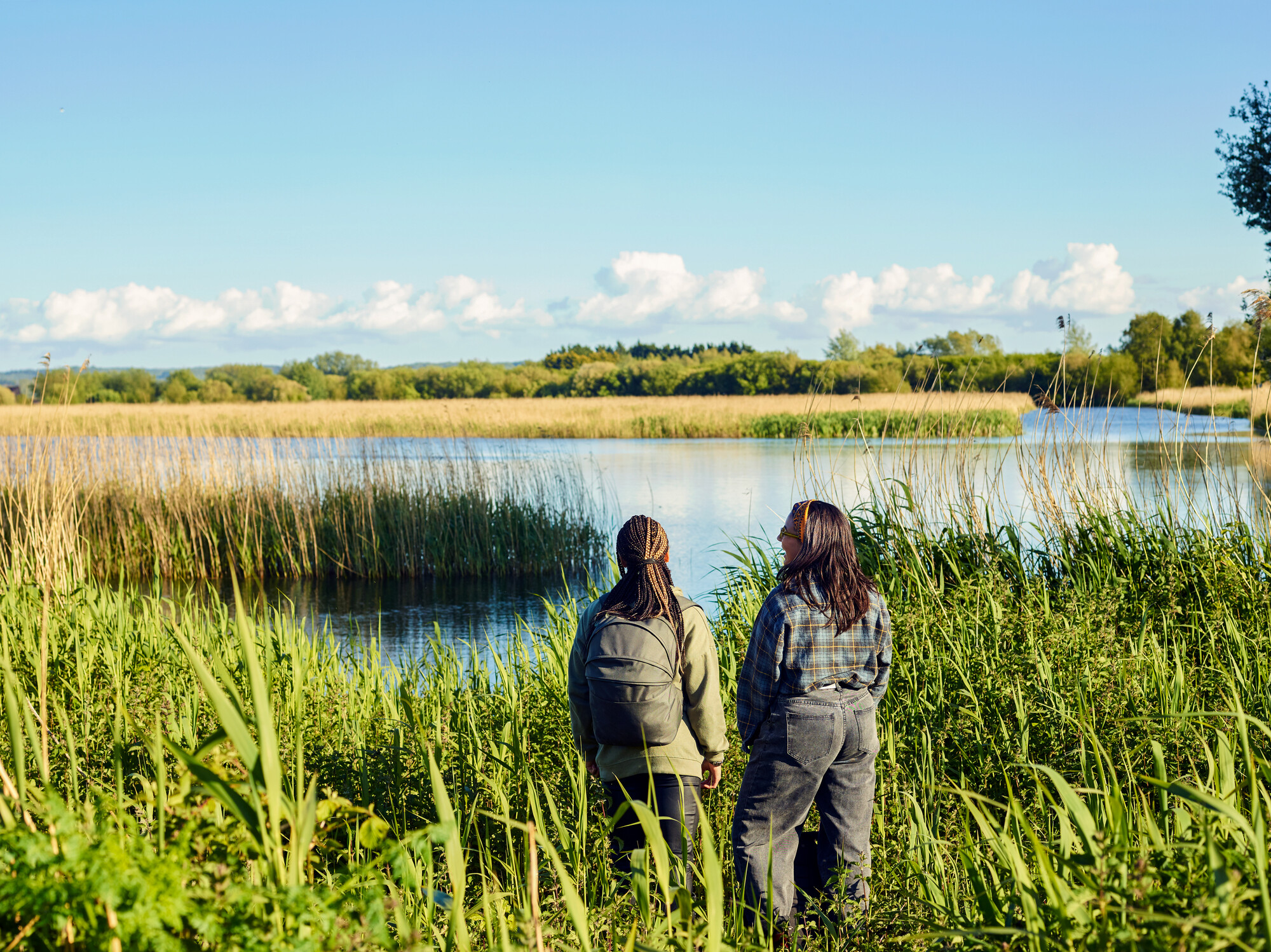 We all understand the benefit of being out in nature, it just makes you feel better. Well now there's a growing body of evidence that those more watery landscapes can make us feel even better.
Across a sunlit expanse of water reeds sway in the breeze and a group of waders – curlew, redshank, oystercatcher and avocet – feed on the exposed mudflats of the riverbank. It's low tide and a winding trail of ducklings sail by on the current, following the narrow stretch of water behind their mother. Insects add a gentle buzz to the air and nesting birds sing as they pair up. It's a gentle scene, a place that feels calm and restorative, a place to just be.
This is a wetland – a magical place where land meets water – and it has been clinically proven to improve your sense of wellbeing. Green spaces have long been championed as a way to improve your health and wellbeing. Now experts are adding blue spaces to that list.
What is a blue space?
A blue space is any outdoor environment which prominently features open water, a watery equivalent to green space. The evidence demonstrates that blue space is particularly effective at reducing stress and that physical activity in blue spaces restores mental wellbeing more than physical activity in green spaces.
Research by the Mental Health Foundation shows that 65% of people say being near water is their favourite part of nature and improves their mental wellbeing.
A safe haven
Wetlands are hot spots of biodiversity and essential for life on earth, providing water, shelter and food. Despite their importance we've lost 87% of the world's wetlands in the last 300 years. Now a growing body of research is showing that they're important for our wellbeing too.
The world's leading wetland conservation charity, WWT, has demonstrated that just 10 minutes spent in wetlands (at WWT London Wetland Centre) may be enough to produce improvements in mood. Interestingly, these effects are especially pronounced in people that reported feelings of elevated stress.
In 2021 scientists developed a structured Blue prescription health programme in line with social prescribing initiatives supported by the Mental Health Foundation. This might be an eight week course focussing on ecological approaches to mental health and wellbeing. It could be a wellbeing walk or a weekly group meeting held at one of WWT's wetland centres. Central to this is the group setting, with meaningful activities in a social context and nature-based environment.
At WWT Steart Marshes on the Somerset levels these Blue Prescription programmes have been running since March 2021. Since then over 200 people have been involved with the programme.
One participant fed back that:
'The beauty of this place is so amazing. The sights, the smells and textures. The feeling of tranquility when I'm here, I feel 'safe'. The wildlife: the murmuration I saw for the first time right over the water in the sun on the River Parratt. Stunning. When I walk now, this group has taught me to be more mindful about my surroundings; sights, sounds, smells, colours etc.'
When asked 'Do you feel that this has contributed to your health and wellbeing?' she said, 'I feel happy and calm when I'm here with the group. Truly at peace'.
WWT's own research shows that these structured health programmes in wetlands can have wide ranging health benefits, from reducing stress and anxiety to improving mental wellbeing.
But you don't need to do a programme to get great benefits from spending time on a wetland. It's in your hands. Visit your local wetland or one of WWT's 10 wetland centres across the UK and you're bound to leave with a new found spring in your step.
To find out more visit wwt.org.uk/wellbeing
Not sure where to start?
Have a go this simple mindfulness exercise.
Find somewhere outdoors where you won't be disturbed.
Close your eyes, take a few deep breaths then focus all of your attention on what you can hear.
Notice which sounds are most obvious to you, as well as those that are in the background. Notice how some sounds come and go, while others are constant. Notice how some get louder and softer.
When your mind wanders, notice you've become distracted and then gently return your attention to listening.
Continue listening in this way for at least five minutes.
This article was originally published in The Little Yellow Book of Gardens and Health as part of our Gardens and Health content. For more on our partnership with WWT click here.