Brockhampton Cottage, Herefordshire: garden harmony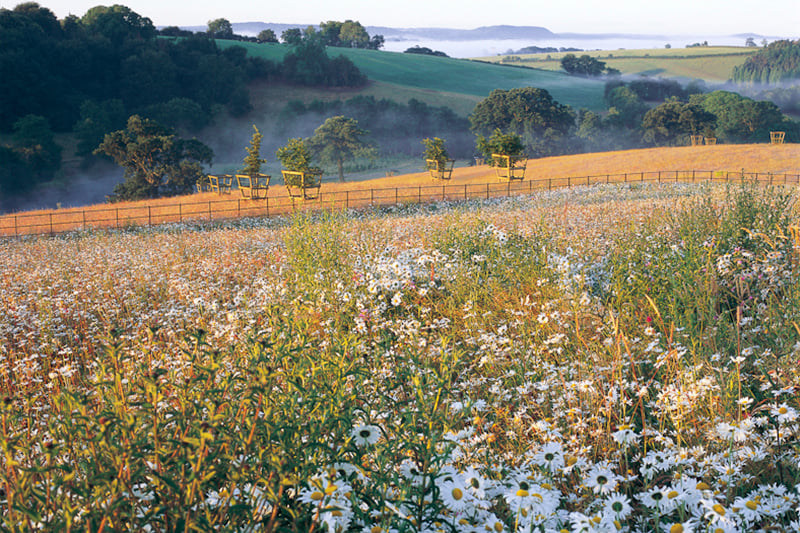 Perched on a rise in the gloriously rural countryside of south Herefordshire, the garden of Brockhampton Cottage has been created in the last 21 years to maximise the quality of its setting. Its owner, Peter Clay, a Trustee of the National Garden Scheme, has been joined in parts of the garden's creation by his friend Tom Stuart-Smith, the renowned garden designer and together they have created a scene where the details of planting are the foreground to panoramic views south and west towards the Golden Valley and the Welsh hills.
A Closer Look
A terrace binds the house to the garden and along the terrace a row of beeches clipped into distinctive drums is a typically innovative detail. There are Stuart-Smith signatures in the mixed palette of flowering perennials and perennial grasses, but the garden's personality comes from Peter Clay's vision of creating a garden at one with its surroundings and heritage. So there is a Perry pear orchard to acknowledge a famous Herefordshire crop and in early summer the wildflower meadow is filled with ox-eye daisies and a scattering of bright purple orchids.
Indeed the harmonious way that the garden flows from one area to another away from the house and down the slope, almost disguises the rich variety of planting for all seasons, in which shape and foliage are as important as flowers. The large lake has always been a destination at the bottom of the hill, now the presence of water has been added right through the garden by a new stream, for which water is pumped up from the lake, and which bubbles merrily down the slope adding its tinkling music to the ever-present birdsong.
Find out when this garden next opens by clicking here
If you enjoyed this content please consider making a donation to help us continue to support our nursing and health beneficiaries.
make a donation to support our nurses