Curtis' story: outside is like a medicine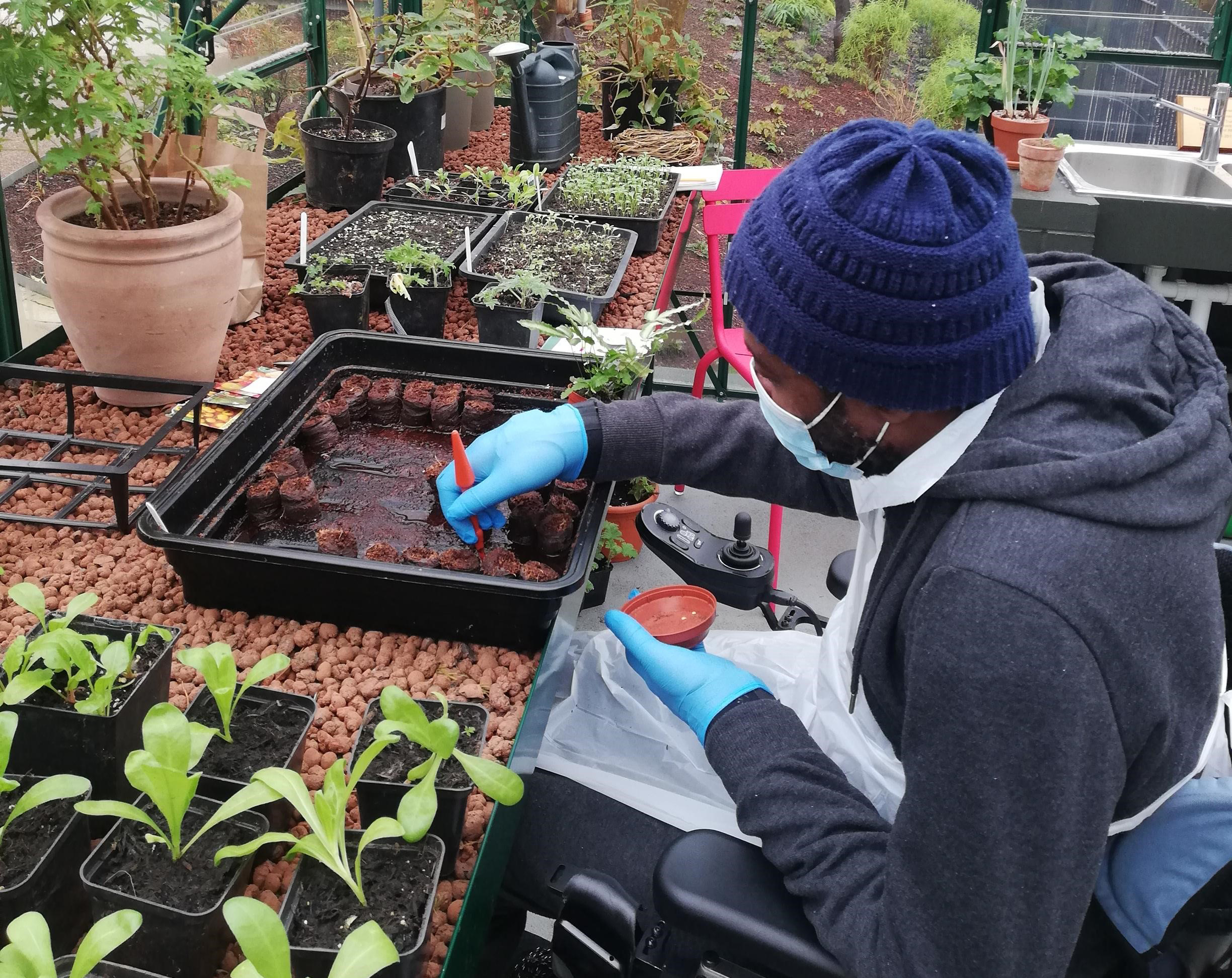 Curtis arrived at the London Spinal Cord Injury Centre in September 2020. Having long had a great interest in birds, it wasn't long before he discovered Horatio's Garden London & South East. Since then, he's visited the sanctuary at least once a day.
"It's a nice feeling to just be in the garden, whether I'm doing something or not. I come out for fresh air, sunshine, to just sit, look at the birds and have a relaxing moment."
More often than not, Curtis can be found visiting the greenhouse, to see and learn a little more about the plants growing there.
His visits soon led to him joining Head Gardener Ashley for one-to-one gardening sessions, which at first were challenging.
"When Curtis first came in, he had very little hand function and was barely able to hold tools. He required a lot of help in the garden sessions, but across each week I've seen a huge improvement in his dexterity," says Ashley. "Now he can hold small tools, such as a dibber and can also sow seeds without assistance. It's brilliant."
For Curtis, the sessions have complemented the fantastic clinical care offered by the Royal National Orthopaedic Hospital's staff perfectly.
"I find it therapeutic. Each little movement has helped my hands to remember how to work, particularly positioning my palm in a certain way to plant seeds. It's helped me to get back the movements I thought I'd lost."
With a few keen gardeners currently spending time in the spinal centre, Curtis is in good company and thanks to the greenhouse's heated mat, it is currently full of summer vegetable seedlings that he's been able to nurture.
"Gardening is good for your whole being. Outside is like a medicine, a healing power. The garden has its own healing power. It makes you feel better in yourself."
While honing his horticultural skills has certainly been a source of calm and inspiration, simply being able to visit the garden is something Curtis has valued most throughout the months he's been in hospital.
"It's very important to have that space outside of the ward; a moment in time for reflection. Nature always brings reflection. You can clear your mind and have a little healing moment. I would recommend it to everyone."
Horatio's gardens open for the National Garden Scheme – find out more here:
Salisbury Visit a garden in your area – National Garden Scheme (ngs.org.uk)
Stoke Mandeville, Buckinghamshire Visit a garden in your area – National Garden Scheme (ngs.org.uk)
Oswestry Visit a garden in your area – National Garden Scheme (ngs.org.uk) 
Curtis' story is published as part of our 2021 Gardens & Health Week – for more click here