Down to earth at Paddock Allotments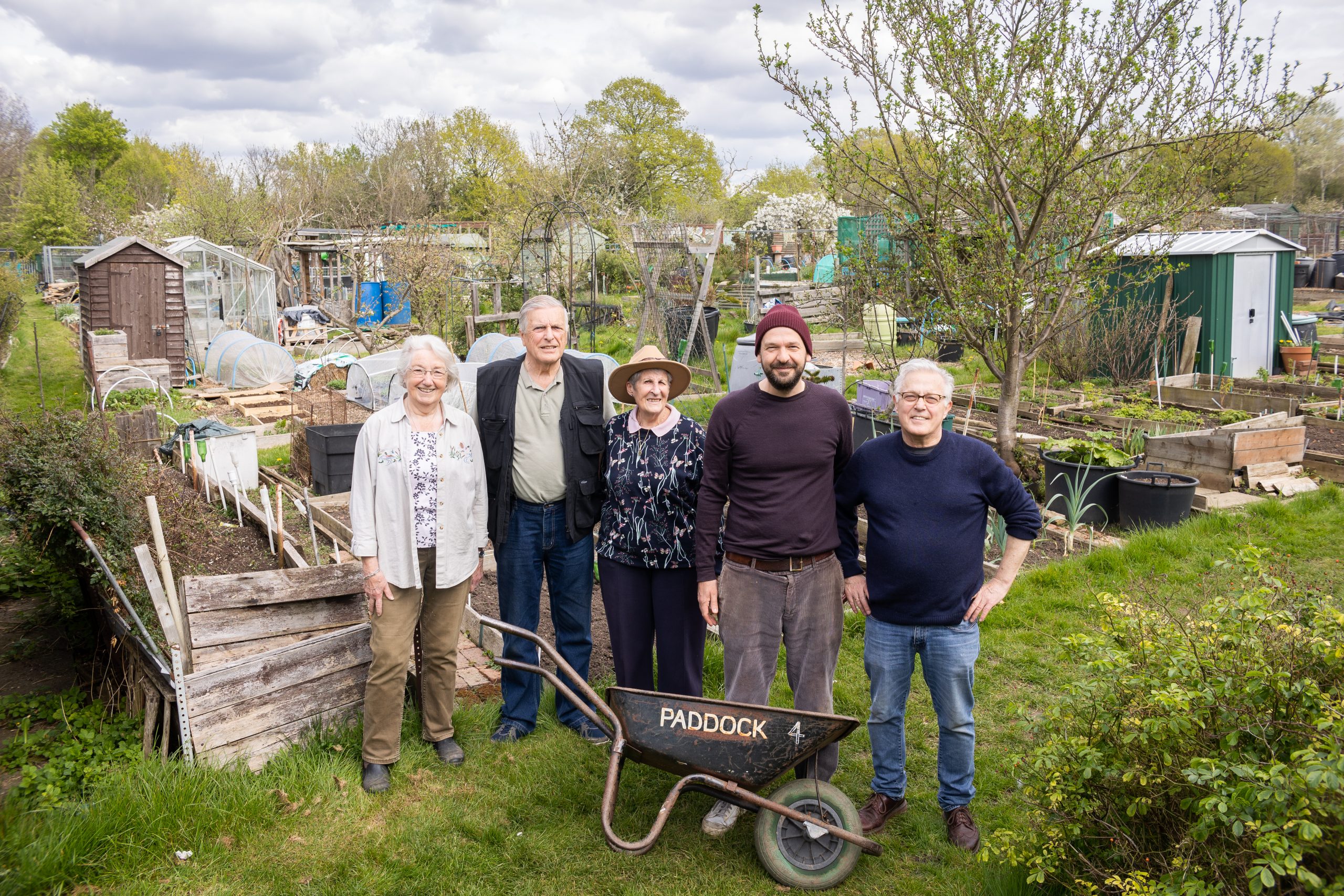 Fifty one allotments – representing over 2,500 plot holders – will open for the National Garden Scheme in 2024. These amazing communities of enthusiastic growers offer the visitor so much; from tips on growing coriander, artichokes, asparagus and blueberries to dahlias and damsons to a deep sense of solace and wellbeing. We caught up with some of the plot holders at the Paddock Allotments in Raynes Park. 
Set aside for allotments in 1926 the 5.5 acres of Paddock Allotments is tucked away behind avenues of residential homes and Canon Hill Common in South London. Visiting on a warm spring day with parakeets squawking overhead and birdsong abounding you wouldn't know the busy A3 is literally a stones throw away.
"My favourite thing is coming here and being outside. Growing things is slightly secondary," says Adam at 29A. "It gets me out and allows me to switch off my conscious mind, centring me in the present. For Adam there's no downside to having an allotment apart from having to share some of the things he grows with the wildlife.
Nasser, a competitive grower who enjoys a challenge, has owned a plot for 27 years. Growing medal-winning vegetables, fruit and flowers is a lifelong passion. "I enjoy growing anything difficult and sharing advice with who ever is interested – especially on the open day," he says. "It's especially rewarding to show youngsters where their food comes from." While the weeding is a constant, Nasser finds it relaxing working on his plot. "I feel satisfied," he says. "It's a job I like to do and it keeps me happy."
Photographer Benjamin discovered the site when he covered the open day for the local paper. With no experience of gardening or growing he decided to get involved. "My first plot was right on the edge under the oak trees and nothing much grew. It was a learning curve but, having a north-facing flat with no outdoor space, it was such a wonderful escape during lockdown. Spending a whole day here really helps me relax … it allows me to potter, plant and to be."
Taking on a better plot last August, and with generous advice from fellow plot holders, Benjamin's confidence has grown. "The only painful thing is when the slugs eat things before I can. But generally, being here, all the stresses and strains disappear. It's a sanctuary." For tenancy officer, Ruth, a love of gardening inherited from her dad led her to taking a plot 22 years ago.
"I come down for 2-3 hours a week but I'm lucky if I get that much gardening done as there's always someone to talk to," she says. "It's a social club with some gardening and if you live alone, as many do, it's a great place for companionship. We've got a great social calendar and a full English every Sunday for £2.50." Ruth's favourite things to grow are asparagus and peas which she freezes straight from the pod. "The best thing is when you take produce home and share it with others. It's very rewarding."
While there is a long waiting list at Paddock Allotments Ruth would recommend a plot to anyone, but with the proviso that you need reasonable health and plenty of time. "It's not all perfect soil and planting like Monty Don on the telly – it's hard work," she says. Cynthia and husband David are the glue that keep the community together. "When we married I wasn't that interested in gardening but I became the labourer and then, when I had more time, decided to take on my own plot," says David who enjoys the fresh air and fresh produce they grow along with the community which he describes as 'one big happy family'. "Working here makes me feel free and happy and it's good to meet new people."
With a large club house, garden shop, annual show, hobby club, quiz nights, open days, outings, Bridge club (which went online during lockdown) and Sunday breakfasts, the Paddock Horticultural Society is open to all – not just plot holders – for a modest fee. With experience of running social clubs Cynthia, who took on a plot when she retired in 2007, not only enjoys growing vegetables and flowers to attract the pollinators but loves the social side too. "It's great meeting like-minded people and being out in the fresh air," she says. "I always feel I've had a good bit of exercise after a day at the allotment."
Like all the plot holders we met, Cynthia is looking forward to the National Garden Scheme open day. "It's a wonderful day. Plot holders love to be asked about what they're growing and visitors really enjoy the tea and cakes and ploughman's lunches," she says. With plant and produce sales too it's a day not to be missed.
CLICK HERE FOR MORE INFORMATION
This article was originally published in The Little Yellow Book of Gardens and Health – read it here