The beneficiary collection; great gardens designed with purpose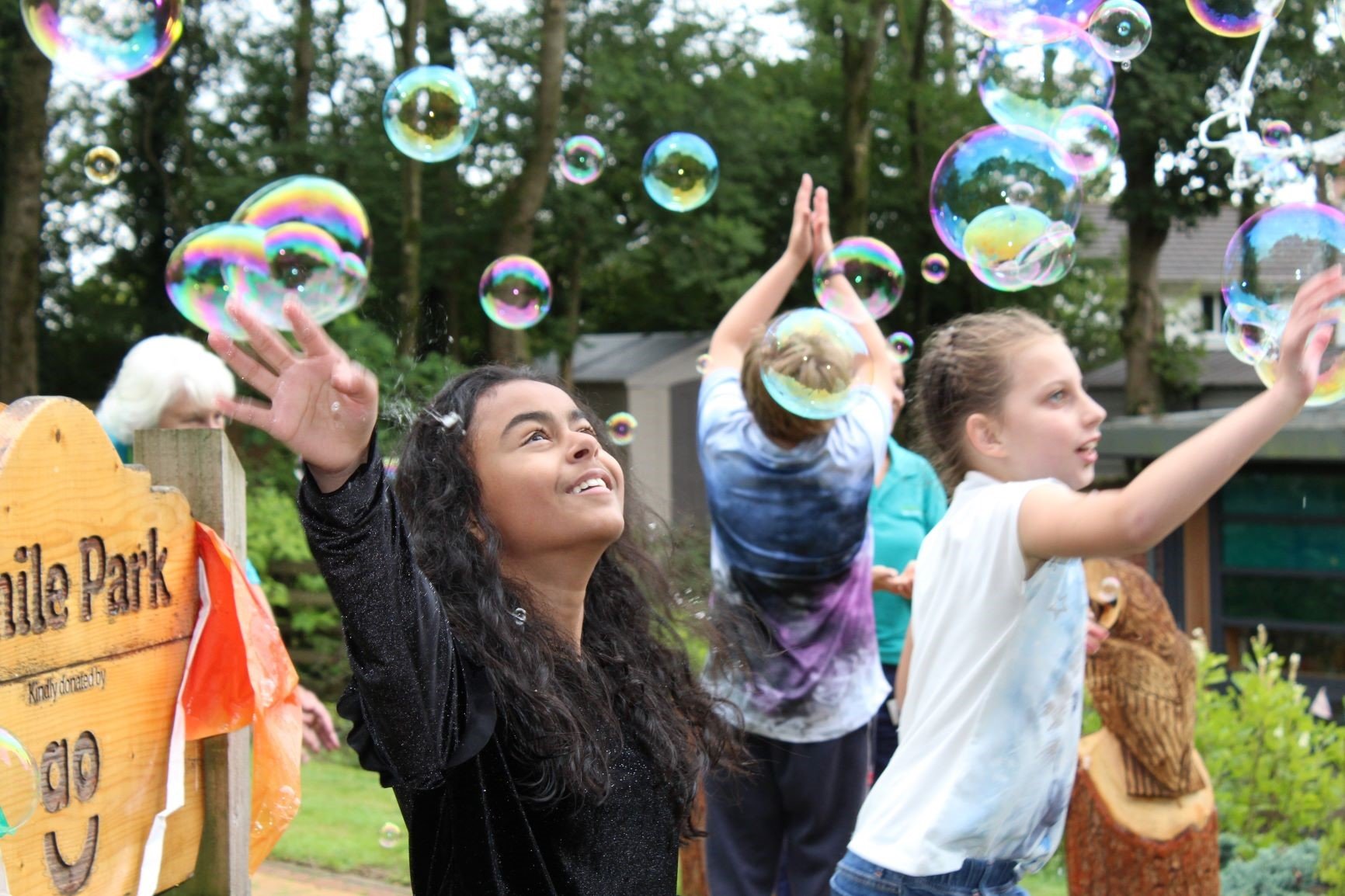 We all know that gardens are good for us – they provide respite from the chaos of our busy lives, exercise through gardening, buckets of fresh air and a real sense of achievement and calm. This heady mix of benefits can help us in our daily lives as well as those who are recovering from or living with life-threatening conditions. The National Garden Scheme opens a diverse portfolio of gardens across the country to raise funds for some of the UK's best-loved nursing and health charities, but it doesn't just open private gardens. In the mix are a wonderful array of gardens owned by the beneficiaries that we work to support, gardens that provide therapy, solace, reflection, respite and purpose.
Here are a selection of great beneficiary gardens planning to open in 2022*.
Hospice Gardens
The National Garden Scheme supports Hospice UK and Marie Curie, both of which champion hospice gardens that provide respite for hospice residents, staff and visitors. Many are maintained by volunteers and opening their gates to the garden visiting public gives the hospice teams a wonderful opportunity not only to share their beautiful, restful spaces but to also integrate and connect with the local community.
"At Hospice UK, we share the National Garden Scheme's vision of the valuable therapeutic benefits of gardens in promoting people's physical and emotional wellbeing. Gardens have a very important role in hospice care, providing a beautiful and tranquil space for people with terminal and life-limiting conditions and their families to receive counselling, bereavement support, learn new skills or simply take time out for quiet reflection. And it's wonderful to be able to share these spaces through the National Garden Scheme." Catherine Bosworth.
While the pandemic has impacted on how and when these gardens can open, in 2022 sixteen hospice's plan to open for the National Garden Scheme. From Derian House Children's Hospice in Lancashire that opens on 3 April and 24 July (lead photo and below) to St Oswald's Hospice in Newcastle upon Tyne opening on 18 June, there are a wonderful selection to choose from.
Discover all the hospice gardens opening in 2022 here: Hospice Gardens – National Garden Scheme (ngs.org.uk)
Horatio's Garden
Horatio's Garden is one of the National Garden Scheme's gardens and health charities – receiving funding for work which promotes the physical and mental health benefits of gardens and gardening. We've been supporting Horatio's Garden since 2015 and have donated £330,000 to-date to help the charity create and care for beautiful accessible gardens in NHS regional spinal injury centres. In spring 2019, the National Garden Scheme committed funding for the completion of all eleven gardens across the country and in 2021 donated a further £75,000.
Created by some of the best garden designers in the country these are gardens full of thought and purpose, both serene and sensory. Planning to open in 2022* are the gardens at Stoke Mandeville in Aylesbury on 14 May designed by Joe Swift , Oswestry, Shropshire on 26 June designed by Bunny Guinness, Royal National Orthopaedic Hospital, Stanmore on 14 May designed by Tom Stuart-Smith and Salisbury, Horatio's first garden on 17 July designed by Cleve West.
Maggie's
Maggie's offers practical and emotional support for free to anyone with cancer and their families. Built alongside NHS hospitals, Maggie's centres are uplifting places with wonderful gardens where professional staff offer the support people need. In 2021 the National Garden Scheme made a donation of £100,000 to Maggie's gardens and in 2022, three of the gardens plan to open*: Maggie's Sutton designed by world-famous Dutch Landscape Architect Piet Oudolf opens on 14 May; Maggie's West London designed by Dan Pearson opens on 24 April; Maggie's Manchester designed by world-renowned architect Lord Foster, is complemented by gardens designed by Dan Pearson, opens on 24 July.
Perennial
The National Garden Scheme is Perennial's largest single donor having donated more than £1.9 million since the partnership began in 1986. This contribution makes a huge difference to the lives of thousands of people in horticulture and their families and in 2021 we donated £115,000.
Everyone working in or retired from horticulture can receive free and confidential tailored one-to-one advice, support and financial assistance from Perennial's friendly, experienced and professional team for as long as help is needed. Perennial also has a number of gardens in its portfolio that open for the National Garden Scheme including Sir Roy Strong's The Laskett Garden on 6 July (and By Arrangement) and Fuller's Mill in Suffolk on 8 May and 2 October.
Perhaps lesser known, but equally important are the gardens of The Six Houses in Barton Cambridgeshire, that open as part of the Barton Gardens group opening on 3 April  and 5 June. The Six Houses are owned by Perennial and provided for retired horticulturists. To qualify you, or your late partner, must be retired from working within the horticultural industry and aged 60 or over. The gardens that open surround the small bungalow complex housing retired gardeners with individual gardens at each bungalow. There's also a communal garden with specimen trees, naturalised bulbs and gorgeous herbaceous borders.
"While working as a gardener for many years I found that I had cancer and was forced to stop working at 58. It was thanks to Perennial, and the bungalow in Barton, that I was able to retire. Fourteen years later I'm still gardening and along with all the other retired gardeners here we manage to maintain the gardens to a pretty good standard." Six Houses resident.  
For more about how Perennial and The Six Houses support horticulturalists read Nicholas' story here 
Visiting this wonderful array of gardens not only helps support those they care for but provides an insight into great garden design and inspirational planting.
*Gardens linked to a hospice or hospital setting are subject to Covid restrictions current at the time. Please check ahead of your visit to make sure that these gardens are opening.