Griffin Glasshouses make record £20,100 donation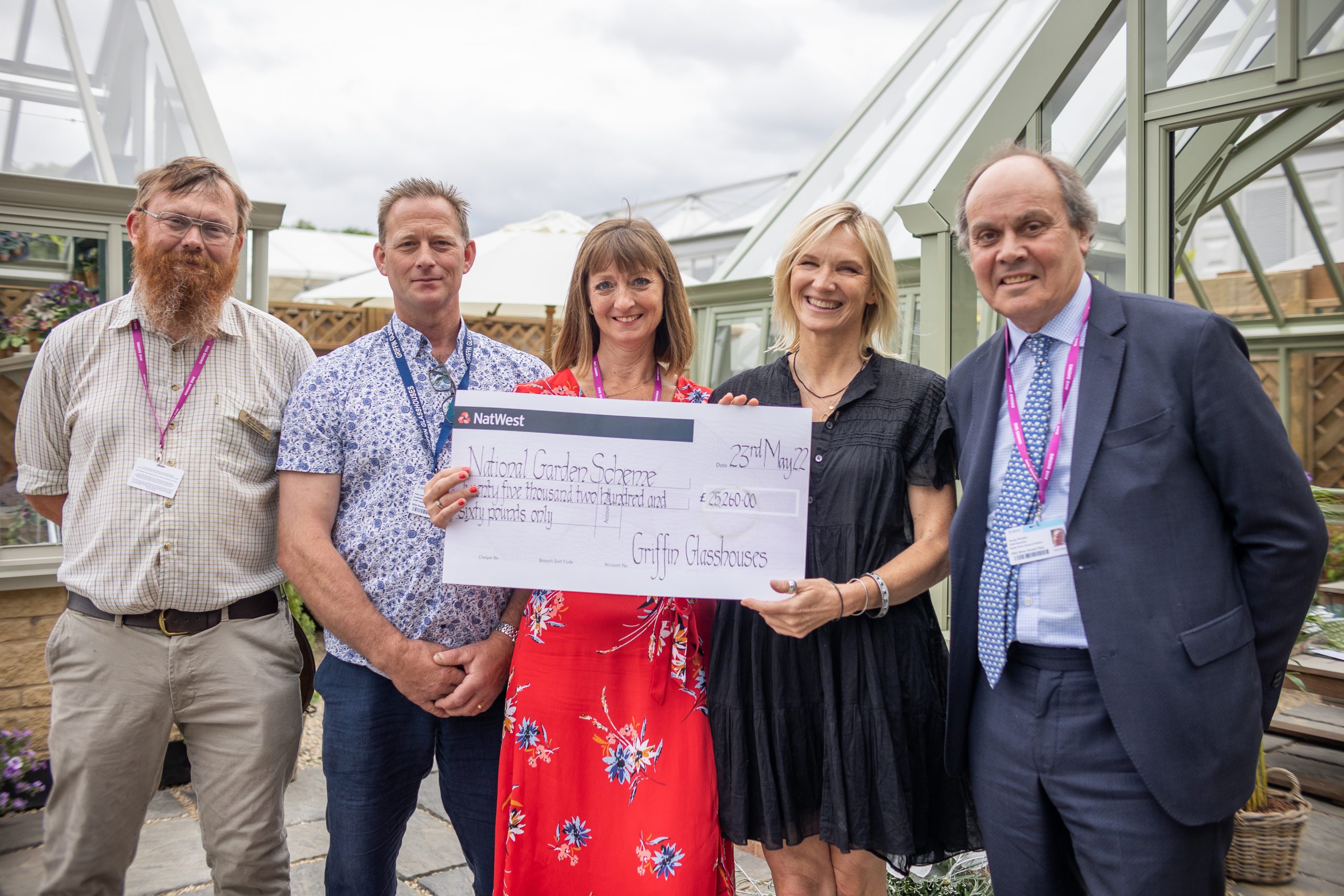 The National Garden Scheme is delighted to have received a cheque for over £20,000 from the 2021 sales of Griffin Glasshouses. It's the largest annual contribution made by Griffin to the charity through the sale of its stunning collection of National Garden Scheme inspired modern and Victorian greenhouses since the partnership began in 2013.
"We're thrilled to have received this donation from Griffin Glasshouses," says CEO, George Plumptre. "The ongoing support and this wonderful contribution will help bolster donations to our beneficiary charities after a couple of very challenging years."
The cheque presentation was made to our new Ambassador, Jo Whiley, on the Griffin Glasshouses stand at RHS Chelsea this year.
More about Griffin Glasshouses Support
For each one sold, Griffin Glasshouses generously donates 5% to the National Garden Scheme. The National Garden Scheme collection includes eight designs, and each one has attractive proportions and a traditional interior with hidden fixings, reproducing the appearance of a traditional wooden greenhouse.
You can see a Griffin Glasshouse in many of our National Garden Scheme gardens including: Bere Mill, Hampshire and Southwood Lodge, London.
You can also see the Rosemary greenhouse from the National Garden Scheme collection in Wickets, Essex, Serendi, Hertfordshire and Heathside, Surrey.
Lead image: l to r: Directors of Griffin Glasshouses Paul Smith and Peter Griffin, Griffin Glasshouses managing director, Linda Lane, National Garden Scheme Ambassador Jo Whiley and National Garden Scheme CEO, George Plumptre