Health benefits of gardens and gardening; a neuroscientist's perspective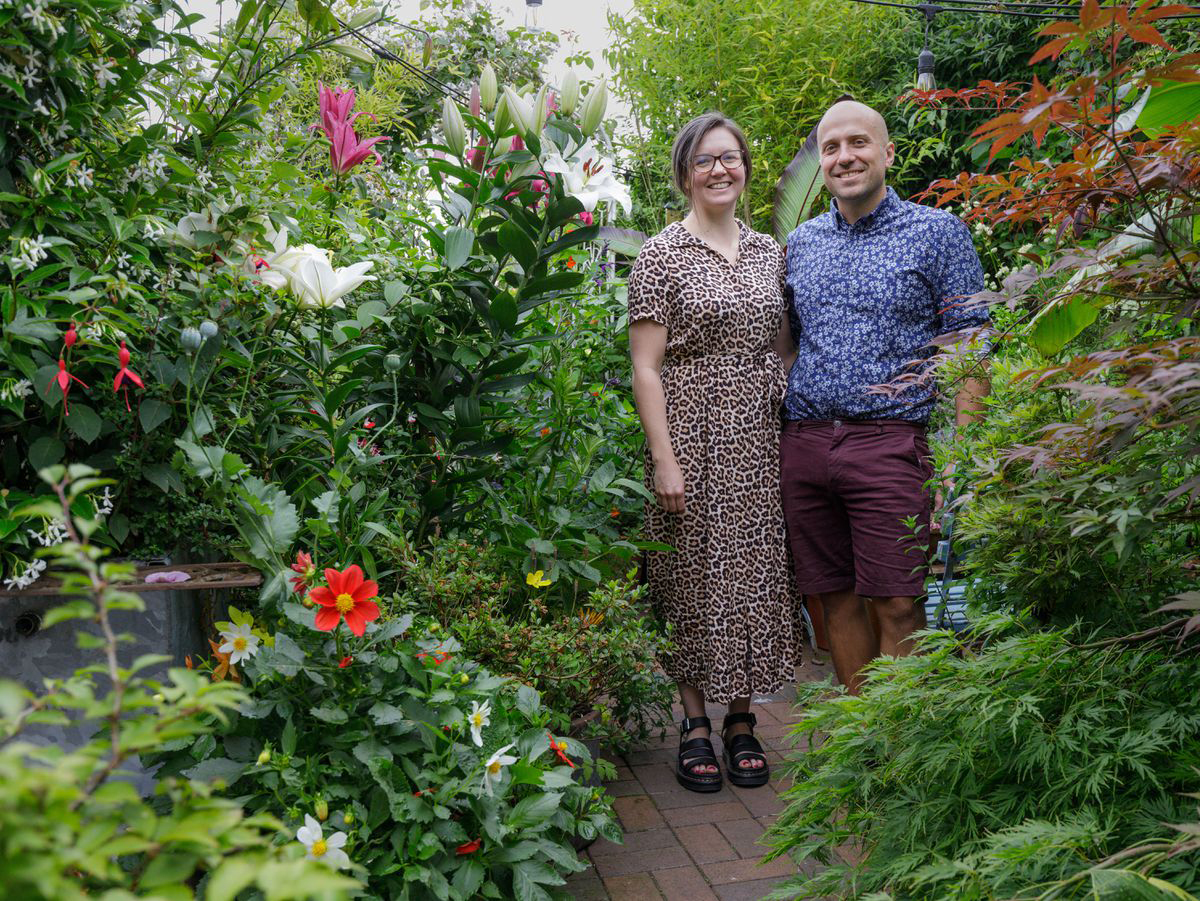 Dr John Butcher is a teaching fellow in Neuroscience at Aston University and also opens his garden, with his partner Sarah Berry (pictured together above) for the National Garden Scheme. We asked for his expert view on the health benefits of gardens and gardening.
As gardeners, we all know that getting outside and getting our hands dirty is good for us. From a personal perspective, there is nothing better than pottering around the garden in the evenings and on weekends, be it in the heat of the summer (and boy was last summer hot!) watering and deadheading, or on frosty days spent raking leaves and making plans for the season ahead. There's a sort of calm that comes with gardening and being at one with nature; it provides periods of reflection and relaxation during the busy day-to-day.
Since opening our garden for the National Garden Scheme, the value and benefit that gardens bring to us all has become even more apparent to me. We have found that some people often sit and immerse themselves in our garden, taking in the atmosphere and pausing for a moment to reflect. Others come for the tea and cake, or for the plant stall, whilst still more come for inspiration in both design and flower variety (particularly for pollinator-friendly flowers!). Whatever the motivation, what is clear is one common theme: people are happy in the garden! And everyone loves to talk about gardening; people asking what plant is what, what their garden looks like, what they love about gardening, sharing advice, cutting requests, do we have any of that particular plant in flower for sale (last year the 5 foot Teasel and Chicory were popular – sadly we didn't have any in a prepared pot for sale!). We were lucky to visit the Big Bloom at the Tower of London last year, and we saw exactly the same thing on a larger scale and with a bigger contrast, having the old and new London landscapes of the Tower and buildings such as The Gherkin in the backdrop, whilst bees and butterflies went about their business en masse amongst the beautiful swathes of wild flower meadows expertly created by Professor Nigel Dunnett and colleagues.
As a gardener for 25 years, and a Neuroscientist for the last 10, I have often wondered what it is about gardening that is so good for us. The value of outdoor spaces was, I think, forgotten in the hustle and bustle of daily life until the harsh realities of the Covid-19 pandemic hit. More recently, with our health services struggling, prescribing gardening through 'green social prescribing' could help to improve the physical and mental health of others, just as my garden has saved me through my darkest moments.
In my career I have been fortunate to conduct research into the inner workings of the brain, more specifically, how our brains change with experience – the fundamental building blocks to how we learn and how we form memories. Gardening has been a welcome distraction at times, but I have often wondered what scientific evidence there is for gardening being good for us, because we all feel that it is! Scientific evidence for direct effects on the brain is difficult to come by, but there are many studies that have shown improvements in health when gardening. These improvements could be down to spending more time outdoors and exercising, making it difficult to separate the effects on the brain versus the rest of the body. One thing is clear though, gardening has a lot of positive influences on us!
Simply viewing plants has been shown to change our brain activity, in addition to reducing stress, fear, anger, sadness, blood pressure, pulse rate and muscle tension (Nakamura and Fukii, 1990), an effect that has similarly been observed in children too (Kim et al., 2021). Participating in gardening has been shown to change brain activity and lower blood pressure (Hassan et al., 2018), whilst green spaces with biodiverse habitats are associated with less depression, anxiety and stress (see e.g. Fuller et al., 2007) – lucky for me living in the very green county of Shropshire! Similar effects were seen in hospitals too (Ulrich, 1984) and have been advocated for hundreds of years (Florence Nightingale was a fan!) which may have been a driving factor in the great work done by Horatio's Garden, one of the beneficiary charities of the National Garden Scheme. Additionally, it has been shown that short walks through a garden improve mental health (Peacock et al., 2007), as does having house plants in our home (Spring et al., 2011), passively viewing green spaces was shown to change brain activity and improve mood in control and depressed patients (Olszewska-Guizzo et al., 2022) and virtually viewing natural scenes was recently shown to reduce anxiety levels in college students (Browning et al, 2023). Recently, landscape features described in the Contemplative Landscape Model (CLM) (Olszekskwa, 2018) have been shown to increase two frequency bands of brain waves: frontal alpha and theta activity, which may indicate higher levels of mindfulness and wakeful relaxation (Olszewska-Guizzo et al., 2022).
Just around the corner from us is the Dorothy Clive Garden, a must visit, particularly in Spring when the azaleas, rhododendrons and camellias are in full bloom. This garden was created in 1940 by Colonel Harry Clive for his wife, Dorothy, who was suffering from Parkinson's. Parkinson's is a neurodegenerative disease that causes the loss of the brain's dopamine-producing cells, an important neurotransmitter. The main symptoms of this disease include motor deficits, often seen in the form of what can be quite severe tremors, chronic pain and memory loss. Colonel Clive created a series of paths in a disused quarry for Dorothy to navigate to help alleviate some of her symptoms; a true pioneer before his time! Gardening has also been shown to delay the symptoms of dementia, possibly as a side effect of garden-induced exercise (Simons et al., 2006), although another study showed that levels of certain brain growth factors linked to memory and cognitive function were higher in senior individuals in South Korea (Park et al., 2019). Other studies have reported positive effects in patients with Alzheimer's and dementia patients (e.g. see Uwajeh et al., 2019), improved cognition and independence of nursing home residents with dementia (Bourdon and Belmin, 2021) and improving sensory-motor and cognitive function in people with acquired brain injuries, as well as their quality of life (Vibholm et al., 2020). The amount of white matter (the connections that exist between our neurons) has also been shown to be higher in older adults who actively participate in light physical activity such as gardening (Burzynska et al., 2015).
A proposal in 2016 (Buck, 2016) stated that gardens and gardening should be part of the NHS England's programmes for improving public health. Based on my own experience of gardening, the experiences of visitors to our National Garden Scheme open days and the scientific data available, I couldn't agree more! Further research into the brain areas and mechanisms involved in these positive outcomes is needed to shed further light onto why gardening is good for us. Whether you have a garden, balcony or access to a green space nearby, be sure to get outside, be at one with your green space, and enjoy!
John opens his garden for the National Garden Scheme at 153 Willoughbridge, Market Drayton, Shropshire on 16 and 17 July and by arrangement between May and September for groups of between 1 and 40 – for details CLICK HERE
Follow John on Instagram @_thebeegardener_
Click here for academic References
This story originally appeared in The Little Yellow Book of Gardens and Health as part of our Gardens and Health Week 2023