Little Court Garden, a remarkable spectacle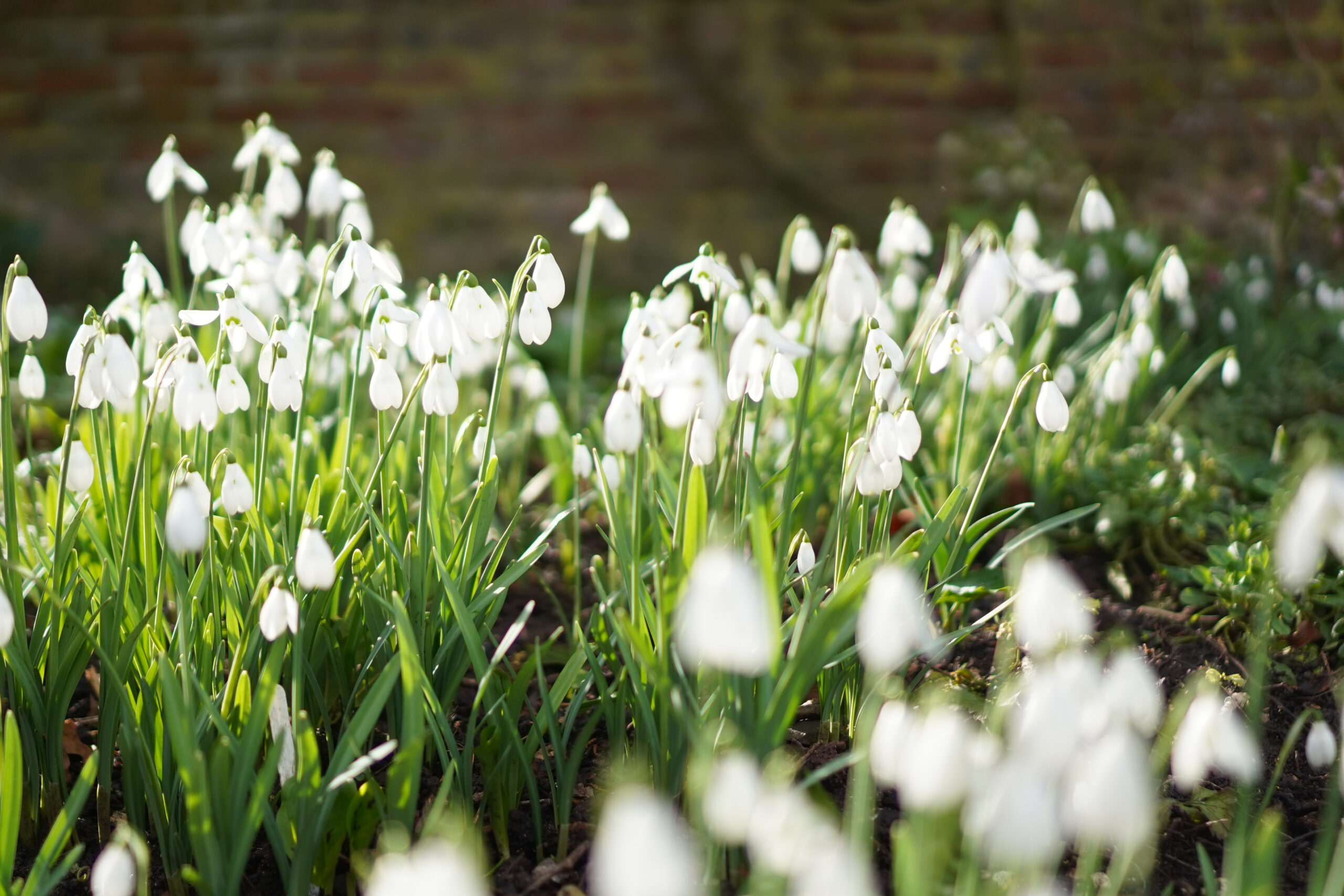 Even on a dull February day when the sun is not out, the garden at Little Court in Hampshire sparkles with garden gems. There are prolific snowdrops, including collectors' cultivars, amongst the borders. In sheltered places there are bantams and fish in the pond. The carpet of lavender crocuses that lures many visitors are evident in their thousands, spreading beneath the branches of the ancient apple trees; reluctant to open if the sun is not out, even in bud they are like a 'corps de ballet'. 
One visitor wrote last year; 'It was really therapeutic to sit in the garden, everywhere we looked there was something different and of significant interest to see'. The charm of the garden, which totals over two acres, are its different levels, lichened walls and gates all overseen by the topiary 'snail'- and finally, at the end, one the best views in Hampshire. In the field are many English wildflowers, a haven for butterflies. 
"We moved to Little Court in 1976, my husband and four small sons," garden owner Patricia Elkington explains. "Once they'd stopped using the garden for football, I could start clothing the garden. The soil is solid white chalk underneath, but over time we've added quantities of manure and our own compost, so it's now a darker shade of grey."  
As for the overall look of the garden Patricia says, "There was a temptation to try and grow some of everything, but then I found I shouldn't, a more tranquil effect is given with repetition of key plants." 
You see this in the box balls, all grown here from their own cuttings, and the choice of spring bulbs and shrubs. The old topiary queen, of yew, has been topped by a topiary snail "to frighten other snails away". The Hosta 'theatre' in pots, which creates interest later in the year, is top dressed by eggshells, baked in the oven and squashed into small pieces to deter slugs.   
The result is a very tranquil, naturalistic and relaxing space which Patricia hopes makes visitors 'feel better than when they arrived.'  
"It's very rewarding when people relax in our garden, listening to the birds; perhaps sitting; there are many seats and benches made from our own trees." 
Little Court first opened for the National Garden Scheme in 1984 and since then the garden has always been open for the charity. Patricia became a Hampshire Assistant County Organiser and later County Organiser and a Trustee. "I loved visiting other gardens, meeting the owners and sometimes their gardeners. I learned more about gardens by visiting other gardens than I ever could from books," she says. 
After twenty years of National Garden Scheme administration, which 'felt like only five', Patricia finally retired, but Little Court continues to open.
When to visit
In 2023, the garden will be open on four dates in February; when visitors can enjoy aconites, snowdrops, hellebores, crocuses and other spring flowers – many varieties seen growing are potted up and for sale.  There are also large herbaceous borders, and a traditional kitchen garden.  
With its continuing seasonal interest, the garden also has open days in March and May while during April it opens as part of the Crawley Gardens group when three lovely local gardens open together. The garden is also open by arrangement from February 2023 to August 2023 for groups of any size so you can have the garden all to yourself. 
It's not without reason that Little Court was short-listed for the recent 'Nations Favourite Garden'. 
To find out more about opening times and how to get to Little Court see: https://findagarden.ngs.org.uk/garden/8167/little-court