Major new partnership between the National Garden Scheme and English Heritage secures future of Historic and Botanic Garden Training Programme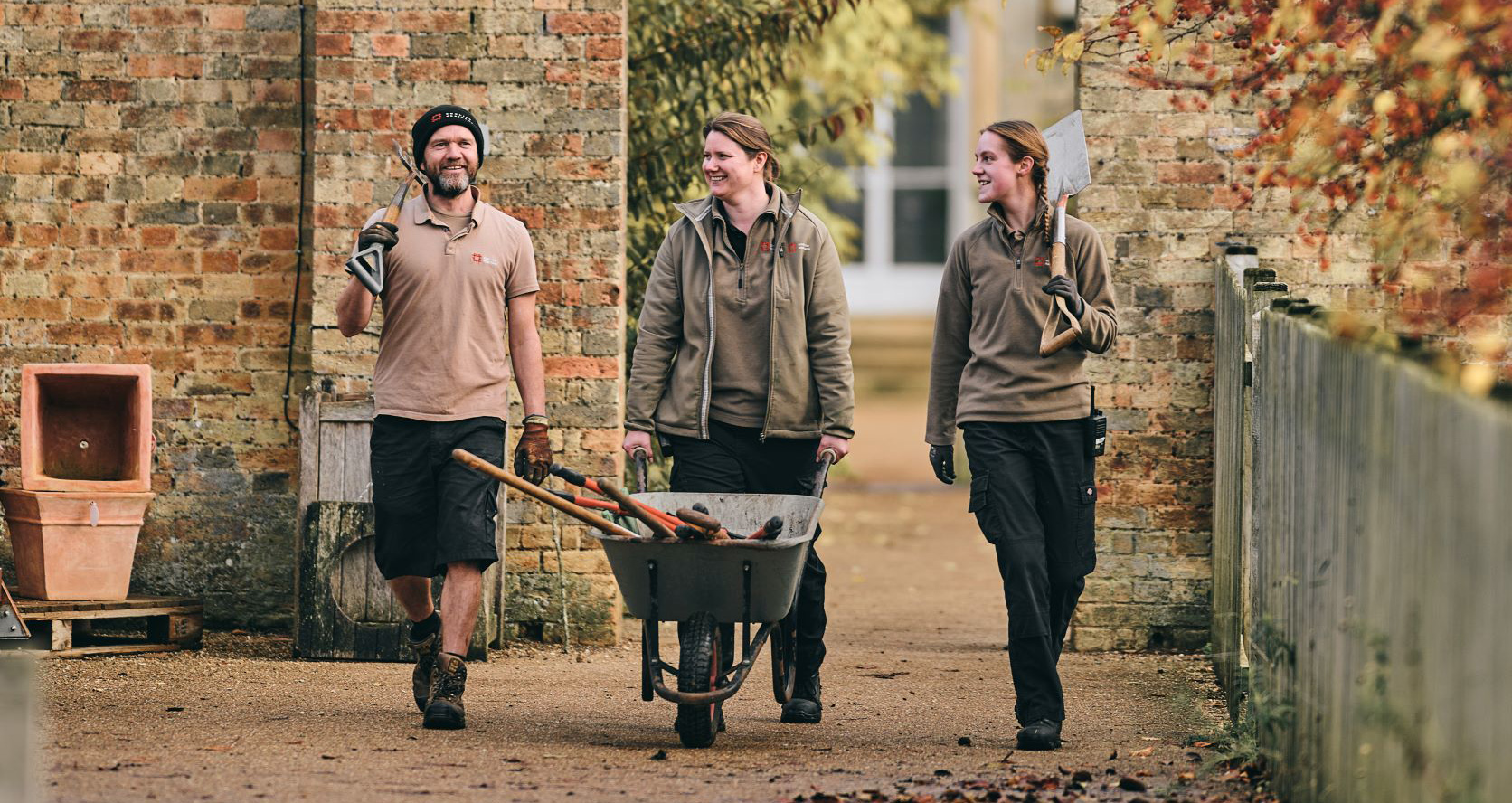 As part of a major new partnership the National Garden Scheme is delighted to announce its support for English Heritage's Historic and Botanic Garden Training Programme (HBGTP). The three-year commitment will mean £125,000 a year of support for seven trainees. The new partnership will also see English Heritage hosting a series of events in support of the National Garden Scheme through its gardens in 2023.  
"The future of the Historic and Botanic Garden Training Programme (HBGTP), which allows us to train the next generation of heritage gardeners, has been secured with this substantial commitment from the National Garden Scheme," says English Heritage's Head of Gardens and Landscapes, John Watkins.  
"We are thrilled to be partnering with the National Garden Scheme to secure the future of our award-winning programme.  Support from the National Garden Scheme will provide training to the next generation of horticultural specialists working in historic and botanical gardens.  English Heritage relies upon philanthropy and partnerships to deliver its charitable purposes, and we are all delighted to welcome the National Garden Scheme as a new supporter and partner," says Susan Fisher, Development Director at English Heritage. 
 "The HBGTP has acquired an impressive reputation for the quality of its training and experience offered, and for the accessibility and inclusivity of its recruitment of trainees, and the latter is an important priority for us," says National Garden Scheme Chief Executive, George Plumptre. "And the events English Heritage is hosting will enable us to showcase our partnership in the fabulous settings of their gardens." 
The National Garden Scheme has a long-established tradition of supporting and training gardeners through donations to a variety of charities over many years and this new partnership builds on that important legacy.
"We feel there has never been a more important time to promote gardens and gardening to young people and to encourage them through the training on offer in HBGTP," adds George Plumptre. 
In 2023, the National Garden Scheme-funded trainees and apprentices will be placed at the following seven gardens. This corresponds to the 2022-23 academic year.  
i. Audley End, Essex (Grade I Registered)
Audley End was one of the greatest houses of early 17th-century England. Between 1605–14 Thomas Howard, 1st Earl of Suffolk, took an earlier house created by his grandfather Lord Audley on the site of Walden Abbey, and rebuilt it on the scale of a royal palace. This was later modernised by Robert Adam for Sir John Griffin Griffin in the 1760s. 
Today visitors are able to explore gardens designed by Capability Brown, beautifully restored parterre and organic kitchen gardens.
ii. Wrest Park, Bedfordshire (Grade I Registered)
Wrest Park is one of the few places in the world where visitors can see the evolution of landscape gardening over the last 300 years. The site incorporates 90 acres of beautiful gardens showcasing French, Dutch, Italian and English styles side by side. The landscape incorporates elements by renowned architects and garden designers including Nicholas Hawksmoor, Thomas Archer, Batty Langley, William Kent and Lancelot 'Capability' Brown. 
iii. Marble Hill, London (Grade II* Registered) 
Marble Hill's Georgian Pleasure Gardens, which stretch from the Palladian Villa to the Thames, are being restored to their former glory and will launch to the public in spring 2022. Features include the Sweetwalk Flower Garden, Arbour, Woodland Walks and Grotto Garden. Visitors can play Ninepin Bowling, a popular Georgian pastime, on a re-created bowling alley, and a newly planted wildlife meadow has enhanced biodiversity and summer interest in the public park.
iv. Osborne, Isle of Wight (Grade II* Registered)
Osborne House gardens are a good example of the Victorian Italian Style. The estate also an eighteenth-century garden when it was purchased by Queen Victoria and Prince Albert to be their summer retreat. This included the walled kitchen-garden and pleasure ground. Prince Albert supervised the design of the formal gardens around the house in addition to the remodelling of the parkland and pleasure grounds. The grounds incorporated an extensive network of new walks and drives totalling 21 miles in length by 1864.
v. Walmer Castle and Gardens, Kent (Grade II Registered)
The gardens at Walmer mix formal and informal styles, grand-scale herbaceous planting and naturalistic woodland. The Penelope Hobhouse-designed Queen Mother's Garden (pictured) is a tranquil combination of still water, rich planting and cool shade. The Broadwalk Garden features an undulating cloud yew hedge and colourful double borders inspired by horticulturist and garden designer Gertrude Jekyll. Walmer's nineteenth-century Glen has recently been restored, and there is a 300-year-old Kitchen Garden providing seasonal produce for the café.
vi. Brodsworth Hall and Gardens, South Yorkshire (Grade II* Registered)
The gardens of Brodsworth Hall are home to a collection of grand gardens in miniature, filled with colourful seasonal plantings and displays. The Victorian gardens were neglected for much of the 20th Century and have been carefully restored by English Heritage. Due to the many years without mowing the rich bank of wildflowers, such as cowslips, orchids and wild thyme have been allowed to establish in the lawns, something not originally in the Victorian design but deeply appreciated by modern visitors  
vii. National Botanic Garden, Wales – HBGTP Partner Garden for 2022-23 
The National Botanic Garden of Wales is dedicated to the research and conservation of biodiversity, to sustainability, lifelong learning and the enjoyment of the visitor. The site includes several garden areas including an apothecary garden, an aqualab, a bee garden and an arboretum, as well as a meadow, Mediterranean boulder garden and display of Welsh wildflowers. 
The funding for HBGTP forms the basis of a wider partnership between the two charities with English Heritage hosting events for the National Garden Scheme at a number of its gardens each year. In 2023 the five open garden events for the National Garden Scheme will be: 
Audley End House and Garden, Essex – Thursday 4 May 2023

Walmer Castle & Gardens, Kent – Thursday 25 May 2023

Marble Hill, London – Thursday 15 June 2023

Wrest Park, Bedfordshire – Wednesday 28 June 2023

Belsay Hall, Castle & Gardens, Northumberland – Thursday 14 September 202
To find out more and to book tickets CLICK HERE  
"We are delighted to announce this new partnership with English Heritage. We look forward to following the new trainees as they progress through the Historic and Botanic Garden Training Programme and to enjoying the five garden events being offered this year," adds George Plumptre.