Not all heroes wear capes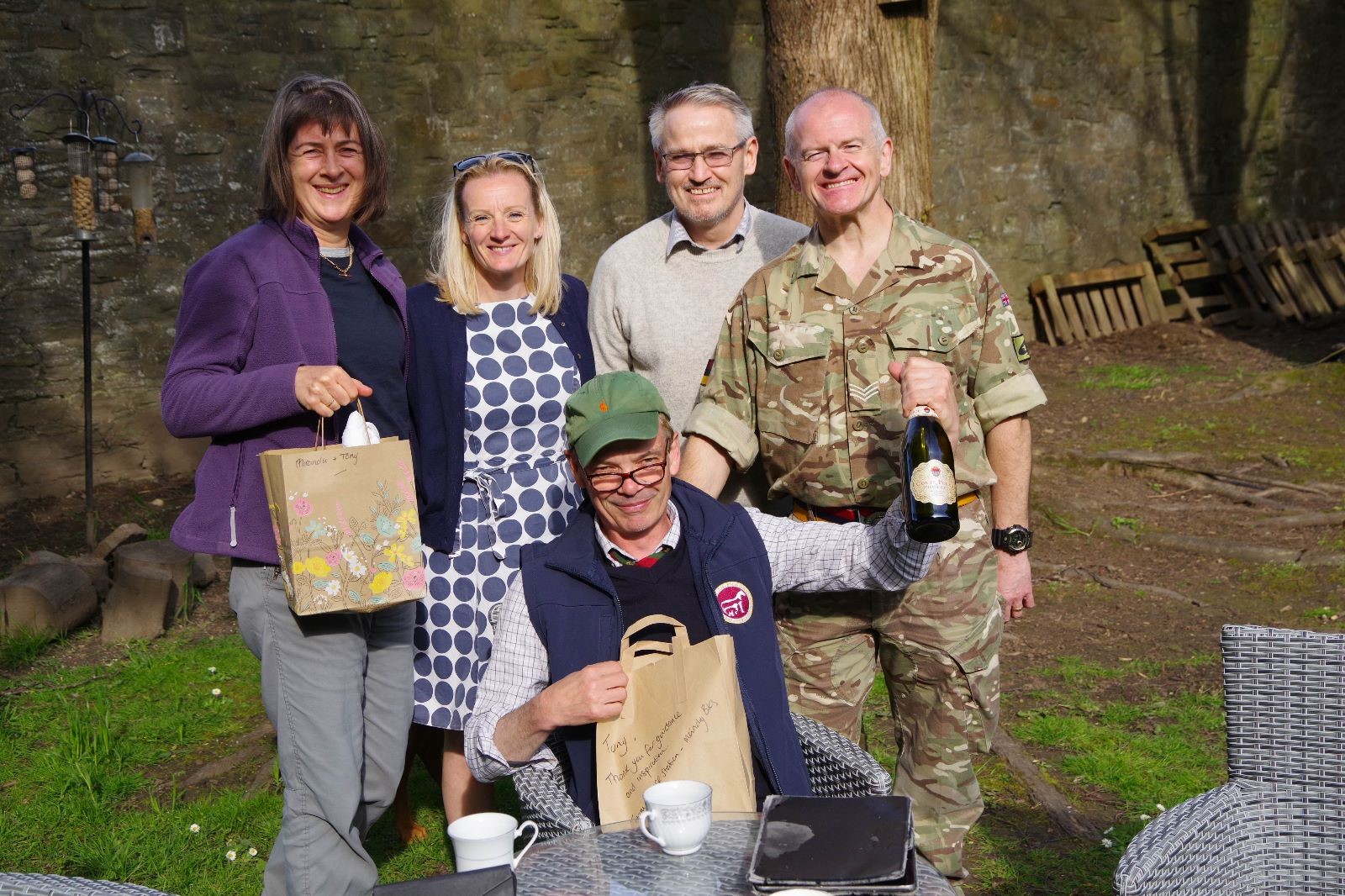 When the team at Maindy Barracks in Cardiff were looking to add some colour to their Wellbeing Garden project it was National Garden Scheme volunteers and garden owners who became the heroes of the day.
"We'd been working to create a welcoming space for veterans, service personnel, staff and visitors to Maindy Barracks, a place to sit and contemplate but also to encourage people to get involved either by planting or carrying out a simple garden task like watering," explains Administrative Officer, Laura Davies. "Our aim, to bring people together."
With support and ideas from internal and external benefactors the team at Maindy Barracks started work on turning a once redundant area behind one of their buildings into a Wellbeing Garden. With much of the structure in place last summer all that was needed were plants and colour.
National Garden Scheme volunteer from Glamorgan, Miranda, along with her husband Alan, came to the rescue arriving in two cars full to the brim with plants and shrubs, in all different shapes and sizes that had been kindly donated by other National Garden Scheme volunteers and garden owners.
"It was definitely a 'oh gosh' moment from me!" says Laura.
Since then, other volunteers and garden owners including Tony Leyshon and County Organiser Rosamund Davies have been welcomed into the fold. "Their knowledge of plants and where they should be located is a welcomed relief as Cardiff Station HQ are by no means a match for the expert team," adds Laura. "The donation of plants from Tony's wonderful farm* always make me smile. When he opens up his car boot, I know we're in for a treat! Miranda, Alan, Tony and Rosamund are now official honorary members of Maindy Barracks  #TeamMaindyBarracks."
Alan and Miranda once again stepped up to help with the selection of the right trees when Maindy Barracks held a small tree planting ceremony to commemorate the coronation for HM King Charles III on 03 May 2023.
"It was a wonderful sunny day, with many service personnel, civilians and benefactors attending that have and, continue to contribute to this evolving project. We were delighted that Brigadier N Thomas, 160th (Wales) Brigade, Brigade Commander and Col D Morgan OBE, RFCA for Wales CEO kindly planted a Rowan Sorbus and Prunus Kazan in our garden. Many thanks must go to Alan and Miranda for their expertise in definitely selecting the right tress, perfect!"
"In fact the whole team have dug new beds, come up with fresh ideas, donated wonderful plants and, we have drunk lots of tea together (and eaten too many biscuits). In fact, a comment from Alan that 'you can't start digging without tea and biscuits," has become our motto!"
Commenting on the project Miranda Parsons said: "It's been a great example of team work with the National Garden Scheme and barracks developing something for the service personnel, veterans and families. We are mindful of the sacrifices that our forces make for all of us and of the healing powers of being in a garden. It's been hard work but we've had a lot of laughs along the way and don't they say that laughter is the best medicine?"
Garden openings*
Tony's garden, Maes-y-Wertha Farm, opens on Sunday July 16 – for more details click here
Miranda and Alan's garden, 22 Dan Y Coed Road, Cardiff  opens on Sunday June 18 – for more details click here
Lead image: some of the Maindy Barracks team including Miranda (left) and Tony (front)