Sharing her sanctuary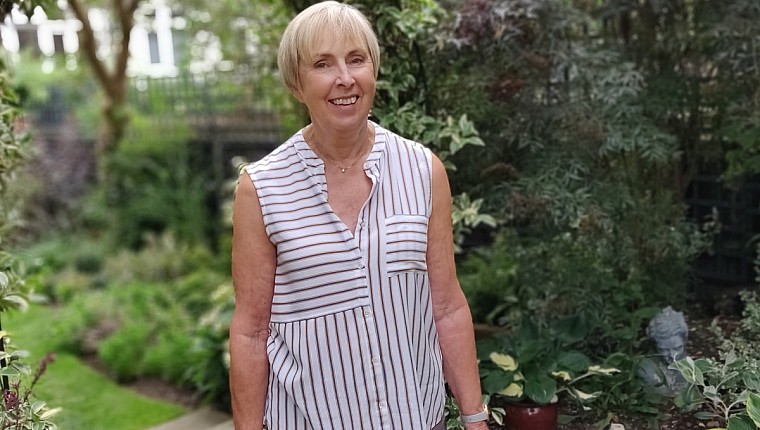 For Christine Lane, who lives with Parkinson's, opening her garden for the National Garden Scheme is helping her focus on what she can do, rather than the things she can't. The result is a beautiful sanctuary that makes Christine – and the people who visit – feel better. This is her story…
The danger when you have been diagnosed with Parkinson's is that you look inwards. It's been quite a hard journey for me to get to the point where I can concentrate on the things I can do rather than all the things I can't.
Gardening for me is about creating a lovely environment in which to live. I take great pleasure in watching things grow and transform. Knowing that I had a hand in it makes me very happy. My father was a keen gardener but I only got into it properly once my children were big enough to look after themselves.
To me, my garden is a calm and peaceful sanctuary away from the hub-bub of daily life.
As well as the obvious exercise benefits, gardening is a great escape for anyone with Parkinson's. It's calming and you are creating something that you can see easily the results of. Rather than focusing on how I feel in terms of my Parkinson's, it helps me to focus on everything around me and the beauty of nature. Even though I struggle sometimes, I always achieve something!
Over the years, I have visited a number of National Garden Scheme gardens, but I've never felt that mine would be good enough despite friends telling me otherwise!
I met Paul Jackson-Clark, Director of Fundraising at Parkinson's UK at a friend's open garden and I really wanted to help the charity. So with lots of encouragement and offers of support from my friends, I decided to give it a go and opened my garden for the first time in 2018.
I was anxious to make it a success, but I thoroughly enjoyed the day and people were so complimentary.
We raised over £500 which will go to the National Garden Scheme beneficiary charities, one of which is Parkinson's UK, so I was very proud to be able to do my bit to support the work of the charity.
In 2022 the National Garden Scheme donated £350,000 to Parkinson's UK which was raised by people like Christine opening their garden and we marked 10 years of partnership with the charity too. We're delighted that Christine's garden in North London, will open this summer again – for more information click here.
If you enjoyed this content please consider making a donation to help us continue to support our nursing and health beneficiaries
MAKE A DONATION TO SUPPORT OUR NURSES