Shrubs Farm Essex; sharing a passion for trees with the National Garden Scheme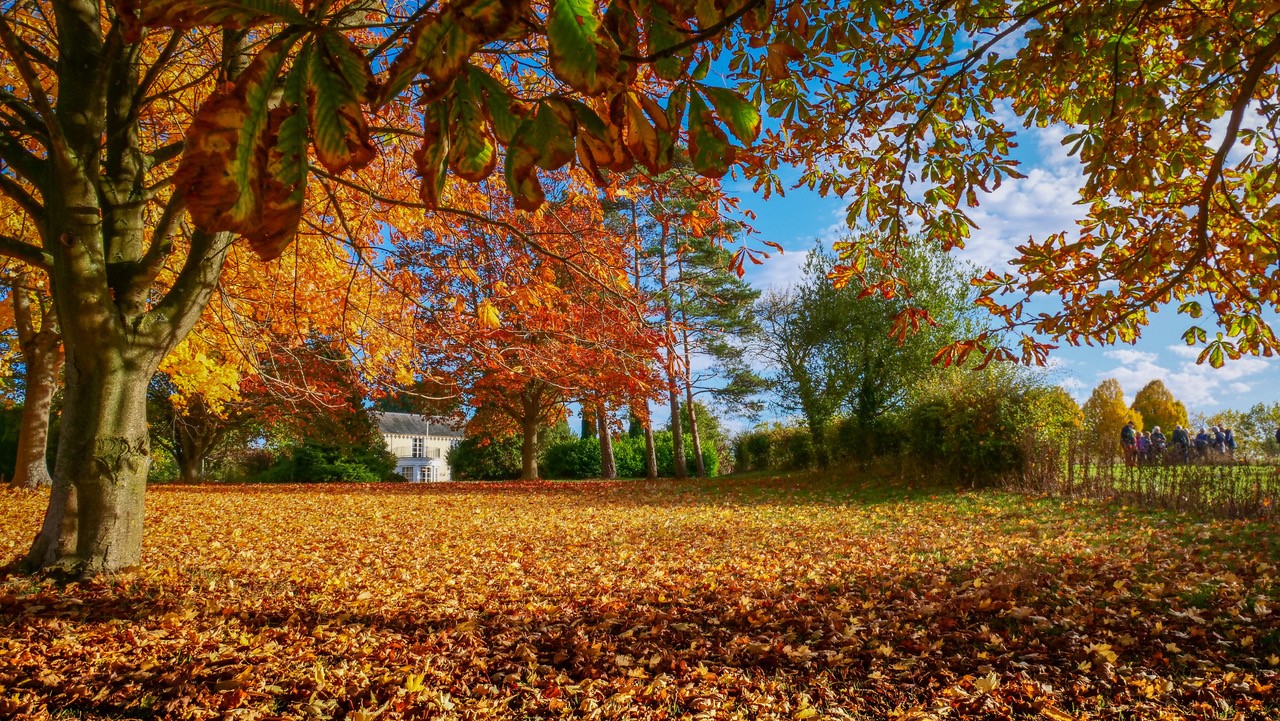 The National Garden Scheme has been partnered with the Woodland Trust for the last two years helping to promote a wider understanding and appreciation of trees within both a wild and domestic garden setting. As we head towards National Tree Week we shine a spotlight on one garden that has been championing trees for over half a century, and opening for us for 24 years.
Shrubs Farm, Essex is as close to the country idyll as it is possible to get. Close to the border with Suffolk in Bures the site offers both magnificent views out over the Stour Valley and also some inspired and breath-taking woodland planting within its boundaries.  
Robert and Sara Erith have been custodians of this area for 55 years. And, at the end of the 2022 season, having opened for the National Garden Scheme for 24 years they have decided to draw their garden open days to a close by announcing their retirement from the Scheme. In this time, they have raised a magnificent £10,000 which includes a generous personal donation of £285.24 added to mark the end of an era.  
They have much to be proud of.  When they arrived in the 1960s it was to a neglected farmhouse and garden. But today 270 acres falls under their stewardship and following a ten-year planting plan started in the 1990s this area is seeing the return of rare wildlife and plants enjoying the sort of landscape which was once traditional in North Essex. 
"It was never intended to be a show garden but a place for us and our family and friends to cherish and enjoy while highlighting the wonderful views of the Stour valley," says Robert. But an interest in Oaks was stimulated by a visit to South Africa in 1990 when they visited the house, Oak Tree Cottage, in Stutterheim, Eastern Cape Province where Sara had lived as a child.  "We collected acorns from the old oak there and from the collection of a neighbour who had a number of different Quercus varieties.  We also gathered acorns from some famous Cape estates such as Boschendal.  From these acorns, we now have a line of 26 oaks about 30 feet high which are a feature, much admired by our neighbours in the village of Lamarsh."
They joined the International Dendrology Society which led to contacts with people who knew a lot about trees and stimulated their interest further. The results are extraordinary. They have planted about seven thousand trees with three new woods and five spinneys, all the arable fields now have two or six metre margins and five miles of hedge has been allowed to regenerate or has been planted afresh. In addition, the gardens have been extended to include a small orchard as well as a park around the house of some fifty acres. 
Susan Copeland, County Organiser for the National Garden Scheme in Essex, is full of admiration: "Robert and Sara have opened every year for us since 1999 and we are so fortunate that Robert has been more than happy to share his life's work with the groups of likeminded individuals who visited. I know that he always made sure that each visitor took away a real understanding of his philosophy and was able to share in his joy. 
"At a time when we are regretting the simplification of the farming system it is delightful that Robert has restored his land to how it would have been centuries ago albeit with a much wider range of trees including a magnificent collection of oaks from around the world. I am hugely grateful for all they have done for the Scheme and that they have finished on such a high – this year they received a total of seven groups and raised £708, allowing them to reach the grand total of £10,000 over the past 24 years."
"Opening for the National Garden Scheme has given us the incentive to keep our garden looking attractive," adds Robert. "We have greatly enjoyed showing it off to so many visitors.  The knowledge that the proceeds are going to a range of the most deserving causes is an added satisfaction.  Our visitors have been a delight, taking a real interest in what we have done and have particularly enjoyed Sara's delicious home-made teas in our thatched barn.  The cards and letters of appreciation have been a stimulus for us to continue opening for nearly a quarter of a century."
For more information and photographs of the farm and gardens see: www.shrubsfarm.co.uk  
Discover more about our partnership with the Woodland Trust here: https://ngs-wp.tclhosting.co.uk/woodlandtrust/