Stories from Marie Curie hospice gardens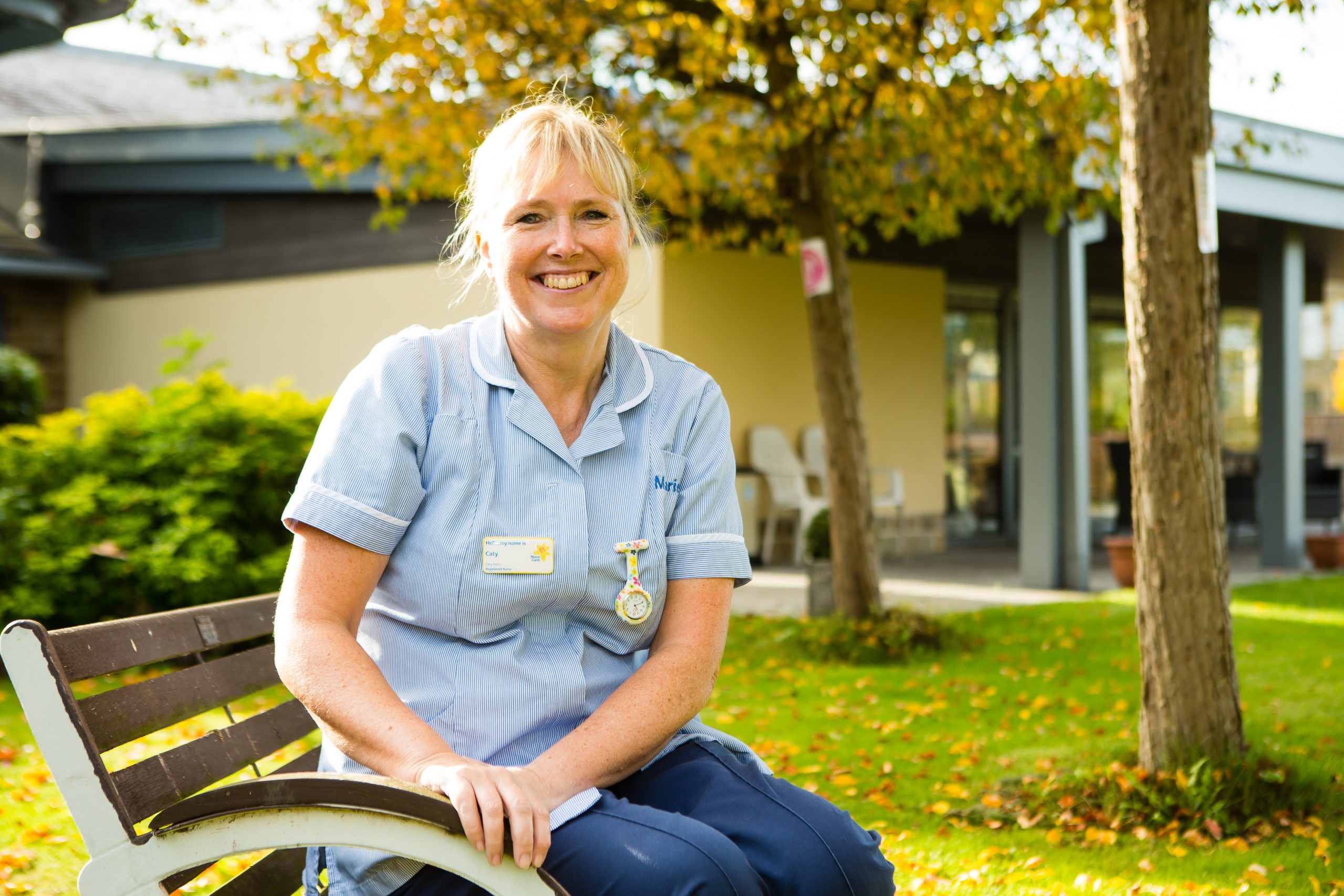 In 2022, the National Garden Scheme marks 26 years of support for Marie Curie. In that time we've donated £10 million to help Marie Curie provide its national end of life community nursing service, support their nine hospices and fund their information and support service helpline. Many of their hospice gardens also open for the National Garden Scheme, all create wonderful spaces for family, friends, staff, volunteers and patients to find respite …
A garden for every occasion
Caty Hollis is a Registered Nurse at the Marie Curie Hospice in Bradford (main image) and has worked for Marie Curie for 19 years.
"We have gone the extra mile on a number of occasions: we have facilitated a number of special occasions at the hospice, including weddings and christenings; birthday parties for patients (or indeed younger children of patients) are also celebrated in style; we encourage patients to have their pets brought to them, as we know how much joy and comfort this can bring; we have our own Pets As Therapy (PAT) dogs.
A young mum had always wanted to take her children to the beach, but when it became clear that this would not happen due to her deteriorating health, we brought the beach to her (and her children) – sandpit, buckets, spades, candy floss, and ice cream. It was a magical afternoon. We regularly take our patients out into our beautiful garden on their beds to enjoy fresh air and some sunshine."
Volunteering at the Liverpool hospice
Leigh Kinder is a volunteer gardener at the Marie Curie Hospice in Liverpool, where her dad was cared for.
"I love gardening and I know my dad appreciated a nice garden. It's lovely when you come in. When I'm sat in the courtyard doing the flowers, I remember sitting there with my dad when he was reading his newspaper, so when I come here now I feel closer to him. I find it very therapeutic and you leave feeling great, you really do. Even if you're just giving a couple of hours once a week you really do, leave feeling amazing. Not only are you giving back, but it's good for yourself as well.
When I used to come in, I'd say to my dad and step mum, 'Oh wow, the garden is lovely', and 'Isn't it great how they look after it.' I didn't realise exactly how much went into it with the volunteers.
It's like going to the gym. You go to the gym and you come out feeling great, invigorated and tingly. That's what it's like here, it's just lovely."
Jo Everett's story
"Dad managed to go out to the gardens a couple of times with the help of the nurses at the Solihull hospice. He would have his bed pushed outside the door to his room when it was nice. One occasion was particularly special. It was mum and dad's wedding anniversary. It was 19 June, and the staff pushed him outside and wheeled him around the garden and talked to him about all the different plants, and the volunteer gardeners talked to him and he loved that. I noticed a marked improvement in my dad after that.
It was peaceful for us as well as dad. It wasn't just dad's experience. It was our experience as well. We found a lot of comfort and joy in the garden, and in the whole place in terms of the people we met and the way they involved us. We used the garden multiple times. We'd go and sit in it. We watched a couple of seasons change while dad was in the hospice. Being able to see the difference in the garden was beautiful.
He went into the hospice in the spring, so we saw all the daffodils blooming when he arrived and then we watched the garden really come to life in the summer. It was stunning, really beautifully kept. We had a nice, warm autumn that year. For me, it was a place to go and sit and reflect and be sad but also feel quite grounded."
Our funding of Marie Curie
The National Garden Scheme has been supporting Marie Curie since 1996, raising almost £10 million in that time making us the single largest funder of their work.
Our funding – £525,000 in 2021 – helps Marie Curie continue to provide their nationwide community nursing service, 24-hour care for people with terminal illness in nine Marie Curie hospices, and their expert information and support services. That some of their hospice gardens also open their gates for National Garden Scheme open days is the icing on the cake.
While the pandemic has created restrictions for visiting do keep an eye on the National Garden Scheme website's Find-a-Garden for updates regarding hospice garden openings.
This article originally appeared in The Little Yellow Book of Gardens and Health – click here to read it all