Sustainability in our gardens: creating a rich tapestry of life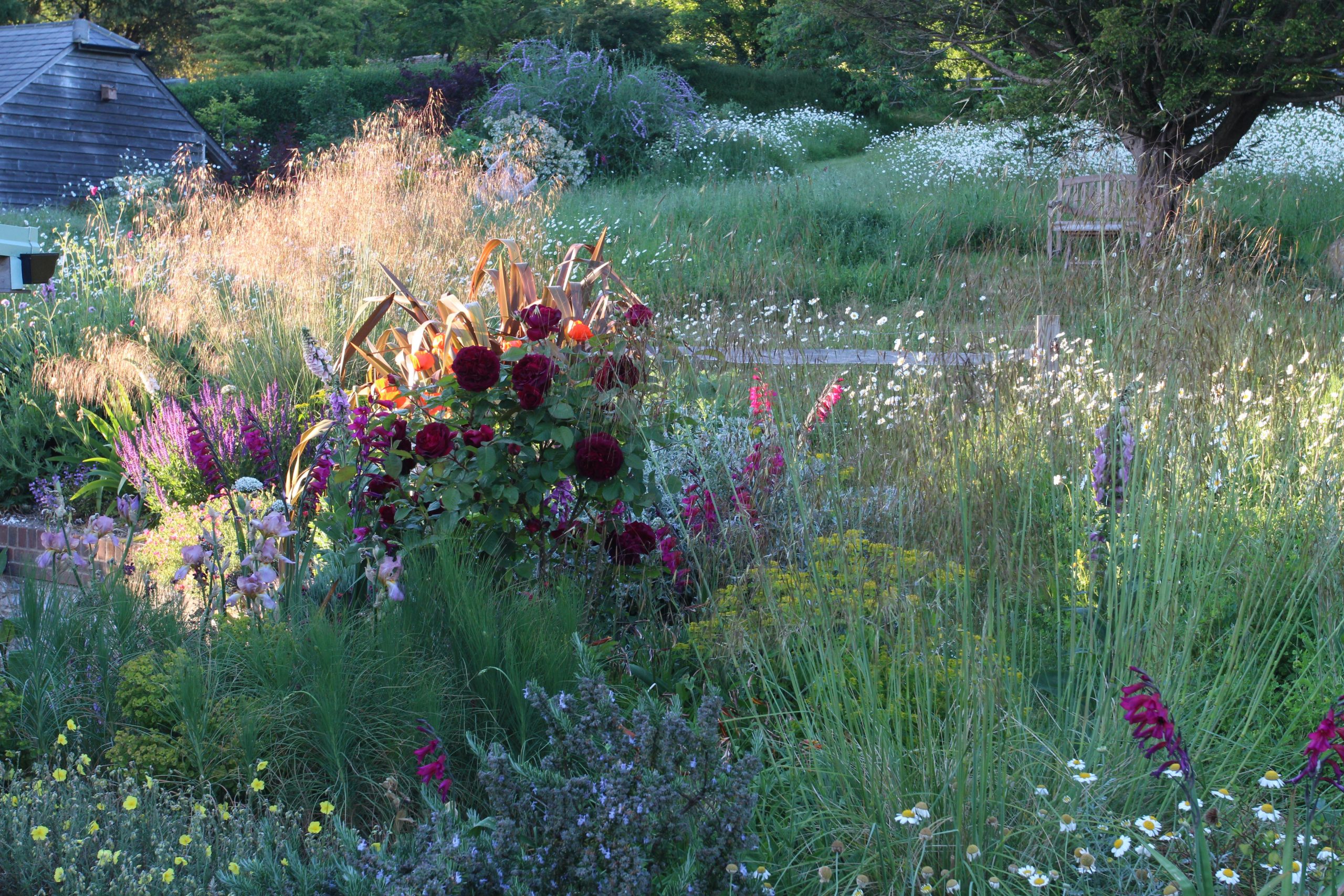 Garden designer, writer, presenter and National Garden Scheme Trustee, Arit Anderson, looks at the importance of sustainability.
In this time of change, one of the huge positives has been the celebration of the garden, and people have been able to take comfort in its benefit to our wellbeing. It's amazing that when we tend to our plot of land however big or small, the return is we feel better too. There has most certainly been an increase in biophilia – the innate connection and love of nature that is deeply ingrained within us.
Sir David Attenborough recently said "…the world depends on an understanding of the natural world, and where does that start? For the majority of human beings on their doorstep, into their gardens." For those of us lucky enough to have outside space I hope all gardeners – experienced and new – have been able to use this extraordinary time to deepen or better understand the crisis that faces the wider environment.
It's a wonderful fact that nearly half of this nation gardens! Therefore, the 27 million of us that do, means every action we take, can make a difference. In an urban setting our gardens act as a network of green space before meeting the wider landscape, so what we do within our fence line can assist the ecology in our area. A butterfly, bird or bee doesn't knock on your door or worry about the neighbours before taking a sip of sweet nectar. They just need to get through a healthy natural environment to do so.
There has been a huge up swell and talk of sustainability, but what does that mean for us gardeners?
First, we have to know what it means. According to the United Nations (UN) World Commission on Environment and Development, "environmental sustainability is about acting in a way that ensures future generations have the natural resources available to live an equal, if not better, way of life as current generations."
We turn to the garden for the gratification that it provides, the beautiful flowers with their colour and scent. The shade of a tree, the reflective quality of a water feature or pond. But to create our lovely oasis, there are several resources that are pulled on, and in a changing climate and a degrading environment we will need to be more sensitive and informed on the choices we make in our garden.
If we see ourselves as custodians of the plot we have and not the 'owner' then there is a shift in our thinking, as we know that we are not just creating something for us to enjoy today, but a space that will be enjoyed by others in the future. Add to that the sense that we are serving the 'other clients' like the wildlife that freely joins in to create a rich tapestry of biodiversity and life. That all of this makes us feel better in turn improves the lives of the people around us and helps us to all appreciate this planet which is our home.
Top tips
In a changing climate here are some top tips for a more sustainable garden:
Biodiversity
Plant flowers that are good for pollinators
Have hedges instead of fences – hedges offer wildlife habitats and counter air pollution
Add bat boxes and bug hotels to the garden, plus twigs and leaves in piles at the backs of borders
Water
Install large water butts
Don't water your lawn
Mulch your borders to aid water retention
Use permeable paving for paths, terraces and parking areas
Trees & Plants
Plant a tree. Or don't cut one down. Trees are excellent carbon sinks
Buy plants sold in recyclable pots. Re-use plastic pots
Try to avoid other one-off plastics… buy bulbs or potatoes in paper bags or compost in re-usable bags
Materials & Waste
When buying commercial compost, choose peat-free
Make your own compost – see our video guide here
Use biodegradable wooden plant labels
Use wool or jute twine ties not plastic
Use metal plant supports or make your own from birch twigs
When buying new garden furniture, look for FSC certification and check origins
Re-use or recycle larger items such as tools and furniture. Try eBay, Freecycle, Freegle and charity shops
Pest & Disease
Use environmentally friendly pest controls
This content originally appeared in our Little Yellow Book of Gardens and Health. For more on sustainable, organic and grow-your-own gardening explore the Little Yellow Book of Gardens and Health here
Lead image: The Long House in Sussex – open by arrangement – click here for details
Images above (l t r): The School House, Devon; Lillesley Barn, Suffolk; Nant ty Bedd, Powys