The Dingle, mid-Wales; an autumnal treasure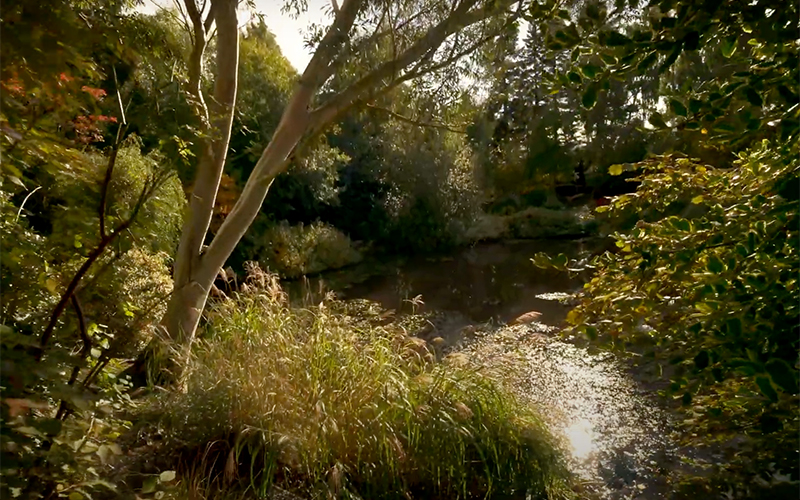 A glorious garden designed for all seasons alight with the golden hues of autumn, the garden at Dingle Nurseries in rural Mid-Wales is an autumnal treasure.
Enjoy the stunning colours in our film by Richard Oren, at Burnt Orange Media and scroll down for more information about this garden.
A closer look
The Dingle is set in the heart of rural Mid-Wales. A short drive up a country lane, surrounded by breathtaking views, brings you to the unlikely setting of the Dingle Nurseries, with its fabulous garden alongside. It covers an area of four acres and slopes at first gently, then more steeply, away from the house on a south facing site. At the bottom of the bank is a small lake, where the children of the family learned to swim.
The garden was created by the late Barbara Joseph. It was planned to look good all year round, but pays particular attention to the winter when shapes and evergreens are especially important. Because the garden is so well protected from severe weather, autumn is breath-taking in its beauty. Shrubs and trees can turn colour so slowly and gently, that the very best hues are evident. May is the time for rhododendrons and azaleas and the freshness of the young foliage. In June and July, the herbaceous plants take over to give a wide range of colour and interest. Each bed has its own theme, such as subtle shade of browns and creams; other contrasting areas of brilliant reds, oranges and lime greens, or silver foliage with pink, white and pale lilac. Every corner, nook and cranny has its surprises, every season its particular joys. The famous adjoining nursery sells a vast range of plants for the garden, including many rare and specimen species. A plant collector's paradise.
For more about the garden click here
For more on trees, which to chose for your garden and how to plant them, and our partnership with the Woodland Trust click here