"The whole team there have been brilliant."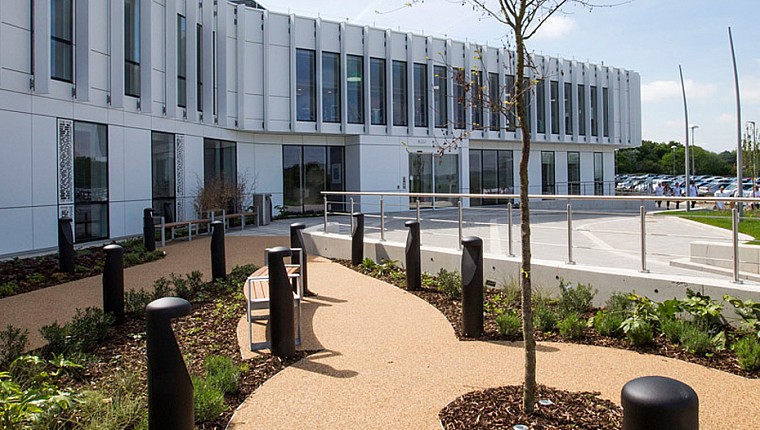 Thanks to the generosity of garden owners, volunteers and visitors, the National Garden Scheme has been supporting Macmillan since 1984, donating over £16.7 million during that time. In 2018, we donated £500,000 to Macmillan and announced our £2.5million contribution over the next five years towards a new NGS Macmillan palliative care unit at the Royal Glamorgan Hospital in South Wales.
But this isn't the first life-changing place we've built together. In 2014, we donated £500,000 to help fund the NGS Macmillan Wellbeing Centre in Bristol. And in 2017 the NGS Macmillan Unit at Chesterfield Royal Hospital in North Derbyshire opened – supported by three years of funding (£1.5million) from the National Garden Scheme.
But how do these units support people living with cancer – and what difference do our donations make?
Pat, 70, from Eckington near Chesterfield was diagnosed with lung cancer in March 2018 following a persistent cough and chest infection. As the cancer is located close to her heart it is currently inoperable, so she is having chemotherapy to try and shrink the tumour.
Macmillan Cancer Information and Support Centre Lead, Maria, who is based in the NGS Macmillan Unit at Chesterfield Royal Hospital, has been working with Pat since her diagnosis – and her support has become invaluable.
Pat said: "The whole team there have been brilliant. Maria sat with me and gave me lots of information about everything – from treatment, to diet and wigs – and I've also received help when I was having trouble with my appointments. They've already helped me claim a blue disabled badge. It's good to know that they're there if I need a chat and a cup of coffee."
Sadly Pat lost her husband to kidney and heart failure 12 years ago, and her best friend is going through the final stages of kidney cancer. Getting all the details about her illness and the treatment from Macmillan's Information and Support Centre is important to Pat.
"When my husband died I had to do it all, so it's turned me into a bit of a control freak. I want as much information as possible about the treatment and what's to come. Some people don't want to know, but it's my way of coping."
Pat has praised the NGS Macmillan Unit at Chesterfield Royal Hospital for the support she has had already – if it wasn't for the new unit she would have had to travel to Sheffield for treatment as many other patients have had to do in the past.
"The unit and the waiting areas are lovely and very clean and tidy. It's nice to have all that greenery around. The reception staff are all so helpful. It must be draining when you've got a room full of patients but the staff have always got a smile on their faces."