Timbers, Kent: a quintessential country garden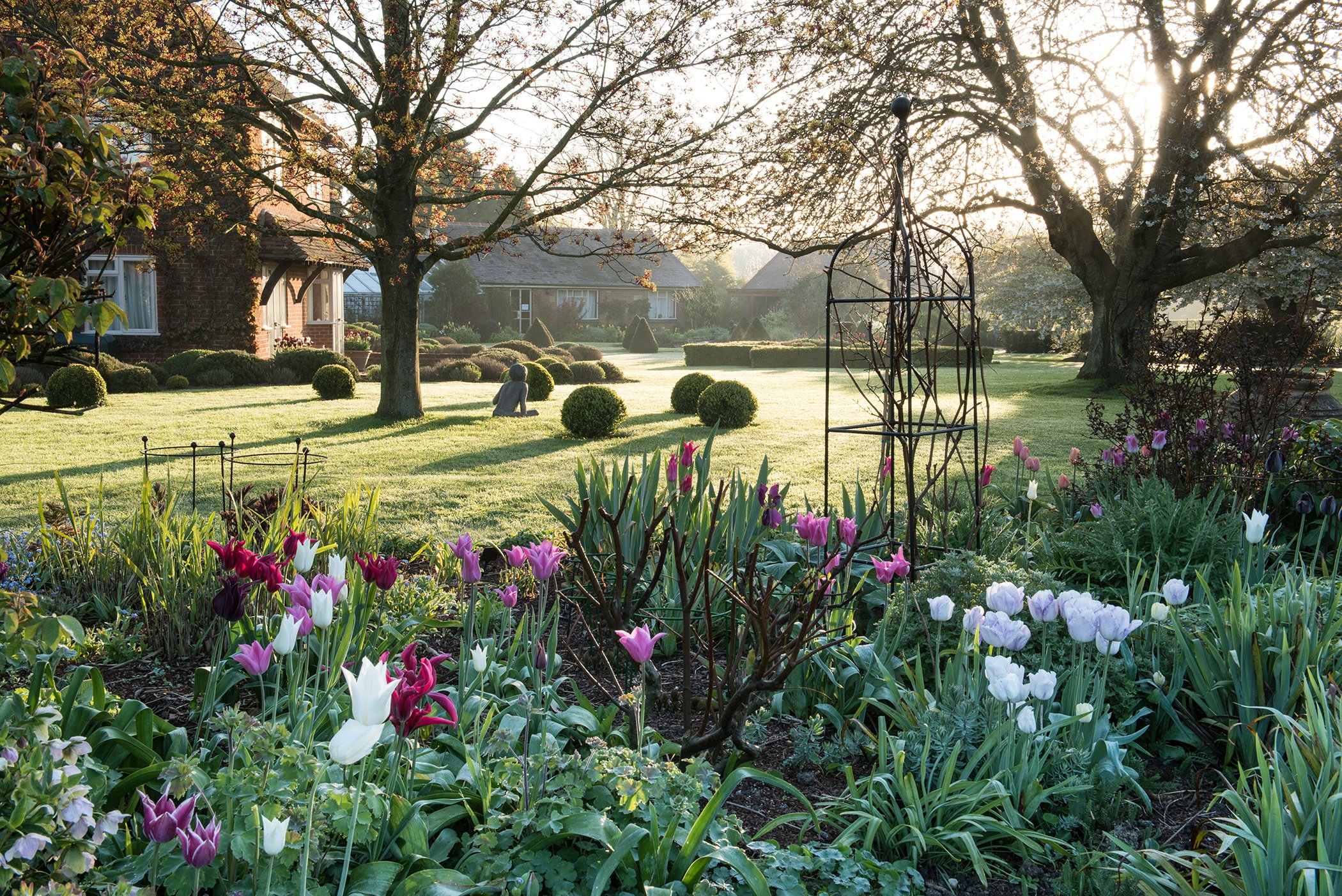 Enclosed by trees over one-hundred years old, Timbers in Kent is a quintessentially English country garden. With impressive coordinated plant combinations and carefully designed garden features, Garden Owner, Sue Robinson has created a space that will undoubtedly inspire all those who visit…
Sue and her family moved to Timbers in 1985, at which stage it was an overgrown blank canvas with one or two good specimen trees. With two small children developing the garden was put on hold for a number of years. There has never been a grand plan but inspiration from influential garden designers, and plantsmen and women, have helped the garden evolve to what it is today.
Yew and box topiary provide important structure to the garden, as well as winter interest, whilst 100 year old Kentish cobnut trees provide great silhouettes and a connection to the wilder parts of the garden.
Due to the fact that part of the site forms the remains of one of the largest open Roman ragstone quarries in Europe (the stone was used to build the Roman wall around the city of London) the topsoil is thin over rock so it has always been a challenge planting trees and digging new borders. However with much patience and time, Sue is now reaping the rewards of home-made compost created and dug in over the years which has resulted in a burgeoning spread of woodlanders such as trilliums and podophyllums.
Timbers is a five-acre garden surrounding a house built in the Arts and Craft style on what remains of a Kentish Cobnut plat. To the front of the house is a herbaceous area enclosed by yew hedging, a formal box parterre garden surrounded by stilted beech hedging and a newly designed partly walled garden running alongside the house.
As you explore further, you will discover island beds to the rear of the house – all well stocked with bulbs, shrubs, unusual hardy plants and a succession of annuals with mature specimen trees such as Prunus Shirotae, Juglans nigra and Morus alba.
Groups who visit the garden, especially Timber's European friends, love to see the array of tulips in April and in June the herbaceous borders, roses and especially the species-rich wildflower meadows with their abundant wildlife.
If you enjoyed this content please consider making a donation to help us continue to support our nursing and health beneficiaries.
make a donation to support our nurses