Winter Gardening Tips to Help You Get Active
We're delighted that we are once again working in partnership with Macmillan Cancer Support to encourage people living with cancer to get and stay active. Spending time outdoors in a garden is not only a great way to relax but could also help manage and reduce the side effects of cancer treatment.
Staying active is just as important in the winter months and so we've asked one of our gardening experts, Geoff Stonebanks, for some winter gardening tips.
Geoff Stonebanks has forged particularly strong links with Macmillan Cancer Support in recent years, through events and activities in his own award-winning garden, Driftwood, which opens 14 times a year, 4 for the National Garden Scheme, as well as creating and single-handedly organising a very successful Coastal Garden Trail in Sussex, between Brighton and Seaford, 2018 will be its 7th year. £54,000 of the £95,000 Geoff has raised for charity has gone to the Macmillan Horizon Centre in Brighton.  Sarah Coxhill, Senior Fundraising Manager from Macmillan said this Autumn, "a huge congratulations on what is already set to be a record year. The coverage alone is priceless. Thanks so much for the tireless work and commitment you show year on year, it's such a good example to the local and even national community."
Geoff's 3 top tips for Winter gardening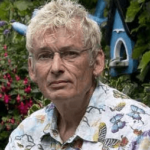 Care of Agaves. I have over 30 terracotta pots containing 10 different varieties of agaves in my beach garden. Whilst they are very hardy, they don't like their crowns to get wet, so I carry them all under cover for the Winter months!
Garden Makeover. Got a border that is the wrong shape, or one that offers little pleasure in winter? If so, tackle it now, add plants that look good in your garden centre and the spot of instant colour will be like a shot in the arm to cheer you up, more importantly, it will keep you active.
Fleece to prevent wind damage. My seaside garden is full of palms, which don't mind the cold and wet, however, they hate the strong salt-laden winds off the sea. Winter is the time to fleece them and ensure they look good next Summer.
To learn more about our campaign with Macmillan Cancer Support or to download our full list of tips click the link below.