109 Brook Street, Leicestershire: a horticultural oasis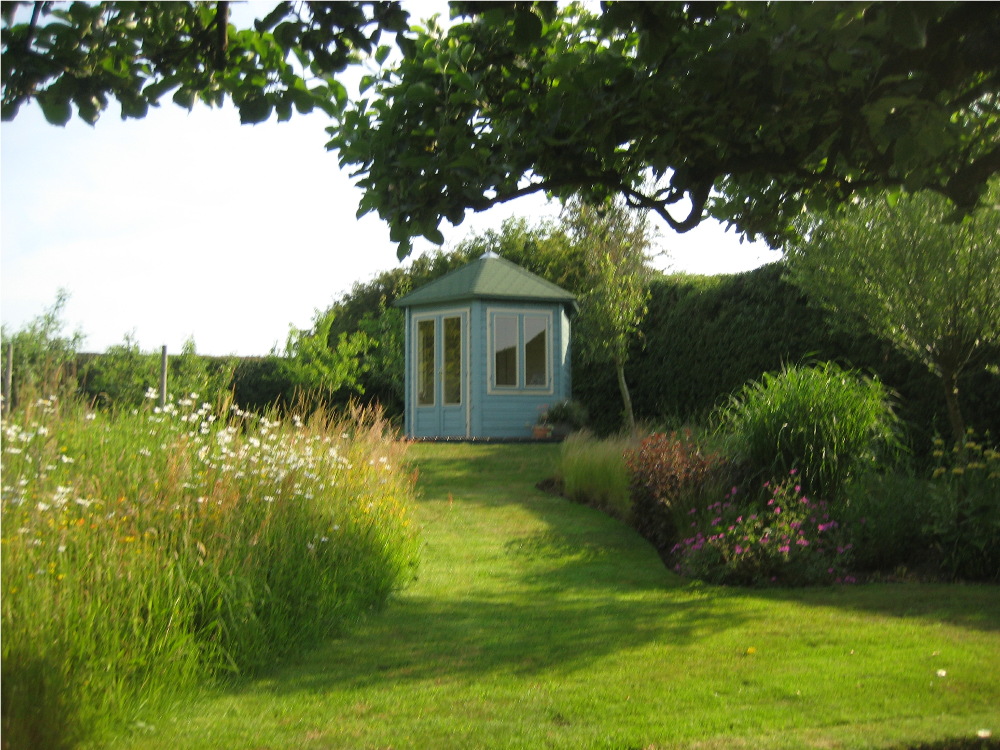 109 Brook Street, a garden of just under an acre, stands at the edge of the attractive village of Wymeswold.
The garden was a blank canvas when Garden Owners, Maggie and Steve Johnson moved there almost 20 years ago. Over time and with much hard work, the garden has been filled with colour, texture and interest to create a horticultural oasis not just for themselves but for their garden visitors, as well as their local wildlife.
A closer look…
Maggie and Steve started with a mature but rather plain garden. It was tidy and well kept, with a few mature trees and shrubs. There were vast areas of grass of variable quality and a lot of conifers.
Over 18 years, Maggie and Steve steadily worked their way through a list of features they definitely wanted in the garden; a yew enclosed herbaceous border, patios, vegetable garden with raised beds, orchard, pond, woodland walk and a wild flower meadow. An endless list which kept being added to the more they visited other National Garden Scheme gardens over the years.
Whilst Maggie wanted a garden filled with every possible plant, Steve wanted to create a garden that people would love to visit. They have struck the balance perfectly.
Wildlife is essential to the garden. "We need birds to control insect pests," Steve comments. "Hedgehogs and amphibians to control the slugs and lots of bees, wasps, and other insects to pollinate our plants."
Maggie and Steve help them all by providing habitat and food sources. The garden is planted with a wide variety of plants which provide nectar throughout the year, there are ten bird boxes spread throughout the garden, and a bug hotel for solitary bees. Hostas also provide plenty of slugs for the hedgehogs to eat!
"We take enormous pleasure and amusement watching a clutch of young birds making their first outing from the nest" Maggie says, "or watching a wren carefully cleaning the green fly from our roses."
Be sure to mark this as a favourite to visit when the gates open again – for more details click here
If you enjoyed this content please consider making a donation to help us continue to support our nursing and health beneficiaries.
make a donation to support our nurses