A perfect paella party from across the pond!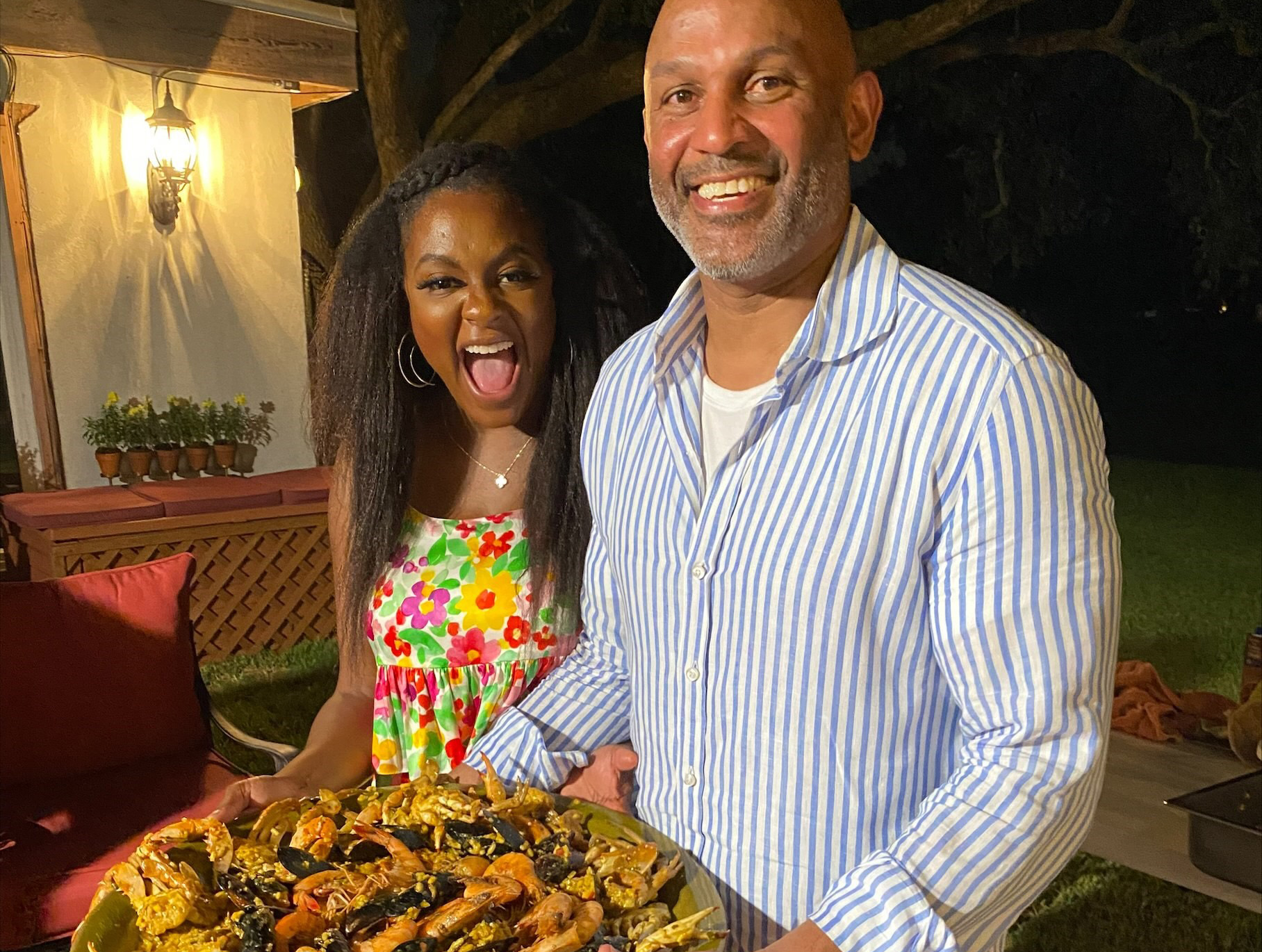 During lockdown, with the help of our virtual garden visits, word spread around the world about the National Garden Scheme and its Great British Garden Party. And, for one American fan being inspired by British gardens and being part of the party has been super exciting. Ebony Goudeau from Houston, Texas tells her story.
During the height of the global pandemic with everyone at home, like everyone else, I picked up a few hobbies. My favorite hobby of all has become gardening. I am very new to gardening but my passion for it is strong, I feel like I have always been a gardener, but I just needed the right thing to bring it to the surface. 
As I began to develop my garden, I looked to London and the UK for inspiration. London is one of my favourite cities and I have visited often. On a few visits, I have gone to the English countryside. I have seen the beautiful meadows and and so many beautiful gardens. I love the way gardening is a part of the English culture and I have never forgotten that.  So, when it came to me developing my garden, I knew where to turn for inspiration. 
Looking up gardening in the UK, I came across the National Garden Scheme and fell in love with all of your virtual garden visits taking a lot of inspiration from many of them.  
As my passion grew, my friends began to take notice. I then began to help some of my friends with their gardens. I began giving them design tips from what I had learned having taken so much inspiration from the many gardens that the National Garden Scheme shares on its website. I have become a novice garden designer!
Anyway, this year, I brought together a few of my friends that I had helped in their gardens and created a garden club. My garden club is called Eight Seats Garden Club. We get together once a month to have garden parties in one another's backyards so we get to see the fruit of everyone's labours. My garden club really has become a beautiful thing that has been the highlight of the summer!
When I saw your Great British Garden Party fundraiser come around this year, l had to have my garden club join in! I invited some of my garden club members and introduced them to the National Garden Scheme and your charitable efforts.  
My husband is an attorney by profession, but a chef by passion. When I told him that I wanted to be part of the Great British Garden Party he immediately jumped in to support. He has recently bought a vintage khadai bowl and he was super excited to use it. We came up with the Paella Party theme because of my husband's passion for cooking and the purchase of his new bowl. The Great British Garden Party fundraiser was the perfect way to break it in. I charged an admission of $10 per person so we all contributed.  
The party was amazing and so much fun! The best way to close out our summer. 
Ebony's Top Tips
Make sure your guest know that the party is set in a garden, give them tips on appropriate attire and shoes so that they are comfortable. You don't want them falling over themselves or being uncomfortable. You want them to enjoy the moment. 

Use different garden rooms so that your guests enjoy all of your garden. I used our conversation room to display the art of my husband's cooking while he prepared our dish. After the cooking, we all dined alfresco under my pergola. 

Incorporate elements of your garden in your party scheme so that you highlight your hard work. You want your garden to be the highlight at a "garden" party.  I had arrangements made of my Meyer lemon trees.

Create a scheme or a theme that everyone will enjoy. We had a paella party where my guest saw the paella being made and then we all enjoyed it together. 

Pay attention to details in your decorating.  Create effortless magic so that your guest are wowed. Light up the trees, create scents, colour coordinate with your garden.

Make sure there is shade in the day and good lighting at night. 

Make sure your guests are not being attacked by dogs, pests, neighbours, or bad smells. Use mosquito candles, bug sprays, put away barking dogs, make sure neighbours know you are having a party, remove trash cans. Make sure nothing is in between them and a great time.

Prepare as much as you can in advance and get help if necessary. Don't overwork yourself, you want to be able to enjoy the party as well.

Pair wine and spirits with your food. We had paella so we served sangria and Rosé. Also provide water to keep everyone hydrated.

Enjoy the party with your friends!

 
You can hold a Great British Garden Party at any time, in any garden, in any country!
Find out more here
For more inspiration see our Great British Garden Party inspiration pages here
or, like Ebony, be inspired by our Virtual Garden Visits here