Visit a garden with evergreen appeal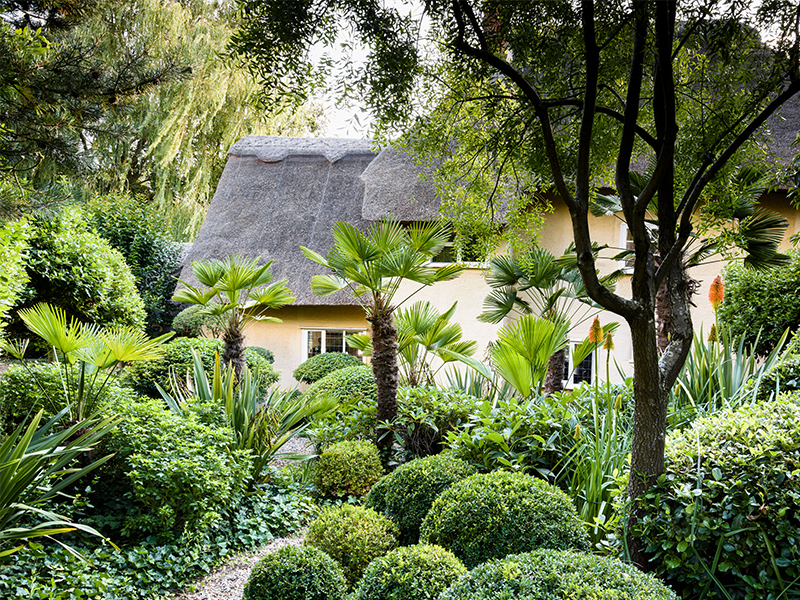 When Monty Don and Adam Frost say they love a garden it's one to put on your wish list to visit. And when that garden is at one of the highest points in East Anglia, and is based on a single colour, it's a garden that certainly excites curiosity.  
The one-acre garden nestled in a scooped out south-facing plot behind a 15th Century thatched cottage in Suffolk – aptly named Dip-on-the-Hill – belongs to Geoffrey and Christine Ingham. Seventeen years ago, the garden was made up of a couple of Scots pines and 'a bit of a mess in between', but Geoffrey saw the potential and began to work his magic creating a garden with an evergreen appeal. 
What Geoffrey has created is a very personal oasis of evergreen planting. Featured on the first episode of Gardeners' World in 2022, Adam Frost describes the garden as "a considered study in texture, structure, form and space, with foliage from all around the world bought alive by winding gravel paths. It's all about gardening in layers and contrasting the vertical with the horizontal. The trunks of the tall trees help frame the multi-stem shrubs that have had their canopies lifted and at their feet topiarized evergreen forms an undulating bank." 
"What I wanted to create," says Geoffrey, "was something permanent, something that defies winter." 
Middle section of the garden with Kniphofla 'Samuel's Sensation' and 'Tawny King' and Crocosmia 'Lucifer'
A clump of Kniphofla 'Tawny King' with a stand of 7 metre tall Phyllostachys vivax aureocaulis bamboo
To achieve his aim, the garden is not designed in the orthodox way. Geoffrey has built on his love of architectural plants, shape and form, influenced by Japanese gardens but not copied. There are pine trees and bamboo, topiary and cloud forms in every shade of green. The result is a calm, reflective space, that uses the light to play through the vertical planting as the day progresses and the seasons turn.  It's a garden for contemplation and immersion and one that is always green. 
The garden at Dip-on-the-Hill is one of 1,011 that open 'by arrangement' for the National Garden Scheme. While some also have a regular opening day many 'by arrangement' gardens only open at a time agreed between the garden owner and the visiting group. In Geoffrey's case, he's happy to welcome a single guest to the garden or a group of up to 12, all receiving the full attention of a welcoming and knowledgeable host excited to show you the unusual and to share the story of the garden and its plants. 
"Because of the nature of the garden I'm happy to offer visitors access throughout the year, but we try and stick to June through to the end of September," says Geoffrey.  
"It's a perfect way to see a garden you love – time and again – or to visit one that has always spiked your curiosity, and Dip-on-the-Hill certainly does that," says National Garden Scheme Chief Executive, George Plumptre.  
More information
To find out more about Dip-on-the-Hill and to arrange your visit click here
For more on 'by arrangement' gardens click here  
Large garden images Carole Drake. Smaller images Celia Bartlett