Jane Asher's lemon traybake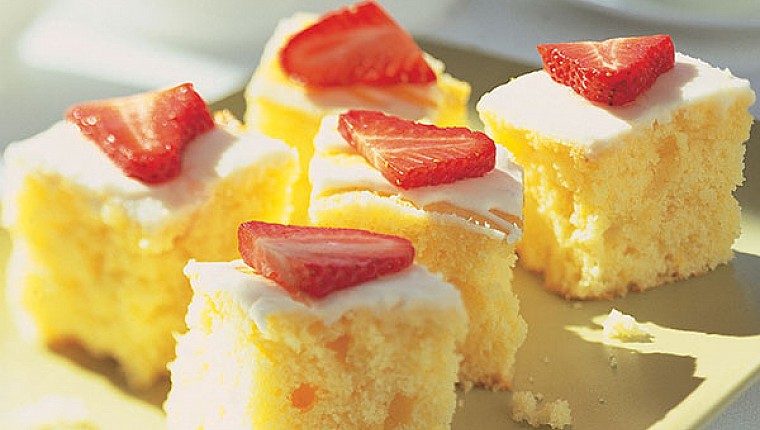 It's been 200 years since Parkinson's was identified, but there's still no cure. Parkinson's drugs aren't good enough. They don't stop, slow down or reverse the condition – they just mask it for a time, and can have distressing side effects. The main drug people use hasn't changed for over 50 years.
There's been lots of work to understand Parkinson's – key discoveries have been unlocked that could transform lives. But there's not been enough investment to deliver. We're working with Parkinson's UK to make sure no one waits too much longer for a cure.
Watch their video to find out more.

Jane Asher knows that at the National Garden Scheme, we don't like waiting for cake either.  So she's very kindly sent us a speedy recipe!
Jane says, "This is a very simple tray bake recipe: as far as I'm concerned you can't go wrong with lemon! One of my very favourite tastes and it makes for a zingy, fresh cake that's great for summer teas or served with fruit as a dessert. It's made using the all-in-one method, which is quick and easy to do – and to clear up. You won't have to wait too long for this one!"
Instructions
Pre-heat the oven to 180°C (160°C fan assisted, 350°F, gas mark 4). Prepare a 12"x9" baking tray by greasing lightly and lining the base with baking parchment or silicon.
Simply put all the ingredients into a mixing bowl and beat well together.
Turn the mix into the baking tray and bake for 35-40 minutes until risen and springy to the fingers. Let the cake cool in the tray.
Beat the lemon juice gradually into the icing sugar until it is glossy and smooth, then drizzle the icing over the cake.
Once the icing is set, at the last minute (as the acid in the fruit will dissolve the icing after a while), cut the cake into sixteen portions and top each one with a slice of strawberry.
_________________________
If you enjoyed this content please consider making a donation to help us continue to support our nursing and health beneficiaries.
Ingredients
225g spreadable butter
225g castor sugar
4 medium eggs
300g self-raising cake flour
1 tsp baking powder
Grated rind and juice of 1 large lemon
For the icing:
150g sieved icing sugar
1-2 tbsps lemon juice
5-6 large strawberries, sliced