Colouring the world with a passion for plants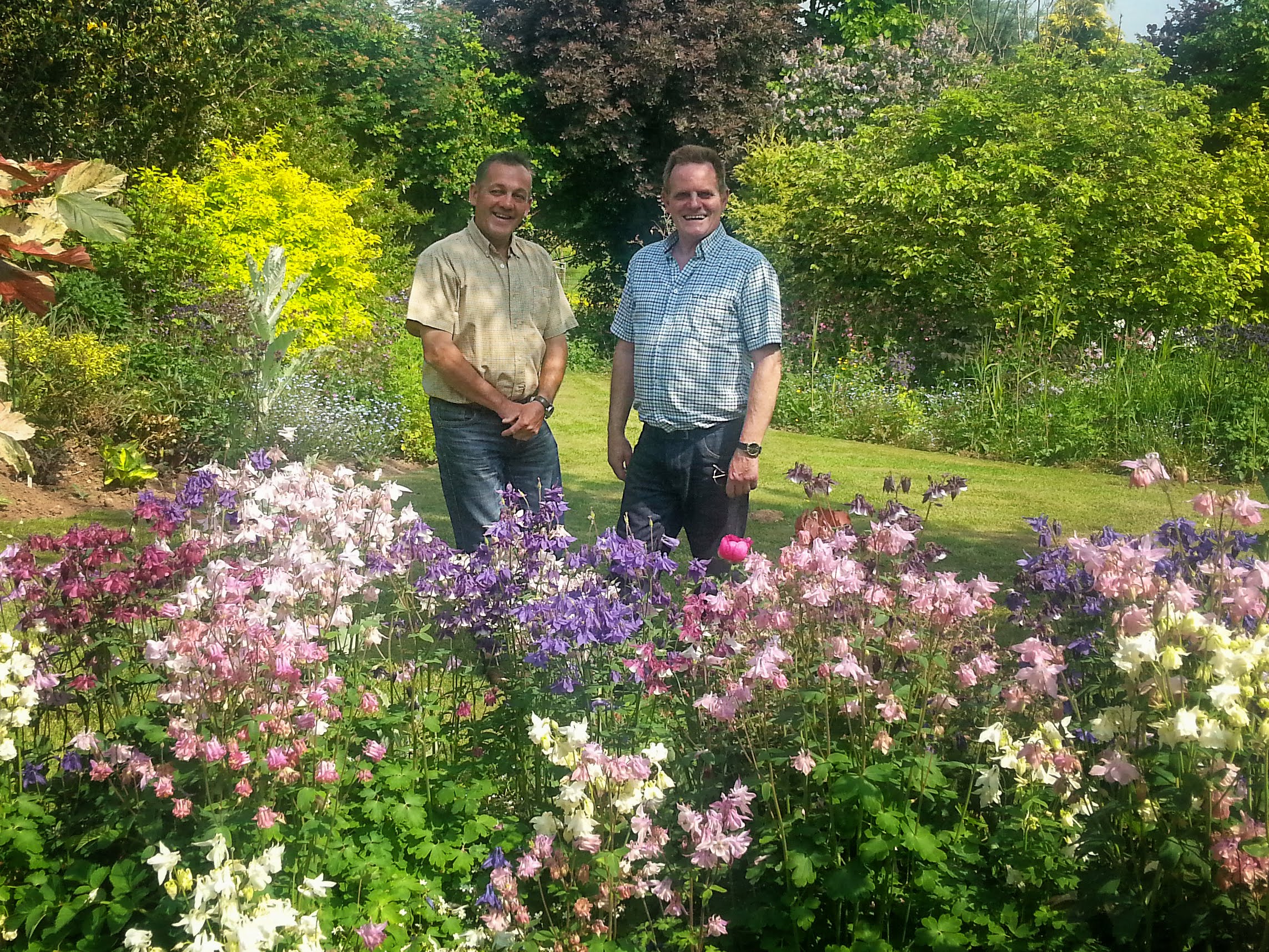 Every National Garden Scheme garden has a story to tell, and the five acres at Hazel Cottage in Cumbria are no exception. Owned by floral artist, plantsman and RHS Chelsea gold medal winner David Ryland (above right) and his partner John, this is a garden that has been inspired by a family's life-long love of plants and which in 2022, will provide the foliage for floral arrangements for the Duke of Edinburgh's memorial service at Westminster Abbey.
"When the National Association of Flower Arrangement Societies (NAFAS) first emailed me about creating arrangements at the end of March for Westminster Abbey I wasn't altogether sure what event it was for as NAFAS look after all the flower arrangements at the Abbey throughout the year," says David.
But he soon realised that it was for a very special occasion. One of only eight in the country to be asked to put his unique twist on a 10-foot high pedestal arrangement, David's garden will also provide the foliage for a matching, mirror-image display being created by a floral artist from Northern Ireland.
"I'd be lying if I said I wasn't surprised, excited and hugely honoured to be asked," says David who has six trophies for best garden material from NAFAS among his many awards. While the flowers, in red, white and blue will come from Covent Garden, all the foliage will come from David's garden at Hazel Cottage which has been opening for the National Garden Scheme since 2006.
"I will be taking evergreen foliage to create the traditional, slim pedestal displays on the day before the service and although I won't be attending on the day it's such an honour to know that I have been part of something so special."
David is no stranger to Royal seals of approval. He did a floral demonstration outside Westminster Abbey for the Queen's 90th birthday and was commissioned by Lady Cavendish to create floral displays in the hall and apartments at Holker Hall in Cumbria which he later discovered were for a visit from Prince Philip.
Enjoy a visit to Hazel Cottage for its lovely planting and wonderful water features
How it all began …
But David's inspiration and love of flowers and gardens come from humbler beginnings; from his parents who grew and sold cut flowers. "They sold them in simple bunches from their shop and when dad was asked to provide bouquets I quickly taught myself how so we could earn more money."
"Then, when I was 29 my mother died of cancer. With my father gone, I was left to arrange everything. It was a hugely stressful experience but three of my mother's cousins, who were all members of flower clubs, suggested I go along to take my mind off things. I went, watched a demonstration and thought 'I can do that'."
David attended more demonstrations and workshops and read lots of books on the subjects of floristry and floral art and, a year after his mother's death, passed his NAFAS test and started to have his work recognised in local, national and international competitions. In 2002 David represented the UK at the World Floral Show in Glasgow with a demonstration entitled 'Colour the World'.
"Flowers have literally coloured my world and there is nowhere I would rather be than in my garden with the plants that I love. I find solace there, especially in the green house, repotting, pricking out and tidying – it takes me back to my childhood. I also love opening for the National Garden Scheme, inviting people in, inspiring youngsters, welcoming people who return year after year and raising money to support cancer and nursing charities."
At 64, David shows little sign of losing his passion for plants or his lovely garden at Hazel Cottage that has raised over £11,000 for National Garden Scheme charities. "My only regret is that my mum never saw me win my awards or create the very special displays for Westminster Abbey," he adds.
You can visit David's garden and find out more about the wonderful flowers and foliage he grows, on dates in June and July – click here for more details
Watch a demonstration by David on YouTube here 
To find out more about NAFAS click here
Examples of floral arrangements by David Ryland