Community Gardens Award: a year of great projects completed in the community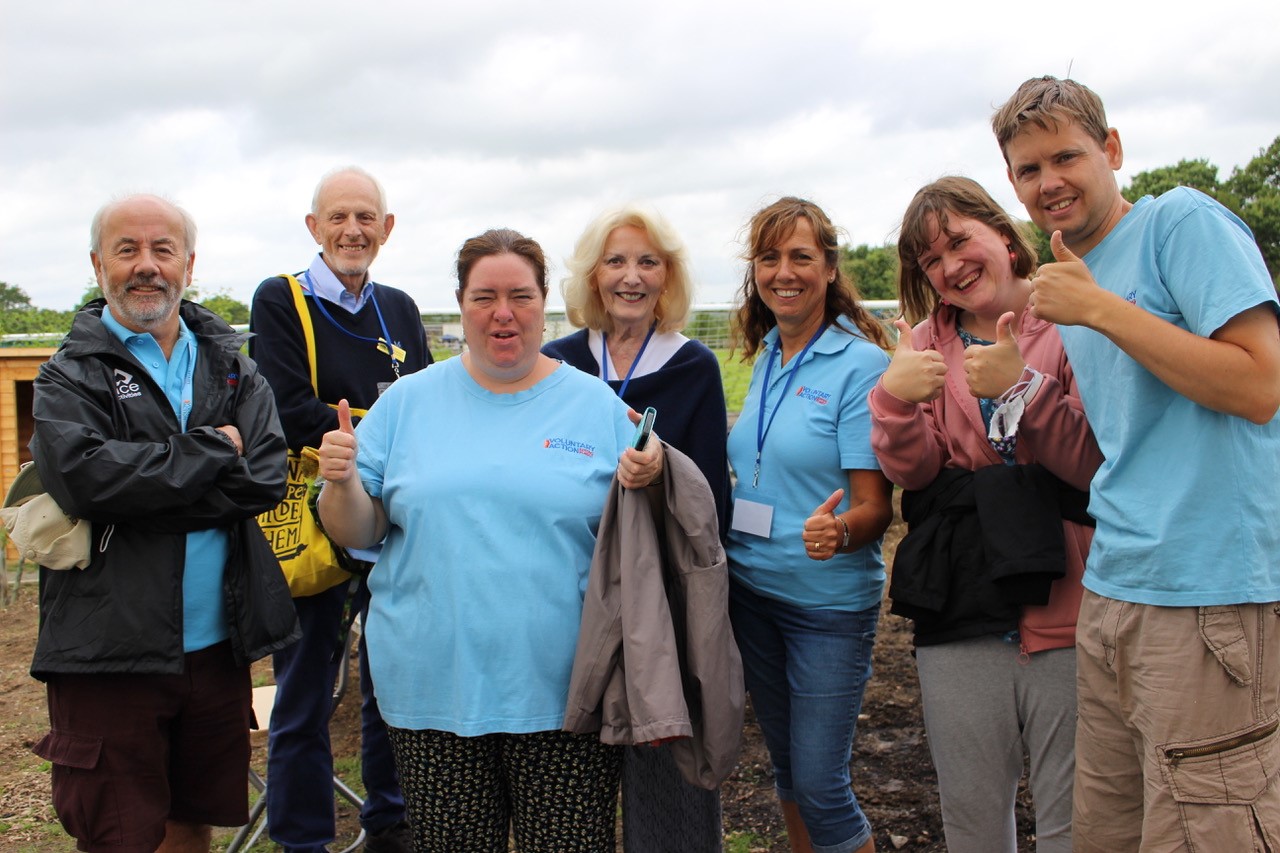 Lead image: Volunteers and gardeners from Grange Farm Community Garden, Essex joined Doug and Susan Copeland (second and fourth from left) for the opening of the garden and the presentation of the commemorative plaque
In addition to our annual donations to nursing and health charities, the National Garden Scheme grants awards to help community gardening projects, celebrating with the presentation of a special plaque on completion of the work.
It began in 2011 when the National Garden Scheme set up an award scheme in memory of Elspeth Thompson, the much-loved garden writer and journalist who died in 2010. Elspeth was a great friend and supporter of the National Garden Scheme; she also wrote an admired 'Urban Gardener' column in the Sunday Telegraph that often celebrated community gardens.
Previously managed in partnership with the Royal Horticultural Society, from 2019 the programme became wholly managed by the National Garden Scheme and is now administered by Essex team volunteer, Doug Copeland.
In 2020 we gave out £97,210 to 44 projects bringing the number of projects supported to-date to over 100, with a total amount donated of £217,156.
Unfortunately, the COVID-19 pandemic impacted heavily on our Community Gardens Award programme and the ability of the gardens to carry out the work that the money has been donated for. Because of this, our Trustees decided to allow the existing 2020 projects to run over into 2021 and for new applications for 2022 funding to open at the end of 2021.
Despite the restrictions, many of the community gardens have now managed to complete the work funded by the National Garden Scheme in 2020 and throughout England and Wales have been receiving commemorative plaques to acknowledge completion of their projects – see the selection below!
One project, run by Voluntary Action Epping Forest in Essex, received an award of £3,000 to help enhance an allotment project at Grange Farm Community Garden in Chigwell which is maintained by adults with learning disabilities. After numerous delays caused by various lockdowns and supplier difficulties, the team finally managed to install the poly tunnel that will become the heart of their growing operations. With the poly tunnel completed in early 2021, Essex County Organiser and Trustee, Susan Copeland presented the commemorative plaque during the summer.
There are a number of great outcomes from this funding, not only does the garden offer supported placements for people with learning disabilities but, in 2022, it will also open as part of the National Garden Scheme so that everyone can enjoy the fruits not only of the gardeners' labours but also of National Garden Scheme funding. Discover more about the garden and when it opens by clicking here.
Meet more of the award winners …
Plaque accepted on behalf of the Newcastle West End Food Bank where food is grown to support the local community so that no one goes hungry
John and Belinda Howarth accept the plaque for the Bowbrook Allotment Community, Shropshire, growing fruit and vegetables organically and in harmony with nature
Marina Hamilton-Baillie, County Organiser, Oxfordshire presents the plaque to the Howe Trust community allotments
Applications for a Community Gardens Award are open from now until 28th February 2022 – discover more and apply here