Croft Lodge, Torquay; tropical overtones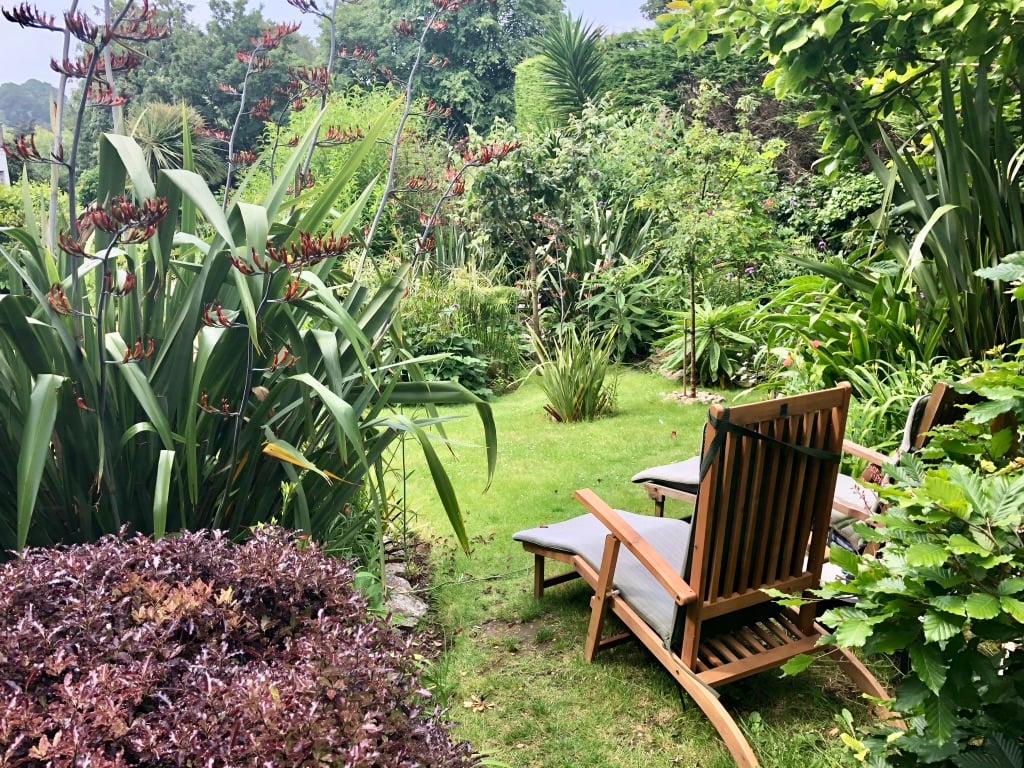 Just when we'd all like to take a lovely summer break there's a chance to visit a wonderful Devon garden with tropical overtones in this virtual garden visit to Croft Lodge in Torquay. This lovely walled south facing garden has year round interest and strong architectural themes. Beautifully planted by Garden Designer Jacquie Felix-Mitchell, mixed borders are complimented by an informal lawn with seating areas. Enjoy your virtual visit:
A closer look
"My garden was formerly the kitchen garden of a large Victorian Villa. When we took it over it was largely laid to lawn, with a dog run and Rose garden. The plot is also slightly sloping and faces south. It has a walled garden too, all of which makes for a beautifully enclosed spot, perfect for the plants I had in mind," says Garden Designer, Jacquie Felix-Mitchell.
"I have a passion for architectural plants. This can be seen throughout the garden, through repeat planting of Phormium tenax, Phormium Yellow wave, teasels and echiums. In June. The brilliant Verbena bonariensis provides a wonderful 'net' through which to see further planting. Plantings such as crinum powelli provide both stature and scent, and one grazes past beautifully scented English Lavender. Mine is a garden of contrasts. It is slightly wilded with a bold architectural theme and more than a hint of both the tropical and English country. It is, like me, very diverse, and provides much inspiration for the garden designs that I create for others.
"Another part of the garden worth a mention, is the 'Secret Corner' dedicated to my mother. It is surrounded by palms, climbers such as Clematis Armandii, and black bamboo. In June beautiful climbing roses scramble up a hedge, and a willow arch bursts into life."
This garden belongs to the home of Garden Designer Jacquie Felix-Mitchell, of Oasis Garden Design and the garden is also the setting for a pretty site style holiday cottage for two called Windchimes Hayloft.
If you enjoyed this content please consider making a donation to help us continue to support our nursing and health beneficiaries.
MAKE A DONATION TO SUPPORT OUR NURSES