Dame Mary Berry Joins Guests at Maggie's Oxford to Celebrate Charity Partnership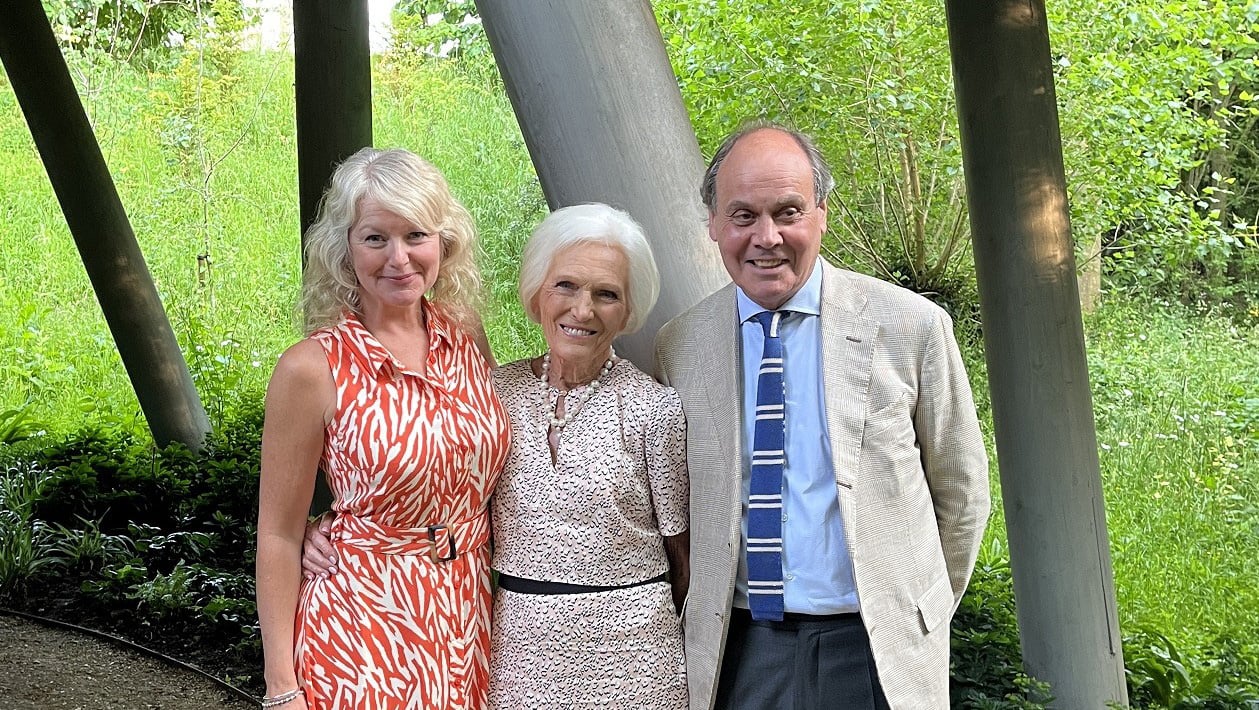 Former Great British Bake Off host and President of the National Garden Scheme, Dame Mary Berry joined guests on Friday 16th June at a garden party at cancer support centre, Maggie's Oxford to celebrate the next stage in the two charities' partnership.
The National Garden Scheme is aiming to raise £1 million over 10 years to support people with cancer on top of the £420,000 that the gardening charity has already donated to Maggie's.
The event was hosted in the garden of Maggie's Oxford, next to the Churchill Hospital. The garden, designed by Pip Morrison, who also redesigned the Sunken Garden at Kensington palace, has recently received funding from the National Garden Scheme for updates and improvements.
Since 2018, the National Garden Scheme has donated £420,000 to Maggie's through our Gardens and Health funding programme. This generous support has enabled Maggie's to create beautiful gardens at its centres in Leeds, Southampton and Oxford, and improve gardens at Maggie's Newcastle, and Maggie's Cheltenham.  The ongoing 10-year partnership will help the charity with the upkeep of current centre gardens and provide new gardens at upcoming centres, including Northampton.
Dame Mary Berry said: "I am delighted that the National Garden Scheme has committed to long-term support of Maggie's to help them continue to create the gardens at their wonderful centres which do so much for people living with cancer."
Dame Laura Lee, Chief Executive of Maggie's added: "We are so pleased to be celebrating our partnership with the National Garden Scheme in the beautiful surroundings of Maggie's Oxford.
These donations help us to provide peaceful spaces where people with cancer can come to relax and get support. It is well known that nature can have a restorative effect on people's physical and mental health and our centre visitors often comment on the importance of having an outdoor space to take in when visiting the hospital."
"Promoting gardens and health is at the heart of what we do so we are delighted that our partnership is enabling us to create beautiful gardens and outside spaces for Maggie's visitors and staff to enjoy," said National Garden Scheme Chief Executive, George Plumptre. "We would like to thank everyone who has opened their garden to visitors and all the visitors whose donations mean we can support charities like Maggie's."
To find out more about the partnership between Maggie's and the National Garden Scheme CLICK HERE
Lead image: Dame Mary Berry, National Garden Scheme President (centre) with Claire Marriott the Centre Head at Maggie's Oxford and National Garden Scheme Chief Executive George Plumptre.