Derbyshire twins celebrate five years of opening their gorgeous gardens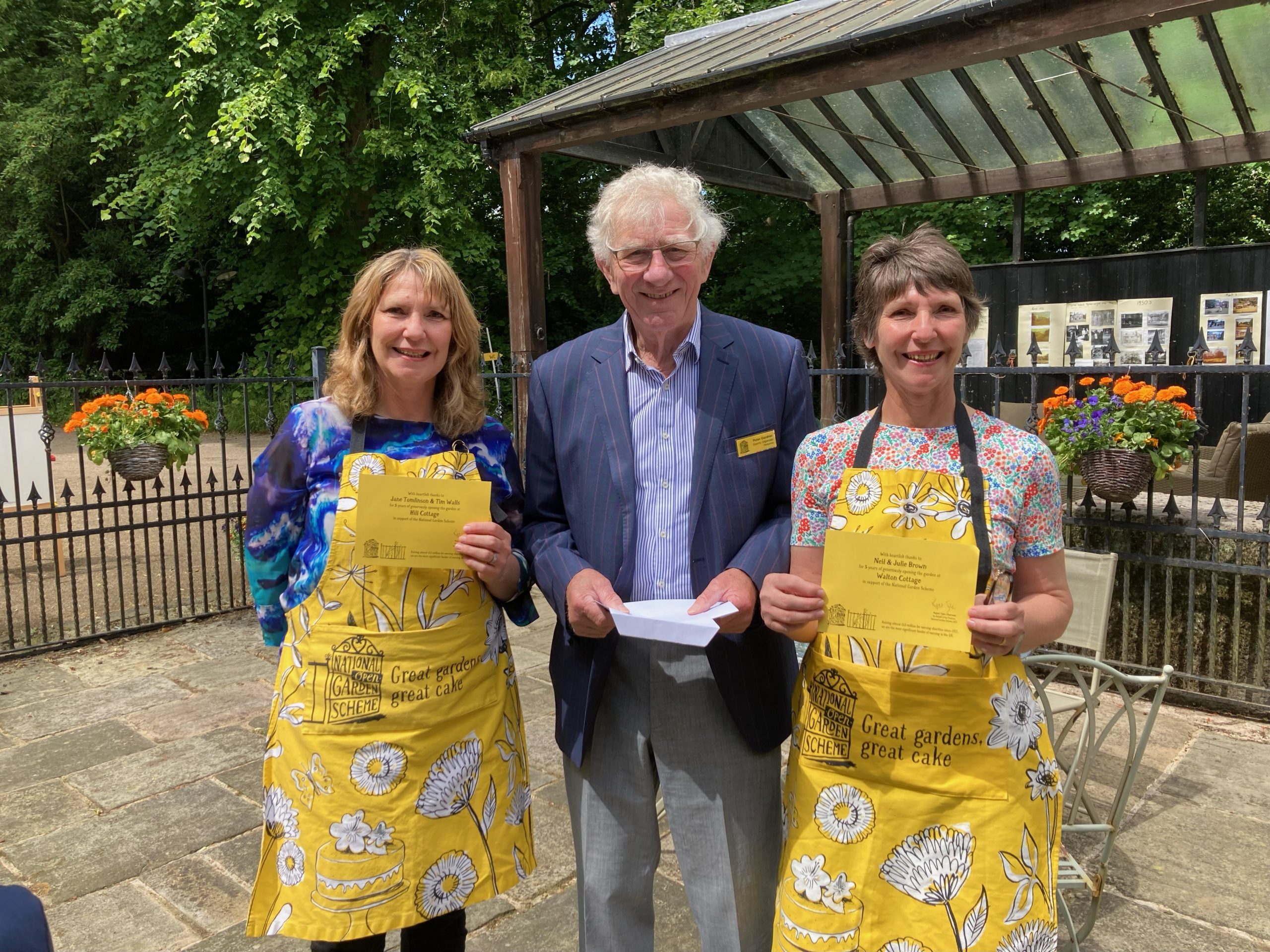 Twin sisters, Jane Tomlinson and Julie Brown (pictured above with Peter Gardner) have been presented with certificates to mark the opening of their gardens for the last five years with the National Garden Scheme. Farmers daughters, they put their love of gardening and plants down to having 'growing plants' in their DNA. This is their garden opening journey: 
"We take inspiration from our mother who is a keen gardener and our grandmother who enjoyed flower arranging," they say. "We helped mum when we opened the family garden raising money for the local church roof fund over 30 years ago." 
Today, they open their gorgeous gardens at Hill Cottage and Walton Cottage in Derbyshire. 
"It all started when I visited the RHS Chatsworth show in 2017 with my husband Tim," says Jane. "We got chatting to County Organiser Peter Gardner on the National Garden Scheme stand and Tim (who is not a gardener but a great supporter of me and my hobby) told Peter about our garden and that he felt it was worthy of being open to visitors. 
"We'd moved to Hill Cottage in February 2016 and the garden was nothing more than a rough lawn with a few shrubs when we arrived. I brought many plants, cuttings, and seeds from my old garden to create the beautiful cottage style garden we have today. In fact, Julie's horse box was loaded four times with plants, pots and paraphernalia from our old garden for the move!" 
Peter offered to visit the garden to see if it was suitable to be included in the Garden Visitor's Handbook. And, as soon as Jane told Julie and her husband Neil the exciting news they thought they would take the opportunity to ask him to inspect the garden at Walton Cottage too.  
"We just thought that Peter would give us pointers and advise on how we could get our garden into the Garden Visitor's Handbook one day," says Julie. "We had been at Walton Cottage since 2008 and the garden had 'good bones' but we have since redesigned many of the areas and added in new borders and lots of colourful plants." 
Peter inspected both gardens on the same day in June 2017. 
"When he informed us that our gardens were both acceptable for opening for the National Garden Scheme we were delighted," say Jane and Julie. "Peter retires this year, and we would like this opportunity to thank him for his encouragement and support on our garden opening journey." 
It has been a great adventure so far and both enjoy sharing their gardens and their experience with like-minded visitors. 
"We enjoy the exchange of ideas and feedback," they say. "We also pride ourselves on having delicious homemade cakes served on our open days and being able to raise money for the National Garden Scheme charities is the icing on the cake! But we couldn't do it without the help from our family and friends!" 
Garden challenges  
The key challenges of gardening at Hill Cottage are – as the name suggests – that they get more snow and frost than the surrounding area as they are at quite a high elevation. There is often a breeze too. But the positive is that they do have good views! One of Jane's biggest challenges is NOT to grow too many plants – a larger garden might be the answer!  
Key challenges at Walton Cottage include keeping on top of ground elder in one of the large borders and stopping the dogs digging in the lawns. 
Jane's Top Tips  
Anything can be grown in a pot as long as it is watered and fed regularly.

Grow hostas in pots to avoid slug damage.

Make room for a composting bin, the borders benefit from a mulch of homemade compost each spring.

Get a hosepipe that can reach all the way around the house!

I love my Hori Hori gardening tool. Best tool I've ever had, and I use it for digging, planting, weeding and splitting plants.

 
Julie's Top Tips 
Have plenty of gardening tools, especially secateurs.

 

Let foxgloves self-seed.

 

Don't be afraid to mix colours.

 

Don't be worried about leaving weeds and pretty wildflowers such as herb robert in borders.

 

Leave areas of unmown grass in the lawns. We have been rewarded with four types of orchid appearing. 

 

Hill Cottage next opens on 3 July and by arrangement for small groups until the end of September click here for details
Walton Cottage is open by arrangement throughout June. Click here for more details
You can explore all the gardens opening in Derbyshire this summer and autumn here