Discover the pleasure of house plants …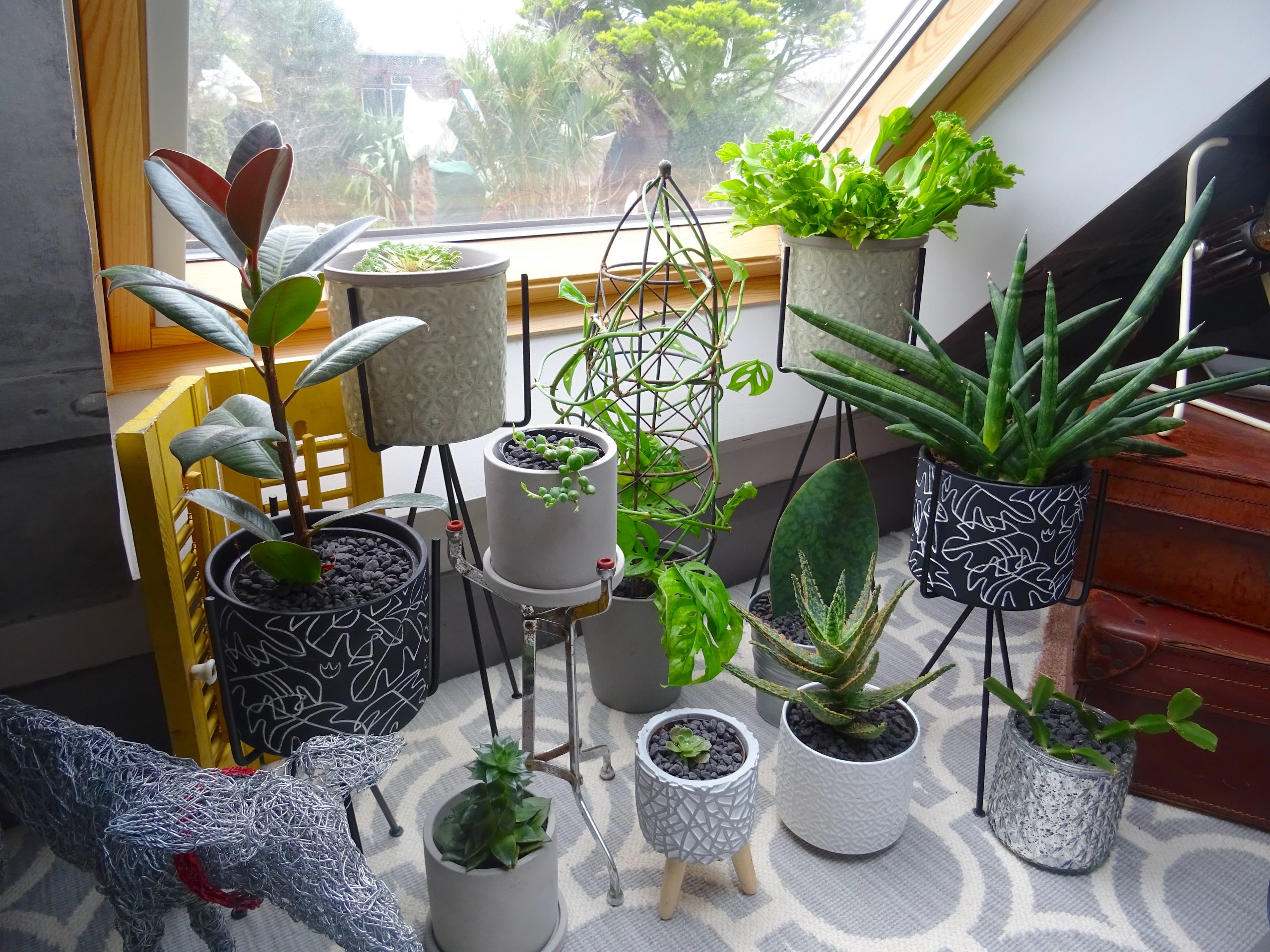 As the days shorten or the weather forces you in from the garden there's nothing better to keep your green fingers busy than to nurture houseplants. Studies suggest that indoor plants help improve wellbeing and productivity – they are said to enhance mood and even improve air quality. For many National Garden Scheme garden owners houseplants are an extension of their green fingered passion. Geoff Stonebanks, garden owner at Driftwood in East Sussex, shares his love of indoor plants and provides a few top tips to get you started. 
Discover more…
I have owned house plants as far back as I can remember. Back in the 1970's I used to live in accommodation provided by Trust Houses Forte while working at Scratchwood Service area on the M1. I had a small room in the motel there and it was packed with plants large and small. As soon as I bought my own flat in 1979, they all moved in with me and the rest, so they say, is history.
I'm very fortunate to have been able to have a loft conversion completed back in 2016. The main reason was to provide me with an office at home, overlooking the garden. The main image shows a small office garden I have created in front of the velux balcony window by my desk. I love the eclectic mix of plants, containers and stands, next to the vintage leather suitcases, which act as storage.
I currently have over 120 indoor plants of all shapes sizes, the oldest being a Christmas cacti, which belonged to my paternal grandmother, who died in 1963. It passed to her daughter and when she died in 2004, to me. The photo shows the plant last Christmas. I've just pruned it back and created some cuttings from it, one of which is in the office garden.
There are probably over 65 cacti and succulents in the house, one of my favourites is the euphorbia lactea. I purchased it while on holiday last year and it always reminds me of our Jack Russell, Albert, who was with us on the holiday and sadly died only a few weeks later. It sits on the windowsill in the bathroom. Another oldie is the umbrella plant, given to me by a friend back in 1983 and still going strong with many new plants created from it between times, the one pictured is the original one.
In the lounge, a real sun trap with its south-facing bay window, sits the beautiful jatropa podagrica or Guatemala rhubarb! We bought it back in 2002 and it flowers reliably, several times a year and is so easy to grow too. Sitting on the same windowsill is the stunning "Golden Barrel" cactus another holiday purchase from Norfolk back in 2007.
My philosophy in buying plants for the garden has always been, I buy what I like and do my best to look after it. So far my hit rate has been quite good. As far as house plants are concerned, I am little more circumspect. I always check their requirements before purchasing to ensure I have that perfect place for it at home. I'm quite lucky, my house faces due south and I have window sills on the north, east and south sides. The lounge and front porch face south, so can get really hot in the summer.  The porch can be very cold in the winter, so cacti love the environment.
I have at least one plant in each of the 11 living spaces in the house, including both the bathroom and en-suite. Plants such as bromeliads love the bathroom environment and make perfect additions to wall shelves.
I find plants are great items for remembering those who gave them to you. One of the last things my dad gave me before he died, back in 2007, was a beautiful peachy/orange hibiscus which I've now created a second plant from, one in the lounge and one in the back porch.
Choosing the right plants
House plants don't have to be difficult to look after, especially if you choose ones that are easy to care for. The sansevieras are all very easy, I've got half a dozen different types all of which are very hard to kill. Another great survivor is the Zamioculcas zamiifolia or ZZ plant. I've had one in my front porch now for 17 years, bought to remember an aunt who died back then.
I hope you enjoy my houseplant video tour and perhaps become inspired to get more of your own.
Geoff's top five current favourite plants for the house
Oxalis palmifrons (Palm-leaf False Shamrock)
Starfish Sansevieria or Sansevieria cylindrica (snake plant)
Euphorbia Obesa (baseball Plant)
Aloe Carola (Starfire)
Tillandsia (Air plants)
Geoff's top tips for looking after your houseplants
Got anything tropical? Mist regularly with spray
Check plant watering requirement carefully
Do not overwater, biggest killer of house plants (I use a plant moisture meter)
Water less in winter as opposed to summer
Check for bugs or infestation regularly.
Many National Garden Scheme garden owners have a passion for plants indoor and out but did you know we have one 'garden' that is purely dedicated to house plants. Discover more about Mercy Morris and her passion for plants here