Dutch masters; a virtual visit to the Dunsborough Park tulip festival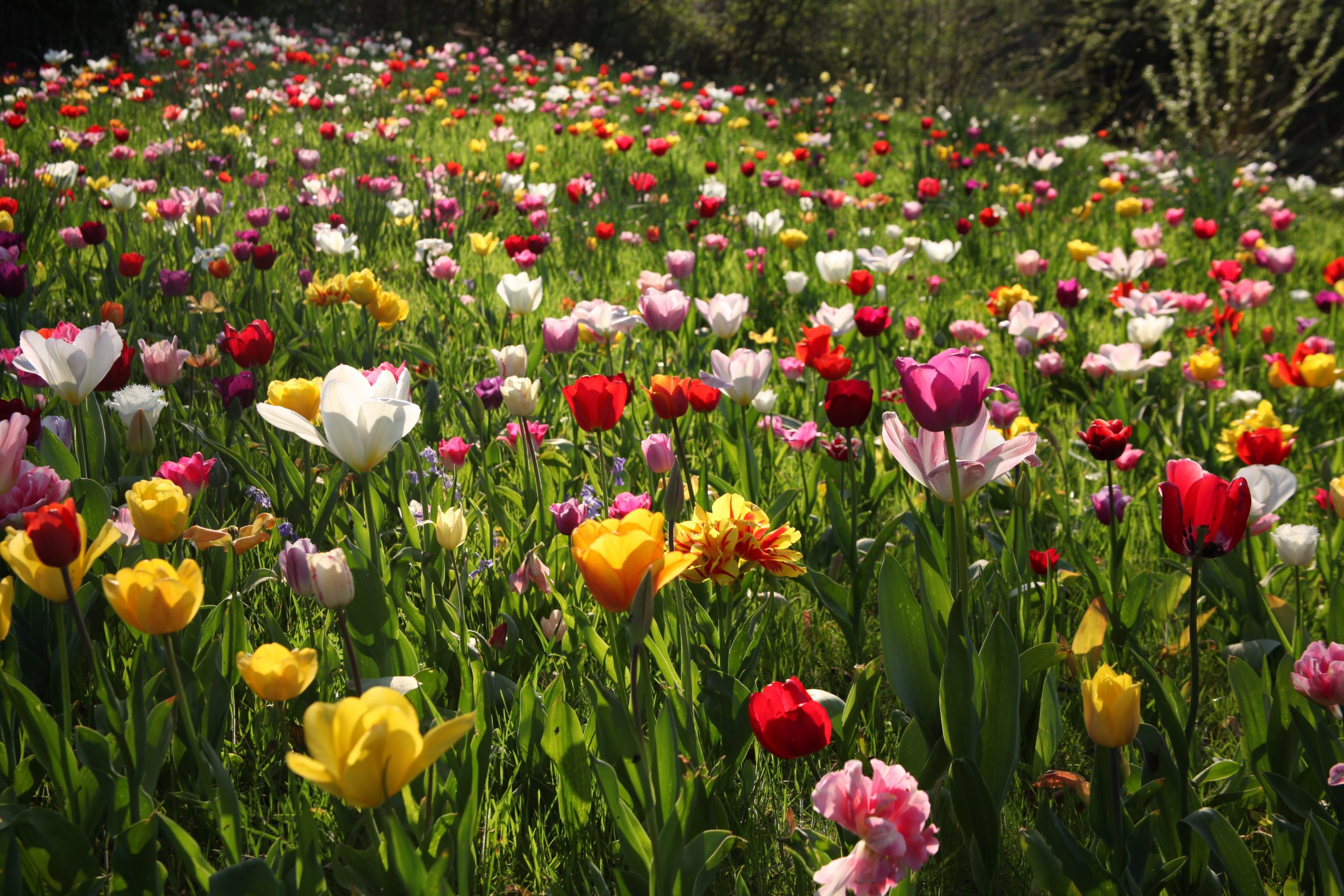 In any usual year you would join the growing queue outside some unassuming wooden gates and wonder quietly to yourself whether you had come to the right place. The brick courtyard beyond opens to a series of magnificent old glasshouses and the intriguing stone lion's head begins to spike your curiosity.
But this is not any usual year, this is the year that the gates of Dunsborough Park's much heralded tulip festival have been locked to the public as part of the government's Coronavirus precautions. Behind them, the treasure chest of 20,000 tulips and the dream-like tulip meadows lie undisturbed. Owners Dolf and Caroline, in lock down in Holland are, like us, only able to make a virtual visit to what has been their passion for over twenty years. Join Caroline now as she shares the gardens from afar…
More about Dunsborough's tulips…
With over 20,000 bulbs planted for 2020 the gardens host 14 varieties of tulip in 75 variations, sourced each year from Holland, from the following: Single early, Single late, Double early, Double late, Triumph, Darwin hybrid, Lily flowering, Fringed, Viridiflora, Parrot, Kaufmanniana, Fosteriana, Greigii, Sylvestris.
The white's include; Maureen, white Purissima, Triumphator, Spring Green, Mount Tacoma and Clear Water. The hot reds and oranges include; Red Riding Hood, Beauty of Apeldoorn, West Point, Princess Irene, Blushing Apeldoorn and Holland's Glory. In the Dutch garden, Caroline has planted Pink Impression, Blushing Girl, Rosalie, Dreamland, Flaming Flag, Laptop and one of her favourite combinations Shirley and Magic Lavender.
How to create a tulip meadow
One of Dunsborough Park's much-loved and often imitated features are the tulip meadows that lie beyond the formal, walled gardens. These dream scapes are a masterclass in recycling relying on the bulbs from the formal displays to keep them replenished.
"Every year we allow the tulips in the formal gardens to die right back, the bulbs drawing in all the goodness and growing in strength," says Caroline. "It's not until their leaves are brown and unsightly that we lift the bulbs, clean them, dry them and store them ready to be planted out later in the winter."
Once in the meadow the bulbs are left untouched, gradually diminishing with each year, their plants becoming smaller and smaller. "So we keep them topped up. Never quite knowing whether we're planting one bulb on top of another and what colour combinations will appear," adds Caroline. "This year, because we had such a mild winter, all the bulbs appeared together along with the bluebells to create a really beautiful colour palette."
Why not try it yourself? When the tulips in your pots or beds are over, lift, dry and store the bulbs and then scatter them and plant them where they fall in the winter. You'll see Rosamund, the owner at Slade in Wales has started to do just that. Click here to watch.
This year the Dunsborough Park tulip festival supported the National Garden Scheme and the Spinal Muscular Atrophy charity smauk.org
You can find out more about Dunsborough Park here
If you enjoyed this content please consider making a donation to help us continue to support our nursing and health beneficiaries.
make a donation to support our nurses