Finding calm in a garden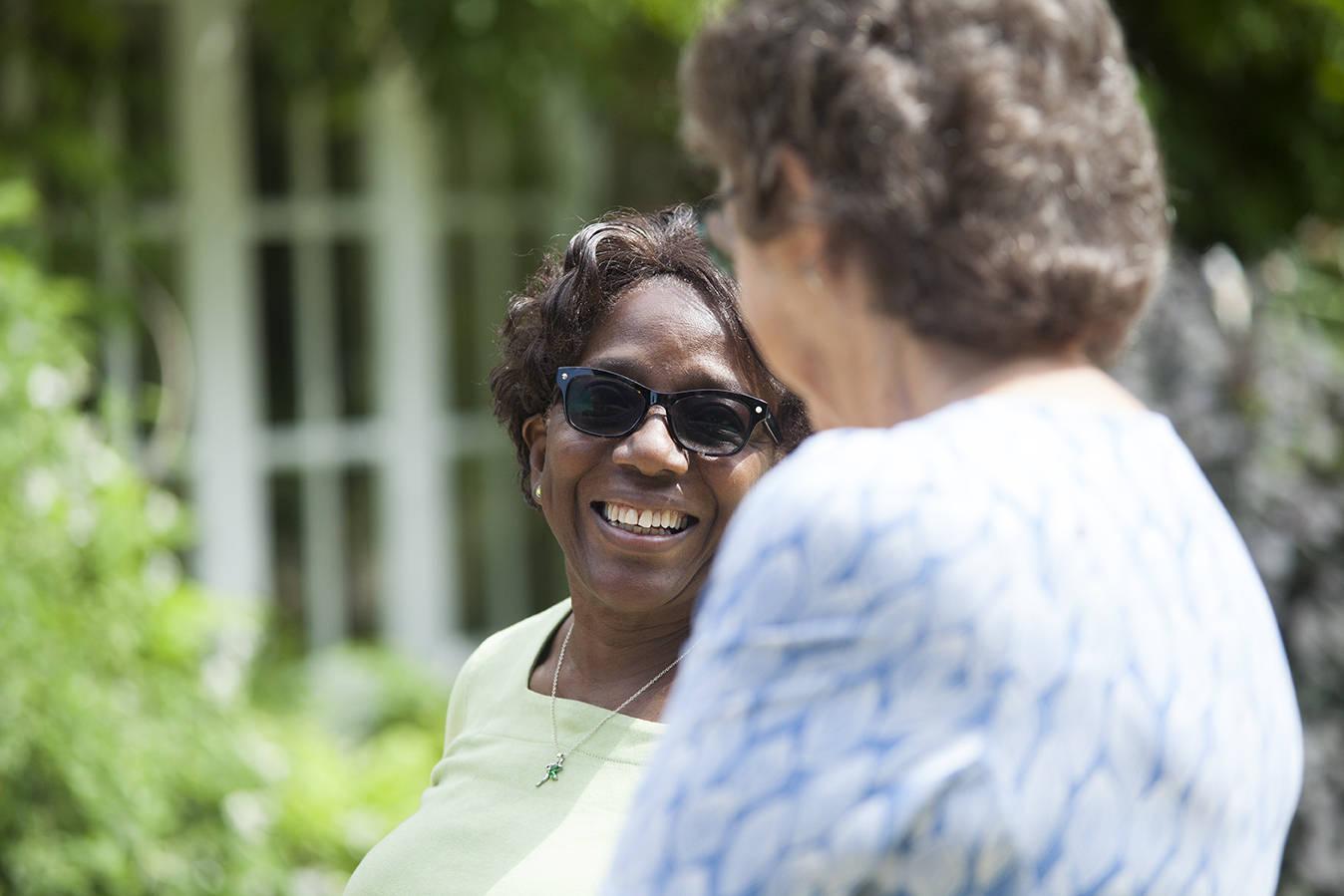 As part of our Gardens & Health Programme we offer free garden visits for the service users linked to our beneficiary charities. Offering a few hours respite in a beautiful garden with a cup of tea, piece of cake and good company really can help lift the spirits.
2021 marked the 25th anniversary of partnership with three of the National Garden Scheme's key beneficiaries, one being Carers Trust. To celebrate, we invited groups of unpaid carers up and down the country to visit a National Garden Scheme garden.
"I was able to temporarily put my caring role aside and be with like-minded people. The whole experience has left me feeling calm and peaceful and has done wonders for my mental health."
In July 2021 a group from Swindon Carers Centre visited The Old Rectory, Farnborough. Garden owners  Mr & Mrs Todhunter were delighted to welcome the group and one carer said, "My two hours in a National Garden Scheme garden away from my duties as a carer, speaking to other carers and enjoying delicious tea and cake has been like a holiday, a wonderful holiday."
Another group from Scarborough & Ryedale Carers Centre visited Havoc Hall, York. The unpaid carers group had a wonderful afternoon of respite, surrounded by gorgeous flowers on a sunny day in Yorkshire.
In August 2021, Bath Carers Centre visited Seend House, Wiltshire. A picturesque garden giving the carers the perfect opportunity to relax and enjoy an amazing view across the valley to Salisbury Plain.
The Carers Centre in Leicestershire & Rutland visited Mountain Ash, Leicestershire. The group were given a guided walk by the garden owners and chatted with other carers, meeting old and new friends, while enjoying a cup of tea and cakes in glorious natural surroundings. "This visit wouldn't have been possible without the garden owners welcoming us to their home. We thank them for providing our carers with a relaxing and enjoyable day."
Carers Support West Sussex visited The Old Vicarage, Washington. Garden owners Sir Peter & Lady welcomed the group with open arms, "We were thrilled to give hospitality to such a deserving group and it is important to us that everybody enjoyed themselves."
With such wonderful feedback and the generosity of garden owners, it's no surprise we're already planning our 2022 garden visits for carers.
"Not all the visited gardens had ticked the box at registration saying they were interested in taking part in the Gardens and Health visits," says National Garden Scheme Communications Manager, Vicky Flynn. "But we knew a few gardeners who were keen to help so we did a bit of match-making. It's not always possible, or easy, to make the visits happen but you can see from the results that they are hugely beneficial to all involved."
Svetlana Kirov, Executive Director of Fundraising at Carers Trust said:
"We're hugely grateful for this long-term commitment from the National Garden Scheme. The £4.6 million has transformed the lives of unpaid carers across the UK, not least because it has meant we have been able to provide them with respite from, and more support with, their caring role. In recent years, the programme of free group carer visits to National Garden Scheme gardens has also been a real gift for carers, giving them the precious opportunity to enjoy the company and laughter of their fellow carers in the most beautiful surroundings imaginable."
"Thank you so much for this outing. I hadn't realised that I haven't been anywhere simply for pleasure for a very long time."
The National Garden Scheme would like to extend thanks to all the garden owners who opened their gates to carer visits in 2021, your generosity is hugely appreciated. The photos in this article were taken at The Old Rectory, Farnborough © Carers Trust / Michaela Greene. 
For more on the partnership with Carers Trust click here.