Gardens and Health: New community nursing innovation projects begin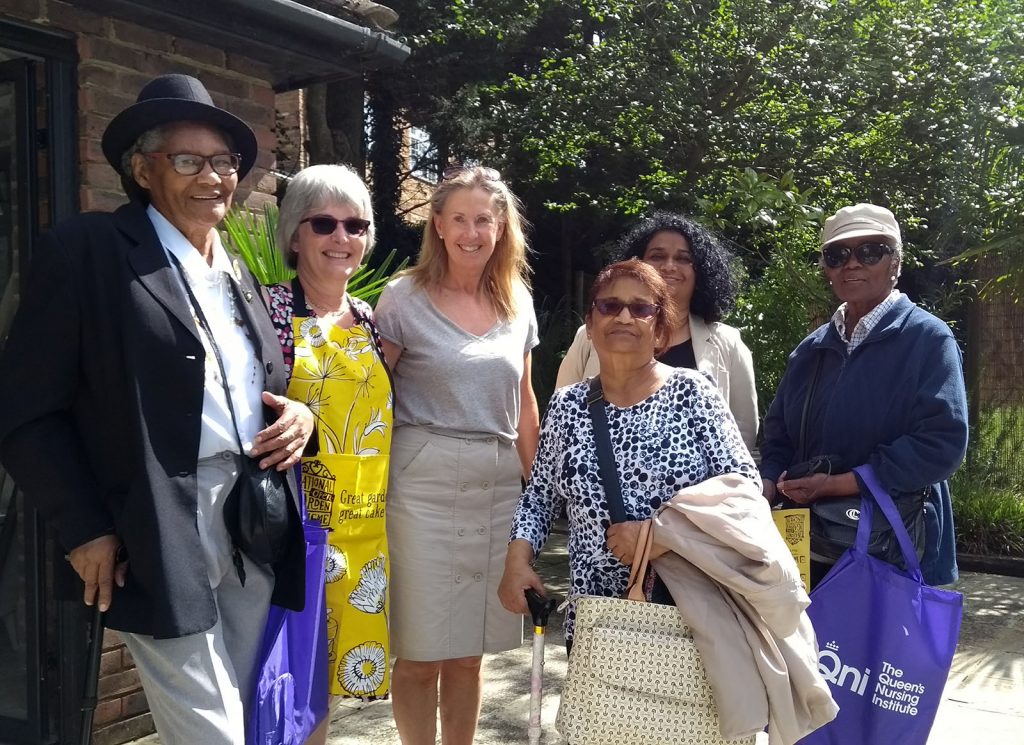 The most recent QNI Community Nursing Innovation Projects have begun across England.  
The group of 12 projects are a diverse group representing two separate but connected themes – Gardens and Health, supported by The National Garden Scheme, and Personalised Care, supported by NHS England and Improvement. The Gardens and Health Projects are known as the NGS Elsie Wagg (Innovation) Scholarships.
The 12 nurse-led projects all aim, in different ways, to improve the health of a community or group of people in a particular location, using innovative approaches. All the projects benefit from a year of support by the QNI's Innovation Team, and financial support to enable them to put their projects into action. Learning from the projects will help inform future developments in community healthcare. 
Speaking at the launch of the new projects, George Plumptre, Chief Executive of the National Garden Scheme said:  
"These projects will have a very substantial impact, both through the process of delivering them and in the outcomes for individuals in the community. I am also delighted that the standard of applications was very high and far beyond our expectations. The Elsie Wagg Innovation projects have a key aim to bring the health benefits of gardens and gardening to people and families who may never have had a garden or been able to benefit from gardening before. The programme is also very timely as we work to address the continuing physical, mental and emotional effects of the pandemic. I believe this is part of a wonderful new chapter in the life of the National Garden Scheme and in our partnership with the QNI." 
Sue Boran, the QNI's Director of Nursing (Innovations) commented:  
"We are looking forward to working with all the nurse project leaders and their colleagues who have such exciting ideas to improve the health of individual and population health in some very innovative ways. The projects are based in the north, south, east and west of England and include primary care, care homes, children's services, homeless and inclusion health services, and dementia care and as such represent the huge strength and diversity of community nursing across the country and its potential to deliver lasting and meaningful benefits across the life course." 
She added: "We are very grateful to the support received from NHS England/Improvement and from the National Garden Scheme that together has enabled us to offer such an innovative programme." 

QNI Community Nurse Innovation Projects March 2022 
Project Leader: Susan Duggan
Project title and summary aim:
Shildon Growing Healthy Allotment Project – County Durham
The aim of the project is to work with 11 to 19-year-olds from the local area of  Shildon, County Durham, providing low level early intervention and preventative support. The aim is to engage disadvantaged vulnerable young people in the gardening project to help them feel part of something fun, positive, and meaningful, while building positive friendships with peers. Positive healthy lifestyle messages will be threaded through all the gardening session, as well as learning how to grow, harvest and cook the food grown. The young people will have the opportunity to complete the John Muir Award to support their CV. Based at a community allotment.
Project Leader: Fiona Waddington
Project title and summary aim:
The Just Bee Garden – First Steps Project – East Yorkshire
The aim is to create a garden space that is welcoming and where mothers and children can feel safe – emotionally and physically. To take that first step and take their child outside. There is a lot of evidence that shows being in green spaces can reduce stress and anxiety and improve wellbeing. 'A lot of my clients will not use existing mental health services and are fearful of organised groups. Their babies and toddlers are stuck inside. They would benefit from a place to retreat to and enjoy with no demands being made on them.'
Project Leader: Joanna Scott
Project title and summary aim: 
Growth for Change – Warrington
By giving ownership and responsibility to people whose lives have been affected by homelessness the project hopes to improve their physical, emotional and psychological well-being. The project will take place at one of three hostels in the town. An area will be developed where residents can be involved in meaningful and productive outdoor activities, creating spaces for wildlife and growing food, following a social prescribing model.
Project Leader: Maritess Murdoch
Project title and summary aim:
Project GARDEN (Grow, Active, Recharge, Develop, Enrich, Nurture) – North London
Connecting with nature through gardens and gardening activities and providing opportunities for meaningful interaction between care home residents, families and care staff to improve health, wellbeing and connection and enhance residents' quality of life.   
Goals (G.A.R.D.E.N.)  
Grow - Encourage and engage residents, families and staff to start gardening, to go out in their gardens or outdoor spaces in order to enjoy nature including wildlife.   
Active – Improve activity levels of residents in a creative and fun way and get care home staff to be active participants and facilitators  
Recharge – Recover and use the spaces/garden that have not been used and cultivate the spaces to create areas for enjoyment, relaxation, relation and reminiscing opportunities.  
Develop – Support staff, residents and families to develop their gardening skills and provide opportunities for NCL residents to continue to pursue their own interest such as gardening, and to explore new hobbies.   
Enrich – Empowering everyone (staff, residents and families) to garden, grow plants and motivate and facilitate active and passive participation. This includes empowering staff and residents to share their learning and skills with other residents and staff.   
Nurture and nature – sustainability   
Nurture residents and staff, nurture the nature for sustainability and influence decision makers on the use of gardening as a social prescription. 
Project Leader: Jasmin Lanzaderas
Project title and summary aim:
Connecting with the Senses  – Macclesfield
This project will improve health and well-being by making the garden accessible to care home residents. The project aims to minimise distress reactions by promoting engagement, facilitating diversion, sensory distraction and engagement, to promote therapeutic interventions through gardening.   
Gardening and the gardens promote and encourage us to reconnect to our senses, from the sensations associated with feeling the soil and the seeds, to seeing plants grow and mature through colour and texture of foliage, the smells, and where appropriate taste supporting reminiscence of new and existing sensory experiences.     
We will be gardening in outside space, inside the home and remotely to the wider community.  
Project Leader:  Helen Hurst
Project title and summary aim:
Sensory Garden Space – Wirral 
A primary care network development working with two local charities. 
With the support of a patient led group we would like to create a small 'Health and Wellbeing' garden for patients across South Wirral, with focus for people with a diagnosis of Learning Disability or Autism, and Military Veterans.  
We aim to support the five ways of wellbeing for this group with 'Learning' through working the garden. 'Connecting' with others using the garden and reducing isolation in a safe environment. Staying 'Active' doing physical work and walking around the space. 'Give' by maintaining the garden for everyone to enjoy. 'Take Notice' encouraging mindful practice and having sensory elements incorporated in the space. 
Project Leader: Stephanie Llewellyn
Project title and summary aim:
Willow Incredible Wellbeing Garden – Gosport, Hampshire
We recognise the need to promote innovative, personalised solutions to help patients manage ill-health/promote greater wellbeing. The project, based at a primary care health centre, aims to create a garden to:  
Encourage social engagement; get people outdoors, meeting new people 

 

Improve mental health  

 

Provide Peer support and networking to support individuals with long-term conditions, both those physical and mental health 

 

Get people doing practical things, increasing activity, reducing loneliness & creating belonging 

 

Encourage people to learn more about the food they eat, how to make healthier choices, increase physical activity and support weight loss. 

 

To share in education, knowledge, food & friendship opportunities  

 
Project Leader: Grahame Hardy – PC NHS Funded Project (but will receive EW Certificate) 
Project title and summary aim:
Sustainability and Nutritional Programme for Patients in a Community Hospital Setting – Kent
This project will promote sustainability in the workplace by promoting healthy nutrition for residents/patients, especially people living with Dementia, from home grown produce and vegetables grown and cooked by the Head Chef. Residents will be able to participate in caring for the raised beds, bringing back memories of their own gardening experiences. It will be a safe and peaceful area that will promote wellbeing for everyone. This is a project that the team has dreamed of putting into practice for 30 years and early experiments have already been successful. Staff as well as people residing at the community hospital will benefit. The aim is to have fun while producing fresh, healthy organic food which will serve as a flagship project for this NHS Trust.
Project Leader: Sarah Baker – PC NHS Funded Project (but will receive EW certificate)
Project title and summary aim: 
Rowcroft's Space for Nature  – Devon
The aim of this project is to provide an accessible area within the Rowcroft Hospice grounds to offer all those under Rowcroft's care both the opportunity to observe and enjoy nature and the chance to participate in a regular gardening/nature club. This will be offered to both patients on the in-patient unit and those patients in the wider community. It will also be available to family members and informal carers, continuing beyond their bereavement. The project will offer the opportunity to holistically manage symptoms, allow individuals the opportunity to achieve their own preferences and promote physical, mental and emotional wellbeing.   
For more on the National Garden Scheme's partnership with QNI click here
For more of the National Garden Schemes Gardens and Health programme click here
For more on our Community Gardens Award click here