Get a taste for growing your own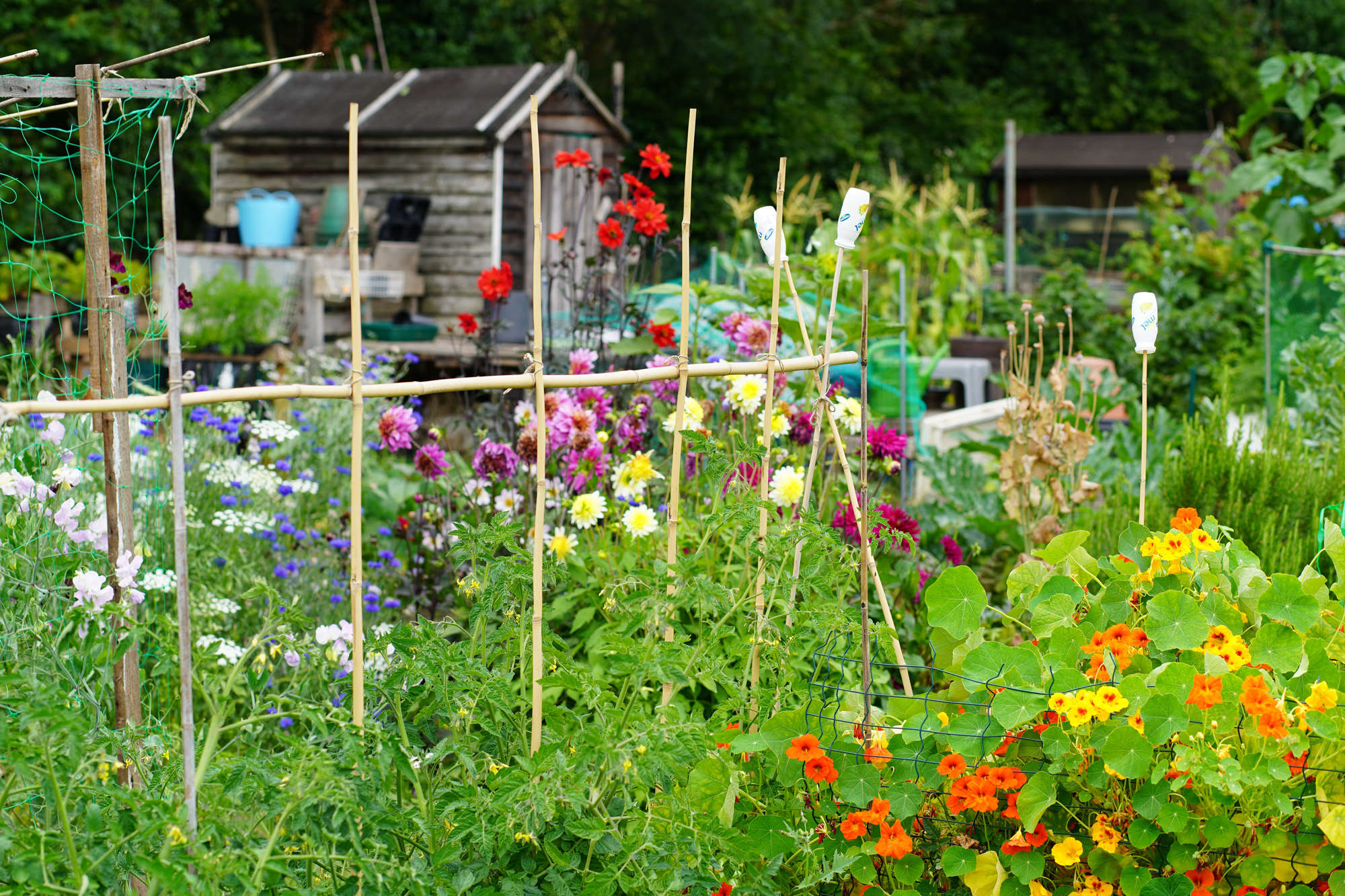 "Imagine escaping the hustle and bustle of everyday life and finding an oasis of tranquillity just around the corner from your home. Growing fruit, vegetables and flowers on an allotment is not only a fantastic way of giving wildlife a place  to live and feed, but will also keep you fit."
From 'Keeping An Allotment' by Kevin Forbes
(Above) Randalls Allotments in Cobham

A plant-based diet is now acknowledged as a major contributor to a healthier life-style but there are other benefits besides eating more fruit and vegetables that can boost your health and well-being. Rather than popping down to the supermarket or ordering on-line, growing your own – organically if you can – brings with it benefits beyond the delicious fresh produce you can enjoy at your dining table.
"The physical creation and tending of your plot – whether it's a patio container, a corner of your garden, an allotment or a full-blown kitchen garden – can help keep you fit and motivated, and inspire a great sense of optimism. And, if you get your planning and storage right, you can enjoy home-grown produce throughout the year," says National Garden Scheme CEO, George Plumptre.
The National Garden Scheme has a wide-range of 'grow your own' gardens in its portfolio. Some, like the immaculately and professionally tended kitchen gardens at Fittleworth House in West Sussex, and Goldstone Hall Gardens in Shropshire are the thing of dreams. While the community gardens and the diverse and stunningly well-kept allotments that open throughout England and Wales, demonstrate a strong sense of social cohesion in addition to all the other benefits that growing your own creates.
"A sense of community is something common to allotments everywhere, they bring like-minded people together to literally learn and grow. There's even an element of friendly competition which can spur you on even after the most irritating rabbit raid," adds George Plumptre.
Paul Collingwood of the Willoughby Road Allotments in Boston, Lincolnshire, which open for the National Garden Scheme in May and August, explains the huge impact the site has had. "Since forming an allotment association five years ago we have supported a number of projects in our local community. A giant pumpkin challenge raised £250 for our local hospital's stroke ward and £70 for a hospice, and that doesn't include the money raised for National Garden Scheme beneficiary charities."
Now in their eight year of opening for the National Garden Scheme the association always goes the extra mile, bringing together a wealth of talent and interests drawn from their allotment owners. "We always cook something special for our guests. In the first year it was courgette risotto with three different salads cut straight from the plots and last year we had an Indian chef plot holder who did Indian tapas. This year we have an art project in conjunction with Transported Art and the University of Lincoln and are hoping to have artwork installed throughout the allotments."
There are even plans for an 'Edible Academy' installing a large poly tunnel to attract schools and community groups to help explore where food comes from, how to use food in the kitchen and to learn more about nature and the environment.
"We have a diverse community on the plots with people from Russia, Poland, Lithuania, Latvia, India, Sri Lanka and even Yorkshire! This all helps with social cohesion not only on the allotments but throughout the town as well. We absolutely love opening for the National Garden Scheme as it gives people who visit us a different perspective  of allotment gardening and the community spirit of our site, which is very strong here."
Grange Fell Allotments in Grange-over-Sands in Cumbria, has, as its name suggests, an enviable position with glorious coastal views over Morecambe Bay. Managed by Bruno Gouillon, the 30 plots opened by the town council in 2010 have been carved out of a stone-filled field and now include a wide selection of gardening styles and techniques.
"The majority grow a mixture of vegetables, fruit trees and flowers," explains Bruno. "There are also a few communal areas where local fruit tree varieties have been donated by plot holders and we have herbaceous borders and annuals too."
Bruno's father instilled in him a love of hard work and order, attributes he feels are important to a successful allotment, "Reaping rewards from an allotment can be hard work, there's a lot of weeding and tending to be done, but the results are well worth it. Having freshly grown organic produce on the table throughout the year is fabulous."
Organic produce from the plots will be on sale when the allotments at Grange Fell open on August 18 and, to celebrate their tenth anniversary there will be a special raffle and light refreshments with home-made cordials and plenty of cakes.
Further south at Randalls Allotments in Cobham the plots are buzzing with bees and butterflies. There are prize dahlia's, sweet peas, roses and nasturtiums jostling for space among the artichokes (left to flower to the delight of the bees) beetroots, lettuces, beans, peas, potatoes, herbs, tomatoes, chilies and more!
"We have a range of nationalities on site growing some extraordinary produce," says site manager and allotment holder Dave Burton.
One Iranian plot holder has introduced lots of new varieties and planting schemes while Carlo, Italian by birth, has a plot of produce that keeps him and his family in vegetables throughout the year. For others, it's the sense of community that draws them in. A lady new to the area is now enjoying the shared knowledge of fellow plot holders and learning how to garden, while another, recently widowed, finds solace in the plot she once tended with her husband.
From prize-winning dahlia's to delicious fresh produce and heaps of community spirit there are so many special places opening for the National Garden Scheme in 2024 all offering a wonderful taster of how to grow your own and life on the allotment. You can even explore more about an edible garden in Surrey grown by Dr Trevor George.
And if you need any more reasons to look at organically growing your own, here are eight from Tuppenny Barn in Sussex which opens by arrangement in 2024 and has an open day on 6 July.
Food is grown using natural fertilizers like manure and compost.
Weeds are controlled naturally through crop rotation, weeding and mulching.
Pests are controlled using natural methods, relying on our birds and insects to control them, rather than chemicals.
It's better for your health, as it contains more antioxidants and lower levels of undesirable pesticides.
It's also fresher because it hasn't travelled as many food miles to get to your plate.
It reduces environmental pollution and the release of greenhouse gases, as it doesn't use artificial chemical fertilisers and pesticides.
It's good for wildlife as the absence of weed killers allows bees, birds and butterflies to thrive.
It protects our soils for future generations to grow healthy food.
If you enjoyed this content please consider making a donation to help us continue to support our nursing and health beneficiaries.