Having a disability doesn't stop me gardening…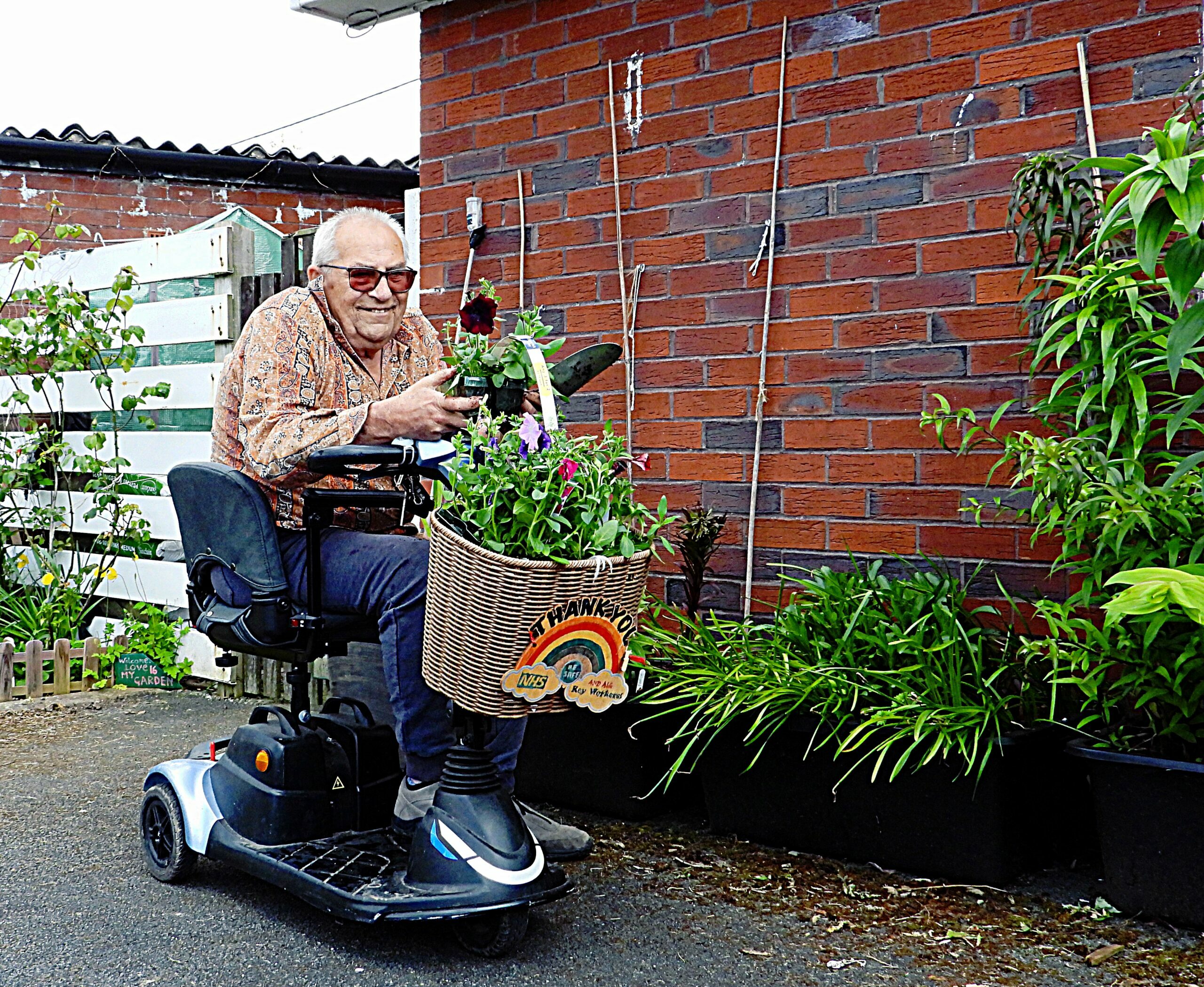 Inspired by his parents passion for gardening, John Edwards has been a keen gardener since childhood. Today, despite having to use a mobility scooter, he's out in all weathers and this July opens for the National Garden Scheme. This is his story.
"I've loved gardening since I was a child," says John. "We always had a big garden, mum grew flowers and dad grew vegetables so, along with my siblings, we all grew up loving gardens and gardening."
Having won awards for his previous gardens, including Best Kept Garden in Montgomeryshire, using a mobility scooter today hasn't held John back.
"When I came to this house two and a half years ago there was a rough lawn at the back and a garden that needed pick axing at the front. With help I've created a garden of raised beds, troughs and pots and filled everything with compost and well rotted farmyard manure."
Using his mobility scooter to carry things around the garden, John also enjoys just sitting in the garden or 'pottering among the pots'.
"Being in the garden helps me relax. The tension I feel in the house – largely caused by the frustration of not being able to do things for myself any more – leaves me. During the warm weather and in the winter sunshine I'll be out there, sometimes just watching the birds and the wonderful wildlife."
John's created a row of bird feeders which attract all the usual garden birds and the not so welcome – but incredibly beautiful – sparrow hawk. And, with the garden close to the local canal he's also rotavated a patch of land to create a wildflower area outside the back fence to attract the pollinators.
Sharing, dividing, taking cuttings and propagating his own seeds has helped John create a wonderful, self-sustaining display of colour. And any excess plants or seeds are placed on a table at the front of the house for passers-by to take.
"People often stop when they see me in the garden and compliment me on it and sometimes ask for tips. I get thank you's too from those who take the plants which all adds to the overall satisfaction that the garden brings me," he says.
John's Top Tips
Involve family, friends and neighbours to share plants
Take lots of cuttings and propagate them in greenhouses or on warm window sills
Collect seed to reuse (never store in plastic as they'll rot)
Embrace self-seeding
Don't rush – let your garden and nature work together
Make sure the manure you use is well rotted otherwise you'll be growing lots of weeds!
Think of the pollinators and avoid using double flowers – they're hard for pollinators to access
Grow what you love – and if it doesn't work, don't worry, find something that loves your garden instead
John's garden at 16 Maes Beuno, opens as part of the Berriew Village Gardens, Berriew, Welshpool, Montgomeryshire, on 2 July – for details click here
Lead image: John working in his garden. Photo: Simon Morgan