Highfield Cottage; Shaping up nicely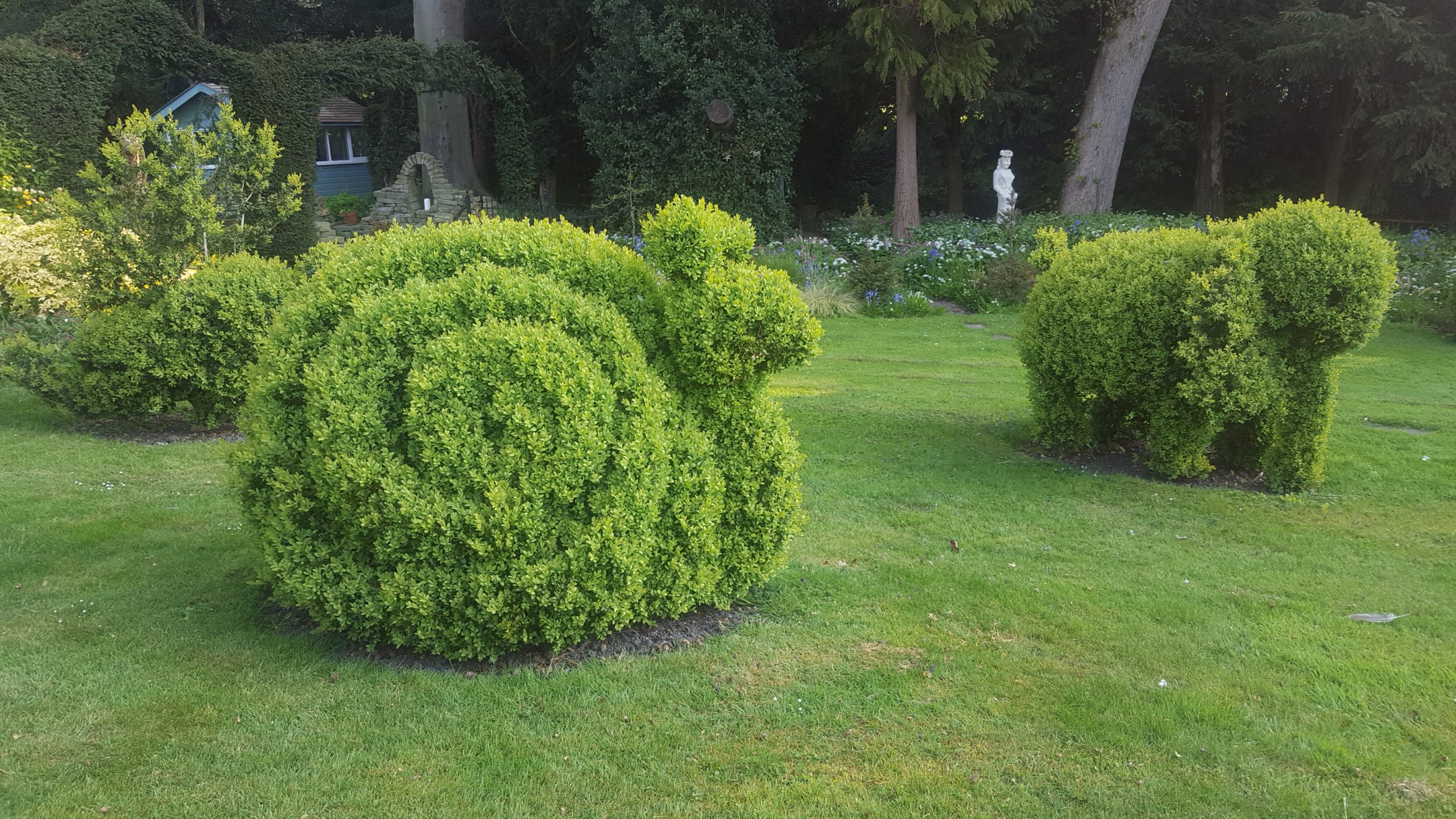 Entering the gates of this quirky cottage and straight away you can see there is something special. Over the years Debbie Simpson and her husband John renovated and extended the once derelict Highfield Cottage in Driffield, in the East Riding of Yorkshire. With it's tranquil stream-side setting, bluebell walk and beautiful borders it's the topiary that has been at the heart of the garden plan. "Our aim was to blend the two, house and garden, harmoniously, and not to lose any of the topiary that had taken so long to shape," says Debbie. Join her now for a teaser of topiary … and read on below for some top tips on keeping your topiary tip top!
How it all began
Debbie and her husband have pictures that show the topiary in their original yew tree form in 1902. "My husband started to train them into shapes 30 years ago just for fun. He stripped the trees back to their trunk and trained them into shapes as they slowly grew back. When I joined my husband he became my tutor and we started to expand into box topiary.  The main tips he shared with me were to get the line of sight right, keep the shears as flat as possible when you trim, and when creating the traditional shapes, pay as much attention to the bottom of the shape as the top.  By the time they need trimming, the topiary are outgrowing their usual shape, so it is essential to get the end shape in mind before you start. As your confidence grows, the whole job becomes easier."
BOX
The box shapes are created freehand, not using shaped wire frames. I usually let the plant grow until I can see a shape in it and then severely prune to the basic shape I want , sometimes halving the original size. It is then gently clipped into shape over time.  The only two that were planted with a shape in mind were the bird and the elephant and all but two are crafted from one plant.
"I trim the box at the start of May and tidy them slightly during the year to concentrate the growth where I want it. I find it better to use hand clippers as electric shears can catch the leaves and kill them, electric shears do however give a cleaner finish on long edges. It is also very easy with electric trimmers to cut off a piece mistakenly."
Box grows quickly and what started life as an ear on an animal can easily turn into a bush, so each year Debbie identifies strands that don't contribute to the shape, maybe simply overlapping other branches behind, and removes them.  The frame also grows and distorts the shape so every now and again the topiary needs a sever prune. Two years ago Debbie reshaped the swan which had lost its curves; the teapot started life as a camel until the humps were impossible to shape. This year as Highfield Cottage is unable to open for the National Garden Scheme Debbie is going to tackle a couple of bushes to get them back where they should be, they won't look pristine for a couple of years but will recover to look better than ever.
You can have a lot of fun with box as it is quick growing and leafy to the core; therefore very easy to shape and you see results relatively quickly. All the animal shaped bushes have a face to give them character. It is ideal for anyone to have a go as if it goes wrong you can change the idea or wait for it to grow and start again.
YEW
The yew are trimmed late summer / early autumn. "Although over the years it seems to have needed trimming earlier and earlier," says Debbie. "It's a physically demanding job as they are all quite tall, the giant rabbits are about 9 foot tall and I spend a lot of time clipping then standing back to see if more adjustment is required, so it can take half a day to trim one of the large yews and I couldn't do it without my adjustable ladder which gives me a really safe platform to work from. I use electric shears for the majority of the bushes and find that I get the best finish by cutting with upwards strokes on the vertical surfaces and then keeping the cut flat on the horizontal."
Yew can be difficult to shape, they are slow growing and you need to have a long term vision and a lot of patience. Debbie says; "The  shape is largely determined by the direction that the branches grow, so you can't create a spiral if the majority of branches are growing upwards; you therefore need to study the structure of the tree before pruning. You can train branches to grow in a certain direction and you can put a slight nick in a branch and bend it, however it is a long process and the branches will only flex so far. Yew growth is best where the light hits it and can appear even on seemingly dead branches."
The majority of the large yew shapes were started around 30 years ago. The arched hedge across the garden started as overgrown trees which were professionally topped; it took another 20 years to get them to where they are today but it was worth the wait as they frame the views across the garden.
A firm favourite with visitors is the yew with a jaw that moves up and down in the wind as if laughing.
Sculpture
The sculpture started after Debbie and John visited the hillside town of Eze in the south of France. "The village had a wonderful garden with fabulous statues in it that looked over the garden and towards the sea; the garden and the statues just worked so well together that we were inspired to incorporate this in our garden. We couldn't find anything we liked that was affordable so, although I had never done it before,  I decided I would have a go myself. To see if I could do it we made a concrete block which I made into my first statue, it didn't have the grace of the statues at Eze but they was good enough, so my husband bought me my first piece of sandstone for my birthday and I have been chiselling ever since. My largest piece is the peacock on the urn which was fashioned from a one ton piece of stone. I am now looking to use lighter mediums to create contemporary pieces and I will then rotate the sculpture to create different atmospheres and pockets of interest."
To find out more about Debbie's fascinating garden and when it may open again click here
If you enjoyed this content please consider making a donation to help us continue to support our nursing and health beneficiaries.
make a donation to support our nurses