Historic & Botanic Garden Training Programme Graduation 2023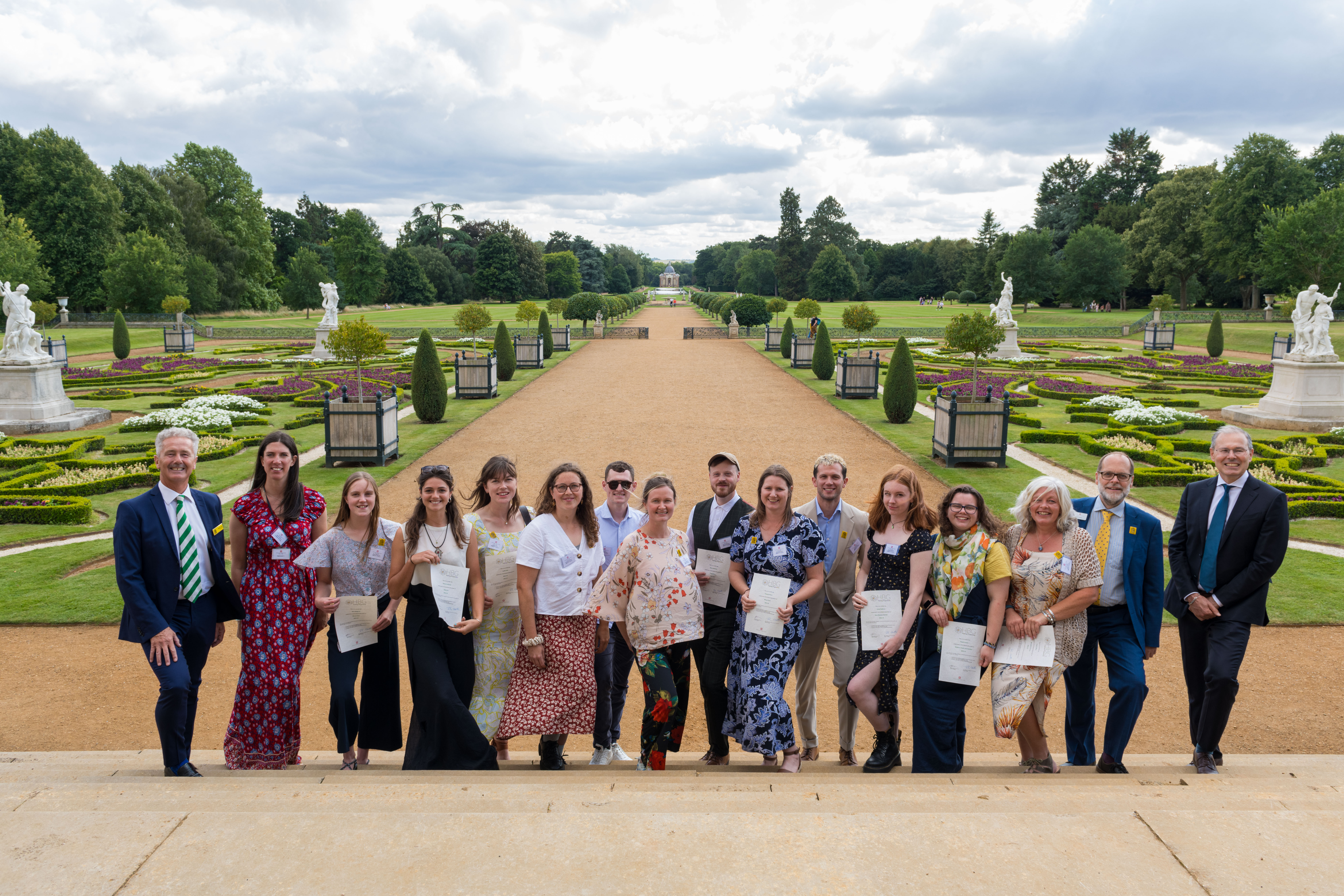 Funding from the National Garden Scheme has helped support a further cohort of trainees graduate from the Historic & Botanic Garden Training Programme (HBGTP) run by English Heritage. Their success was celebrated on the 30th of August at Wrest Park, Bedfordshire.  
The event, which takes place each year, sees trainees gather for a formal presentation of their certificates in the superb 18th–century mansion, with the backdrop of the Grade I listed formal gardens. The 15 graduates, along with their family and friends, industry professionals and representatives from the trainees' placement gardens, were able to celebrate in sunshine and splendour. 
"This year we were delighted to welcome speakers Mark Stuart-Smith, Interim Chief Executive and John Watkins, Head of Gardens & Landscape from English Heritage, along with Rupert Tyler, Chairman for the National Garden Scheme. Certificates were awarded by Rupert Tyler. The attendees were also treated to a display of the trainees' project work whilst enjoying cream teas, and then had the opportunity to explore the gardens at Wrest Park," says Elinor Davies, HBGTP Manager.
Since 2006, English Heritage has managed the HBGTP, providing paid 12-month traineeships for aspiring horticulturalists. Trainees gain a rounded skill set and wide practical experience, with all this year's graduates going on to higher level training or employment in the horticulture sector. Placement gardens for 2022-23 ranged from Audley End House and Gardens in Essex, Osborne on the Isle of Wight and Chatsworth House in Derbyshire.  
A three-year commitment from the National Garden Scheme announced this spring has helped secure the future of the award-winning programme with £125,000 a year of support for seven trainees. The new partnership will also see English Heritage hosting a series of events in support of the National Garden Scheme through its gardens in 2023 and 2024.  
"We are extremely grateful for the support of the National Garden Scheme, which is enabling trainees to take part in the HBGTP," adds Elinor.
For more about the National Garden Scheme's support click here.
If you would like to read more about the HBGTP, please visit the website at www.hbgtp.org.uk