How being in a garden makes me feel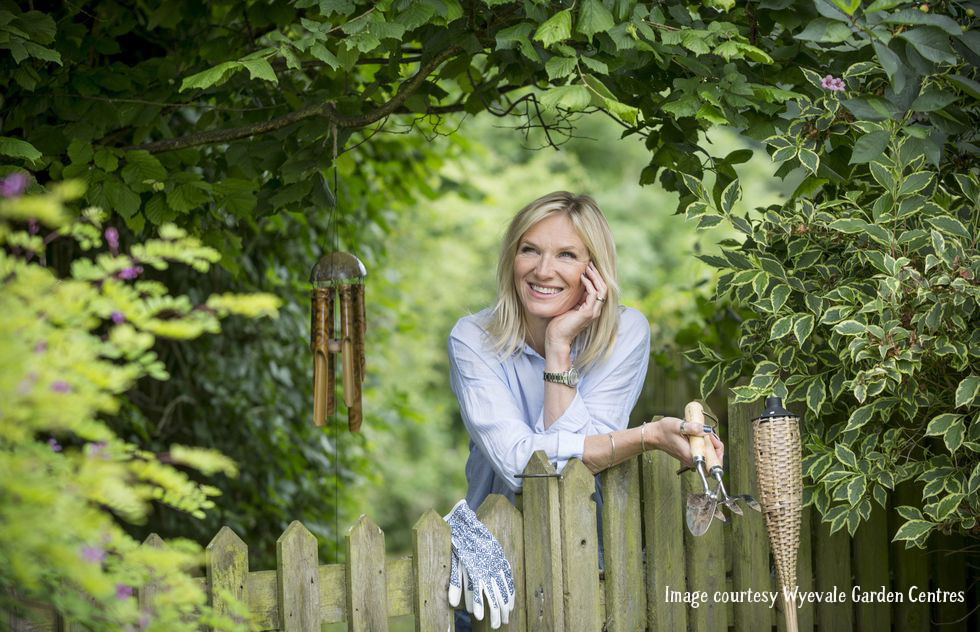 Gardens are good for us. They can lift our spirits and make us feel relaxed, happy and satisfied, they engage our senses and trigger our creativity, they relieve us of anxiety and help us manage illness. Here National Garden Scheme garden owners, Ambassadors and Trustees share their thoughts on how being in a garden makes them feel good.  
National Garden Scheme Ambassador and one of the UK's best-known pop music journalists and DJs, Jo Whiley has spent all her career in radio journalism but gardening plays a key role in her life too.
From spending time as a child on her grandparents' allotment, gardening has become an increasingly important part of Jo's life, focused on the garden she has made at her Northamptonshire home. In a 2021 interview with Country Living magazine Jo said that radio and gardening combine really well, their slow pace suit contemplative types like her and "the studio, like the garden, is solitary and intimate." In recent years Jo has been a guest presenter at both Chelsea and Hampton Court Flower Shows.
On becoming an Ambassador for the National Garden Scheme, Jo said: "I am so thrilled to have been asked. I knew about the National Garden Scheme but I had no idea how much money the gardens raise and give away to nursing and health charities every year. The garden owners are clearly so generous, I love the idea of them inviting people in to share their garden and have a lovely tea. The pandemic has shown me and everyone how important gardens are for our health and wellbeing and the National Garden Scheme has been doing this for years – it's a great organisation.
"I think we all know about the benefits of gardening and health both physically and mentally and what it can do for us and that's something that I very much get out of gardening myself. It doesn't matter if it's a massive garden or a balcony garden, gardening is open to anyone and everyone and that is the message that I'm really keen to promote along with the benefits that you get from gardening.
"Gardens make me feel calm – mine gives me a sanctuary to escape from the pressures and worries of life and work. Happiness is knowing I've got a clear day ahead of me with no zooms or meetings or commitments other than with my wheelbarrow, trowel and secateurs. The act of vigorously digging and cutting back is cathartic and a mental and physical release. Nothing deals with anger better than an hour or two weeding my borders.
Gardens give me a sense of contentment and achievement- it's a wonderful feeling to be sitting in the garden in the evening and taking in all the hard work that's gone into making it all look so beautiful. From the planning and designing of the borders to the sowing and planting and ongoing upkeep. It's a deliciously fulfilling feeling.
Gardens make me feel excited. I love going to look at gardens of all shapes and sizes and taking away ideas to use in my own. It's the one way I can be creative – I can't paint/sing/dance but I can make an interesting border of flowers of different colours and textures. It's a great feeling watching what emerges when spring comes around!"
Arit Anderson – National Garden Scheme Trustee, Garden Designer and TV presenter says:
"Being in a garden gives me a sense of escapism. Working on a task like weeding or tidying helps me feel "less cluttered" in my own mind and gives me an incredible feeling of satisfaction. Walking through a garden allows me to explore all of my senses."
Joe Swift – National Garden Scheme Ambassador, Garden Designer, journalist and TV presenter says:
"Being in a garden makes me feel connected to the natural world. I live in London and my garden is alive with wildlife year round. It gets my creative juices going. What to plant with what, how to link one season to another and what's the next project, there's always plans to be made! Being in a garden tickles all my senses and makes me feel alive. Buzzing bees and birdsong to hear. Fragrance and freshness to smell. Colours and forms to see. Textures to touch. Something tasty to munch!"
Danny Clarke aka The Black Gardener, National Garden Scheme Ambassador and TV presenter says:
"Working in the garden gives me a tremendous feeling of freedom because I'm the one in control of the space. The sounds and sights that a garden provides, soothes my soul. Connecting with nature through a garden gives me solace and peace."
Ross Lee, who opens his garden 12 Chapel Farm Close in Suffolk for the National Garden Scheme says:
"Stepping into my garden transports me to my perfect destination. It was designed to feel tropical and zen. It heals my mind and feeds my soul! Being in my garden fills me with joy, it has a magical feeling. I wish I could bottle it and share it with everyone! The beautiful birdsong, smell of the wisteria in the air and the sound of running water recharges me after a long day and helps me reconnect with the beauty nature has to offer."
Violet Croll, who opens her garden Avalon in Kent for the National Garden Scheme says:
"Being in the garden surrounded on all sides by plants some so close to the path that they touch you as you stroll by makes me feel alive. I then think to myself isn't nature wonderful. Whatever I might be worried about indoors, once I step into my garden they always seem to disappear leaving me feeling relaxed and peaceful. I'm not saying that some might not return once I return indoors but while I'm in the garden they do not exist. The beauty and colour of the various dahlias with the strong fragrance of some of the roses in high summer fills me with joy and happiness."
Jude Boutle, who opens her garden The Rock House in Powys for the National Garden Scheme and volunteers as Treasurer with the Powys North team says:
"Our garden is a place that makes me feel calm and detached from the stresses and strains of daily life. Getting my hands dirty while working in our garden gives me a wholesome sense of achievement. Happiness = me and my wife enjoying the garden which we created while being entertained by our dog Idgie."
Jackie Batty, County Organiser for Carmarthenshire & Pembrokeshire, and opens her garden Treffgarne Hall for the National Garden Scheme says:
"It helps so much to be completely absorbed in an outdoor task, and to feel a sense of satisfaction in the metres weeded! Even if more awaits! Listening to the birdsong, seeing new growth, lifts one's spirits in a special way. The happy tiredness after working in the garden is actually quite invigorating! The prick of a bramble, the softness of a petal, the shout of colour and the smell of compost … mixed feast for the senses!"
Tania Craine, who opens her garden Pheasant Field, Merseyside for the National Garden Scheme and supports the Lancashire team with social media and a weekly slot on BBC Radio Merseyside, says:
"We have been very lucky to be able to share our garden with many visitors through the National Garden Scheme. However, it's our own little paradise for the rest of the year and has helped us through many tough times. We have introduced a calming colour scheme and planting style. We are particularly passionate about pollinators and try to incorporate as many bee and butterfly friendly plants as possible. To sit and watch a bee enjoying the garden is a great way to de-stress."
Rebecca Firman, daughter of Tania Craine, opens her garden 33 Arklow Drive as part of the Hale Village Gardens for the National Garden Scheme and has a weekly slot on BBC Radio Merseyside, says:
"Watching wildlife enjoy my garden and make it their home brings me joy. When I am in the garden I can forget about the stresses and worries of day-to-day life. I love using heights and trees in the garden to help me feel safe and private."
Prakash Daswani, who opens his garden with his wife Joanne at 39 Glover Road Pinner for the National Garden Scheme, says:
"The moment I step into our garden, all my anxieties seem to evaporate, and I find myself drawn irresistibly into a sumptuous feast for all my senses. Before long, I feel fully centred again, and at peace with myself, and with the world around me, as the garden and all that's in it gradually turns into a reassuring and all-embracing haven of tranquility. The very stillness engenders a growing sense of respect – and gratitude – for the multiple interconnections, often invisible, that make up the awesome majesty of the natural world. Our garden is, of course, just a very tiny part of this wholeness, yet it provokes perpetual curiosity, and direct personal engagement, by offering us endless opportunities for experimentation and creativity."
This article was originally published in The Little Yellow Book of Gardens and Health