How to create a showstopping display of tulips in your spring garden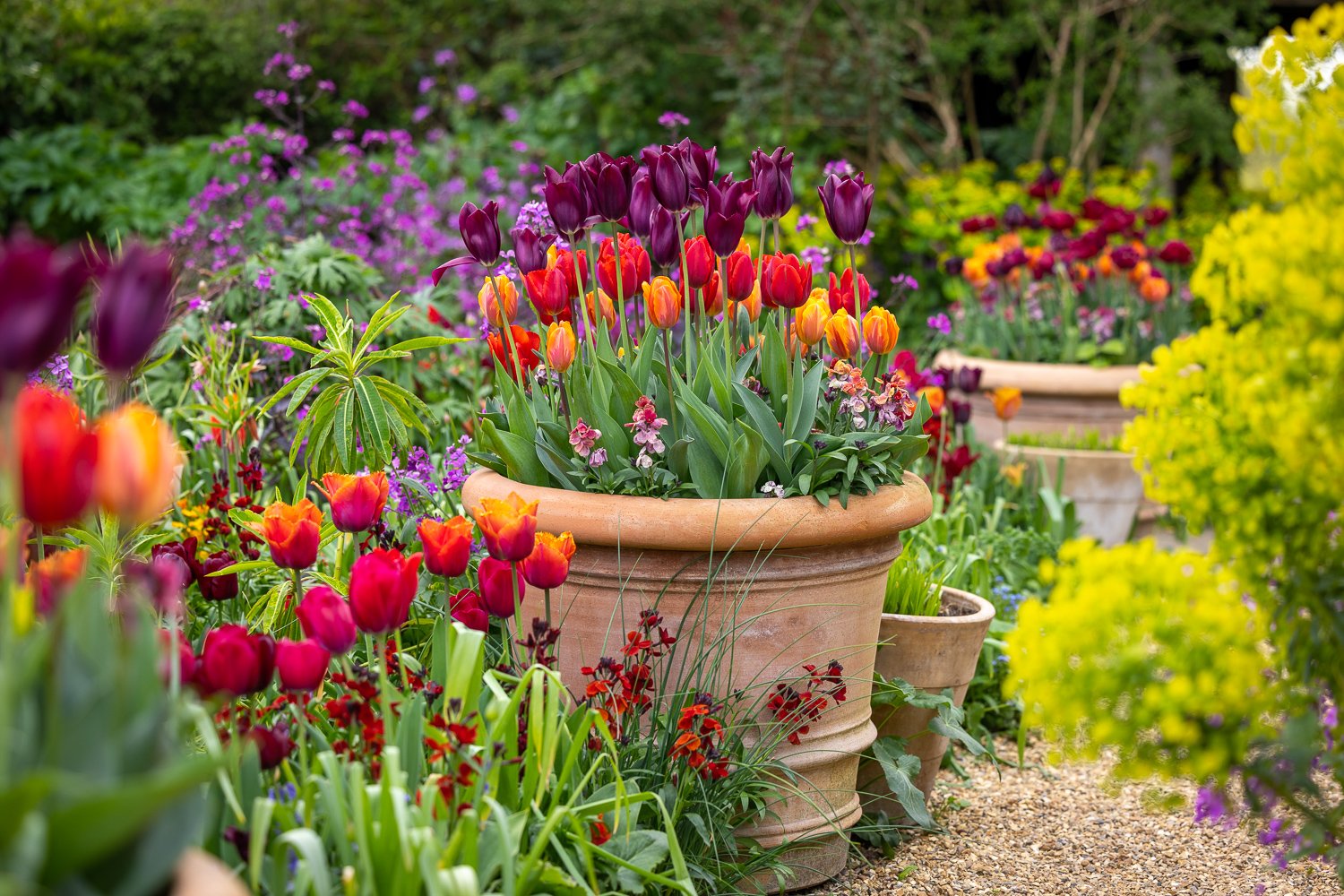 April through to May sees many of the gardens open for the National Garden Scheme transformed into a rainbow of welcome colour as tulips burst from the soil with unyielding vigour. From formal structures to meadow style planting, there is a tulip garden for every taste. In this article partner, Sarah Raven shows us how we can all create a showstopping display in our spring garden by introducing bold and brilliant tulip bulbs this autumn. And if you need more inspiration take a look at some examples of some of our best tulip gardens in this collection of virtual visits.
Sarah says ' Single varieties will look seriously striking in abundance, or why not mix and match different containers and group together for maximum impact. From patios, terraces, and balconies to footpaths and entranceways, introducing bright and brilliant colour and unbeatable scent will elevate any outside space and inject early spring cheer.'
Terrific tulip groups
Whether you adore traditional tulip varieties or want to create a more modern look and feel in your garden, combining tulip bulbs from different groups will enable you to create the most striking of displays. Choose from elegant lily-flowered tulips, huge Darwin hybrids, long-lasting double tulips, and many more, ideal for all types of garden.
Lily-flowered tulips are an absolute must-have in garden pots. Fluted and flared flowers in a stunning variety of colours that go on and on. These will look excellent amongst other spring flowers. These also last well in the vase once cut.
Peony tulips typically flower in late providing invaluable and luxurious colour and cut flowers. Also known as Double Early or Double Late, these large flowering tulips are great for adding wow-factor due to the abundance of extra petals.
The viridiflora group, identified by the green flashes on their petals, are typically late flowerers and are well known to be reliable over several years.
Why not introduce botanical varieties to your outside space? Small and delicate but super hardy and long-lived, these species tulips will naturalise, resulting in even more flowers over time.
Border combination with Tulipa 'Ballerina', 'Purple Heart', 'Prinses Irene', 'Doll's Minuet' and 'Continental' (or Queen of Night')
Potted to perfection
Plant tulip bulbs in containers in October, November, and December. To get dense and flowery spring pot displays, layer bulbs one on top of another with compost in between. Using high quality peat-free compost and ensuring the pot has good drainage is essential for beautiful and healthy tulips.
If you're planting just one layer of bulbs, plant at the same depth as you would in the garden – at a depth of twice their height at least (a minimum of 3 inches). Water on planting, and regularly in the first weeks when their roots are forming. It's important to keep the compost moist but be careful not to overwater.
Pots planted with spring-flowering tulip bulbs can tolerate a certain amount of freezing weather but will need some protection in moderate to severe periods of frost. Cover them with branches or circle the pots with bubble wrap to insulate.
After flowering, remove the bulbs and plant into the ground before the summer. Leave the foliage intact but remove any dead flowers so the tulip doesn't waste energy trying to make seed.
Naturalised drifts
For early bursts of joyful spring colour that returns year after year, select tulip bulbs that are good for naturalising. These will gradually bulk up and self-sow to create unmissable swathes of tulips.
Bulb lasagne
Watch and learn as Sarah shows you how to plant the perfect bulb lasagne featuring her spring-flowering favourites for early and consistent bursts of colour.
Special Offer to National Garden Scheme supporters
For a limited time only, receive an exclusive 15% off tulip bulbs and other best-loved spring flowering bulbs from Sarah Raven. Enter the code 15NGS23 at checkout.
Offer ends 31st December 2023. Only applicable against full price items and cannot be used in conjunction with any other offer.