Inspirational small gardens; a tiny taster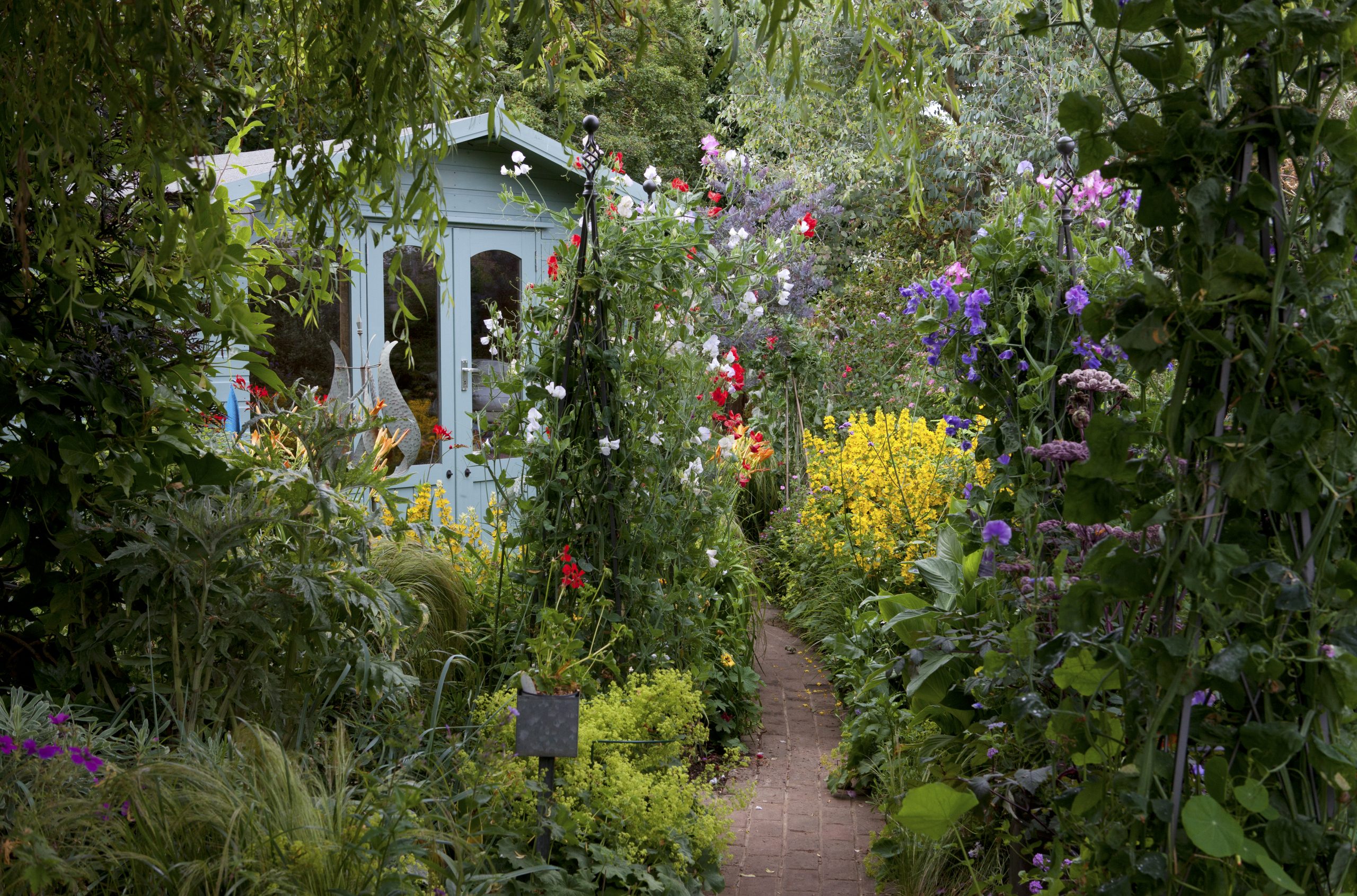 Mention the National Garden Scheme and many will think of the beautiful, large country gardens that it opens for charity. But there is so much more in the Scheme's garden portfolio including allotments, hospice gardens, community gardens, schools and an abundance of inspirational small gardens. Some open in their own right, others as part of a larger group but, however you view them, they all provide a staggering array of planting and design ideas that visitors can take home and replicate in their own outdoor spaces.
"The value of gardens and outdoor space took on a new importance during the pandemic lockdowns," says National Garden Scheme Chief Executive, George Plumptre. "With many people enjoying their gardens and getting to grips with gardening for the first time – be it in a pot on a balcony or planning their first garden makeover – we've seen an explosion of interest for inspiring small gardens. Luckily, the National Garden Scheme has plenty to offer, with gardens all over the country – some just a few square metres in size – offering a host of ideas and demonstrating the skill with which people manage their small spaces."
Here is a tiny taster of the smaller gardens on offer to visitors through the National Garden Scheme this year.*
Smallest first
The smallest garden to open under the National Garden Scheme, and the first to be dedicated solely to house plants, is Mercy Morris's garden in Kent.  
This living collection of indoor plants from aloe to zamioculcas has been created over the last 30 years. It includes plants of many sizes and there's a sunny porch full of cacti and succulents and low-light tolerant plants such as rhapis, begonia and sansevieria, along with many different species of tillandsia (air plants) and other bromeliads. This is a home for plants that anyone can create, taking advantage of every scrap of space and light. To discover more click here 
Group and city gems
A little larger is the truly gorgeous gem of a garden at Briar Cottage which opens as part of the Warton Gardens group in Lancashire. This tiny enclosed back garden is packed with design features: an herbaceous border, vegetable beds, natural limestone with a sinkhole, trained fruit trees, alpine interest and a collection of Japanese maples. Who knew you could fit so much in! Explore the garden here 
In Merseyside 11 Blundell Avenue opens as part of the Blundell Gardens group, it has a small formal front garden with circular gazebo and central urn surrounded by mature shrubs. Walk through the side gate and find a quirky rear garden full of surprises, a folly, arbour, unusual plants, a raised fern border and assorted flowering plants. Discover more here  
Bramleys, which opens as part of the The Terrace Gardens, Oswaldkirk, in North Yorkshire is a delightful third of an acre plantswoman's garden created over the last five years on a steep slope by the current owner. Winding paths lead through naturalistic planting to different seating areas and there's a summerhouse with far reaching views along with a wildflower orchard with species roses and peonies. Find out more about Bramleys here 
Pigeon Cottage in Oxfordshire opens as part of the Broughton Poggs & Filkins Gardens group and is, at its name suggests, tiny. Despite its size the garden is an unexpected oasis of great atmosphere at the end of an insignificant path. There's a lawn with steppingstones, densely packed borders and billowing roses. Explore it here. 
Many smaller gardens occur in cities and the Railway Cottages in Alexandra Palace, Greater London are a fabulous row of historical cottages with a variety of mainly front gardens. From the tranquil, country style garden at 2 Dorset Road to the potager style cottage garden with raised beds overflowing with vegetables and flowers at number 24a, if you want small city garden inspiration these, along with the gardens at Spitalfields and the series of seven floating barge gardens at Tower Bridge are must sees. 
Standing alone
Mione, in Abergavenny, Monmouthshire, is a beautiful garden with a wide variety of established plants, many rare and unusual. There's a pergola with climbing roses and clematis and a gorgeous wildlife pond with many newts, insects and frogs. Numerous containers with a diverse range of planting and several seating areas, each with a different atmosphere and a stunning borrowed view make this garden feel bigger than it is. Find out more here 
1 Southview, Devizes, Wiltshire is a clever small-town garden with surprises and intrigue at every turn.  Densely planted with both pots near the house and large borders further up, it houses a collection of beautiful and often unusual plants, shrubs and trees many with striking foliage. 'Truly inspirational' is often heard from visitors. Discover more  
24 Bede Crescent in Washington, Tyne and Wear is a very small courtyard garden jampacked with colourful plants and is a lesson in how to make a small shady place colourful and interesting.  There's a small 'courtyard style' garden, with central paved area, surrounded by borders containing shrubs and box balls for year-round structure, and packed with colourful Astilbes, lilies and clematis for summer impact. Along with a small patio front garden, with gravel border planted with box balls and containerised shrubs there's plenty of ideas to explore and take home. More info here 
Other inspiring small gardens include:
152a Victoria Rise, London  More info
131 Southgate Road, Greater London More info
Snowdrop Ridge, Leicestershire view the virtual visit here: Snowdrop Ridge, Leicestershire; a delightful cottage garden – National Garden Scheme (ngs.org.uk) 
Cupani Garden, Seaford, East Sussex (lead image: Leigh Clapp) More info
Boxworth, Peacehaven, East Sussex  More info
 32/33 High Street Argoed, Gwent More info
Wild in the Country, Derbyshire there's a virtual visit here Wild in the Country, Derbyshire; the perfect flower plot – National Garden Scheme (ngs.org.uk)
42 Falconer Road, Herts there's a virtual visit here: 42 Falconer Road; a garden of delights – National Garden Scheme (ngs.org.uk)  
12 Longmans Close, Watford, a tiny tropical garden  More info
The Southdown Gardens, Harpenden More info
9 Tannsfield Drive, Hemel Hempstead More info
28 Fishpool St, St Albans More info
Green Bough, Gloucestershire More info
Pont Trecynny, Fishguard  More info  
24 Bede Crescent, Washington  More info 
Woodlands, Springwell Village  More here 
The Shilling House, Newcastle More here 
Penybont, Aberystwyth, Ceredigion  More info 
Corntown Gardens,Vale of Glamorgan  More info  
Sunny Cottage, Caerphilly  More info

9 Willowbrook Gardens, Swansea  More info
3 Monksland Road, Swansea  More info  
Casa Lago, Whalley, Lancashire More info 
72 Ludlow Drive, Lancashire  More info 
1 School Lane, Bridlington, East Riding of Yorkshire  More info 
Brooke Cottage, Wilmslow  More info  
Twin Gates, Park Gate, Neston, Wirral More info 
The Homestead, Cheshire  More info 
18 Highfield Road, Macclesfield, Cheshire  More info 
3 The Barns, Ilkley More info 
Two small urban gardens in Sheffield owned and created by members of the Department of Landscape Architecture in Sheffield: 19 Fir Street and 68 Tasker Road 
This is just a tiny taster of the smaller gardens in the National Garden Scheme's rich garden portfolio – you can visit more of them virtually too. Several small gardens provided virtual garden visits during last summer's lockdown why not explore the collection here:  Virtual Garden Visits – Small or Surburban Gardens – National Garden Scheme (ngs.org.uk)   
*All garden openings are subject to the coronavirus restrictions in place at the time and in most instances pre-booking of timed entry slots will be available. Visitors are advised to check the details of the gardens they want to visit and to book online on the National Garden Scheme website before travelling www.ngs.org.uk
PHOTOS:
Lead image: Cupani, East Sussex – Leigh Clapp. 
Spitalfields – Julie Skelton. The Homestead – Joe Wainwright. 24a Dorset Road – Jacqui Hurst. Woodlands and 24 Bede Crescent – Susie White.