Inspired floral displays for your perfect garden party…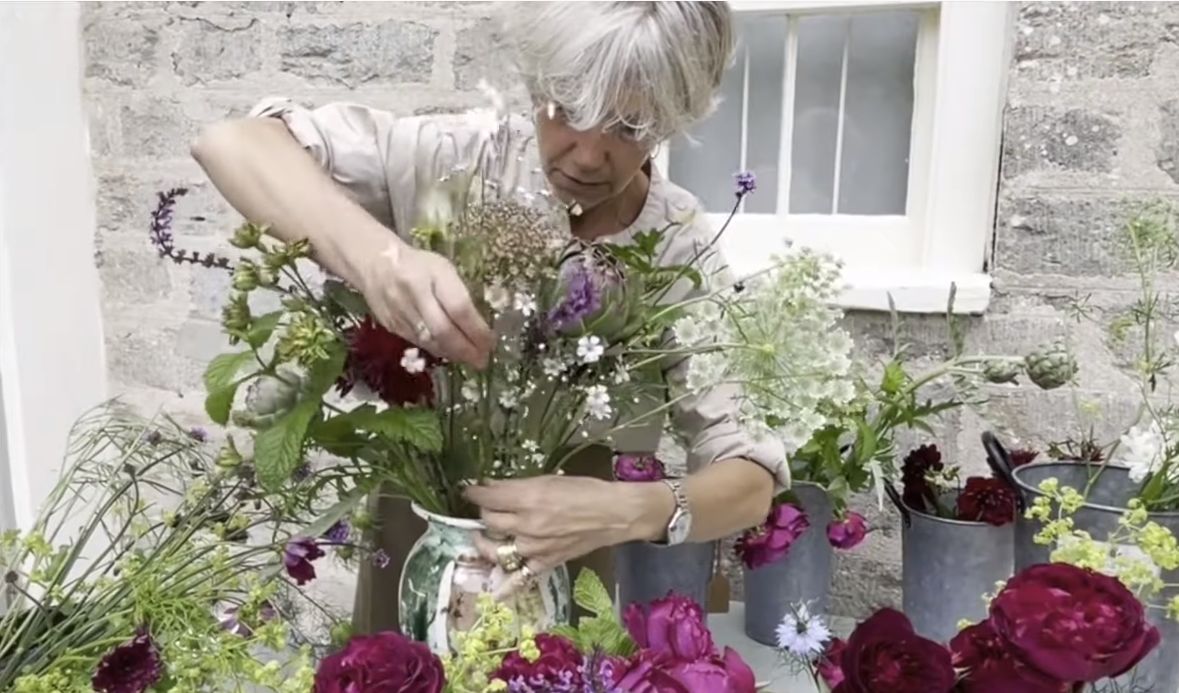 Garden owner Emily Cave grew up admiring her parents' flower beds that were dedicated to growing roses for cutting, and has fond memories of spending time with her grandmother deadheading roses.  On buying The Old Rectory in Litton Cheney in Dorset in 2009, Emily made sure there was room in her garden to have an area devoted to growing old-fashioned English roses, with their abundant natural charm, character and heady scent – so often lost in mass produced readily available flowers.
Since 2017, Emily and her husband Richard have opened their garden for the National Garden Scheme, sharing their passion for gardens with their visitors.  This year, encouraged by friends, they decided to join the National Garden Scheme's annual Great British Garden Party and in September will be hosting a Great British Garden Party at the Old Rectory, Litton Cheney
"It's fun to use the garden, to take advantage of it to host a wonderful party, and at the same time to raise vital funds for the National Garden Scheme to support nursing and health charities who need our support more than ever," says Emily.
Inspired by a busker she heard in London, Emily is bringing a wonderful musical treat to her Garden Party. "I heard a busker playing the steel drums on a recent trip to London and it really cheered me up. After months of restrictions and anxiety they created a sense of lightness and celebration – so we'll have a steel band playing, as well as delicious food, plenty of drink and a talk from the renowned British designer Emma Bridgewater."
If you'd like to join the party at The Old Rectory in September you can buy tickets here.
Emily, also runs Rosa Cheney, a cut flower company which offers beautiful arrangements of freshly picked, old fashioned style English roses grown in her Dorset garden.  She has generously offered to share some of her top tips for creating a wonderful floral display taking inspiration from household items, re-using old olive oil bottles and turning her table settings into a sensory experience.
"I think cut flowers fresh from the garden are glorious, whether it's a few flowers in a jam jar or a more flamboyant arrangement. They may not last as long as supermarket blooms but their amazing scent and natural blooms make them a winner every time and can help you create that perfect Great British Garden Party look!"
Emily's top tips to extend the life of your cut flowers
Change the water regularly – every two days. If this is all you do – do this!
Cut the stems and condition your flowers overnight in a bucket of water in a cool place
Strip the leaves and thorns off so they don't infect the water and snip the ends of the stems to allow the water to reach the heads of your blooms
Place your vase in a cool room / outdoor space – the cooler the location the longer they will last
It doesn't matter whether your garden is big or small, a horticultural paradise or a blank canvas with a few pots – everyone can get involved and host their own Great British Garden Party to help raise money for the National Garden Scheme and the amazing work it does in support of nursing.
Sign up to host a Great British Garden Party
Emily and Richard open their garden for the National Garden Scheme on set dates in the year and by arrangement – click here to find out more.