Vegan chocolate truffles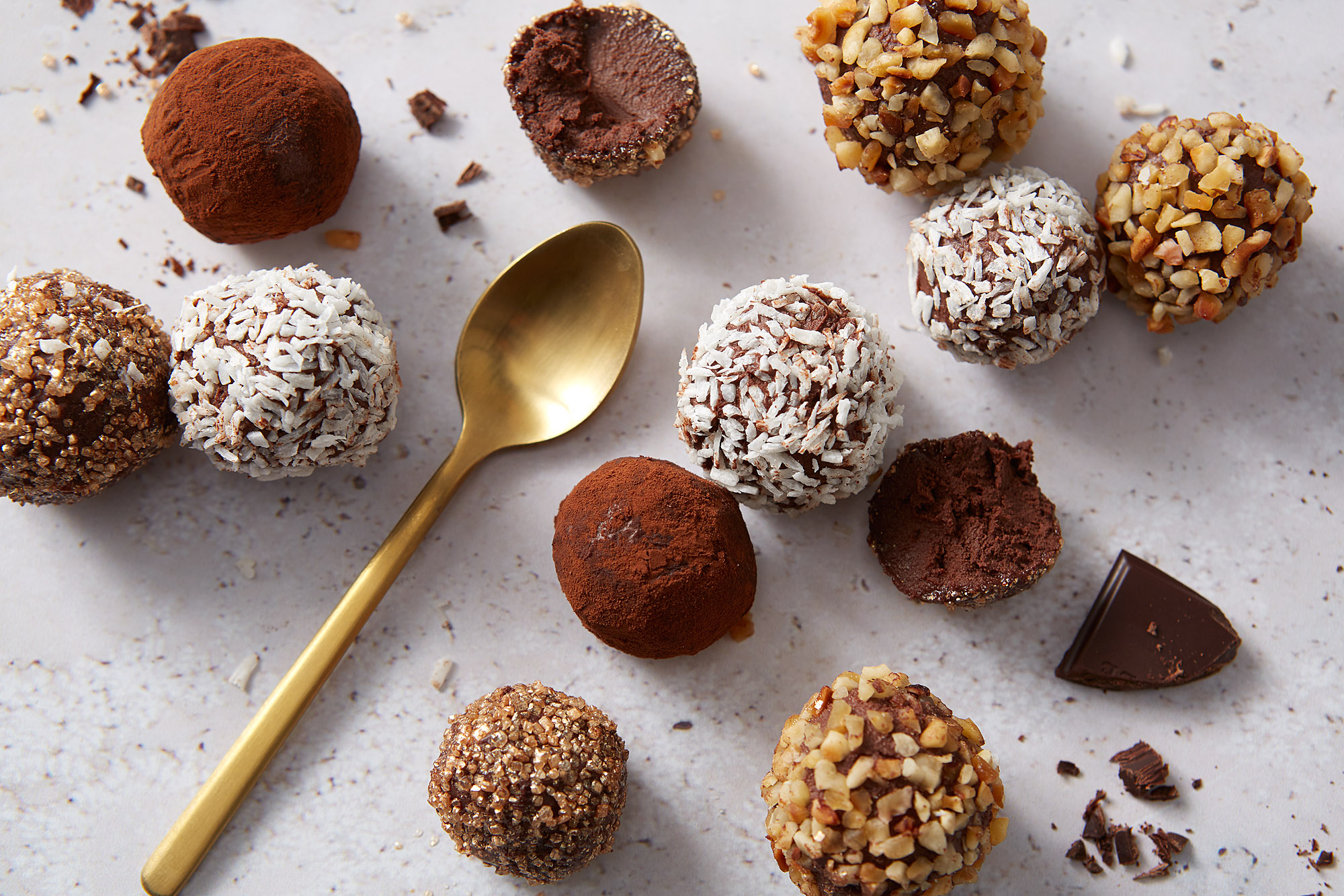 It's World Mental Health day this October and to celebrate, we've got a recipe from leading mental health charity, Mind. Mind have supplied this recipe from their brand new Christmas Crafternoon kit.
Crafternoon is the UK's craftiest fundraiser – it's all about getting your favourite people together for a bit of folding, stitching and sticking while enjoying a few festive treats and raising money for better mental health. As well as craft templates to try, Crafternoon kits also include fab recipes like this to keep guests energised while crafting.
Christmas Crafternoon takes place on Saturday 30 November but you can pick any date in the festive season that suits you.
Every year, one in four of us will experience a mental health problem. But hundreds of thousands of people are still struggling. Every penny raised helps us be there for everyone who needs it, providing life-changing information and support.
Time: 20 minutes to prepare with four hours chilling time
Makes: 12 servings
Instructions
Pour the coconut milk into a small pan over a low heat and heat through, don't let it boil.
Break the chocolate into chunks in a bowl, add the coconut oil, then pour over the coconut milk and stir gently until everything is melted together.
Stir in the vanilla and the spices and caster sugar to taste. Cover the bowl and place in the fridge to set for at least 4 hours. If you're in a hurry just pop it in the freezer for an hour instead.
When the truffle mixture is almost set, set out three plates, and spread a layer of coconut, nuts and the cocoa powder onto them.
Using a teaspoon, scoop out little balls of the truffle mixture and roll in the palm of your hands, placing them onto a tray as you go. It's totally up to you how you decorate them – you can roll the balls in the toasted coconut or chopped nuts, or for a simple finish, roll them in cocoa powder.
Return the decorated truffles to the fridge for around 10 minutes to firm up, then serve.
_________________________
If you enjoyed this content please consider making a donation to help us continue to support our nursing and health beneficiaries.
Ingredients
240ml light coconut milk
300g dairy-free dark chocolate
1 pinch ground cinnamon, ground cloves, and ground ginger
3 tablespoons coconut oil
1 teaspoon vanilla extract
Caster sugar to taste (optional)
3 tablespoons of desiccated coconut (for decorating)
3 tablespoons of chopped hazelnuts (for decorating)
2 tablespoons cocoa powder (for decorating)