We're celebrating all that's good about gardens in Gardens and Health Week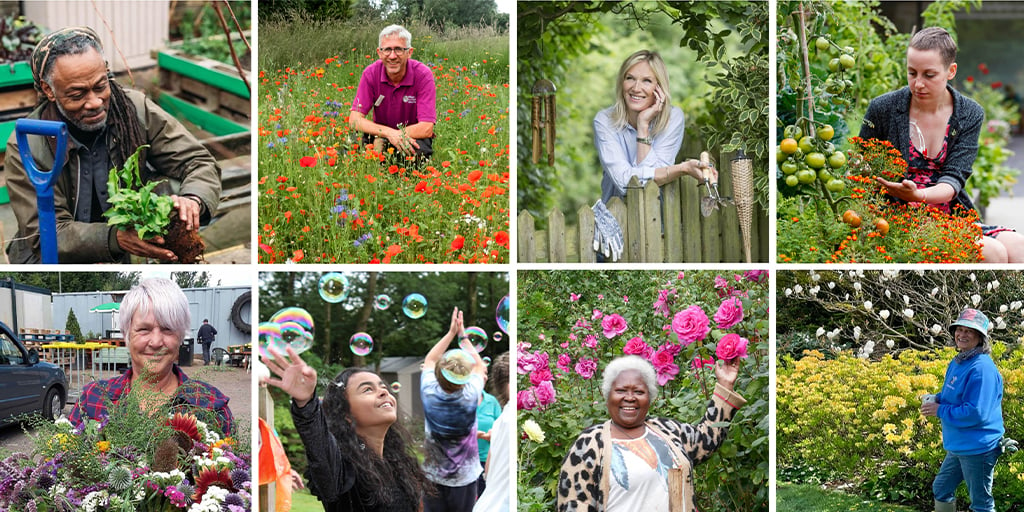 PRESS RELEASE – 5th May, 2022
As the 2022 gardening season springs to life the National Garden Scheme is delighted to share a celebration of all that's good about gardens in its interactive, digital booklet The Little Yellow Book of Gardens and Health.  
With a foreword from the charity's Patron, HRH The Prince of Wales and contributions from National Garden Scheme Ambassadors Jo Whiley and Danny Clarke, the second edition of The Little Yellow Book of Gardens and Health helps cement the long-held belief that 'Gardens are good for you'. 
The publication launch comes in National Gardening Week and ahead of the National Garden Scheme's annual Gardens and Health Week 7th-15th May, both of which celebrate everything that is good about gardening and being in gardens. 
"The link between gardens and our health has never been more relevant," says National Garden Scheme Chief Executive, George Plumptre. "The beneficial effects of spending time in a garden, whether your own or someone else's, include peacefulness, solace and inspiration. And, time outside, surrounded by the beauty of nature triggers natural endorphins that make us feel happy. Scientific studies have also shown that spending time in a garden can reduce blood pressure and the stress-related hormone, cortisol. 
"Throughout the booklet you will find further proof of the joy that gardens and gardening brings. Real stories from gardeners, garden owners, garden visitors, medical staff and patients are supported by snippets of facts and stats from our beneficiaries and from academic papers. All, we hope, will encourage you to explore the gardens and green spaces around you and to share that joy with others." 
Ensuring that everyone has access to gardens, and the benefit that brings to our health and wellbeing is something that the National Garden Scheme has been championing through its Gardens and Health Programme for many years and will continue to do so safe in the knowledge that gardens really are good for you. 
More about National Garden Scheme funding and Gardens and Health Programme
In addition to the National Garden Scheme's annual donations to nursing and health charities, the charity's Gardens and Health Programme last year reached a significant milestone. The donations given in 2021 took the total funding for Gardens and Health projects to more than £1 million. It is a milestone on which the charity intends to build in the coming years, not only funding more garden projects in healthcare settings but also in the community for the benefit of individuals and diverse groups, enabling more people to have access to gardens and to discover the benefits they will find there. To discover more about the Gardens and Health Programme, including recent funding for nurse-led community garden projects in partnership with our founder and beneficiary the Queens Nursing Institute (QNI) and the projects it supports see The Little Yellow Book of Gardens and Health here
#gardensaregoodforyou